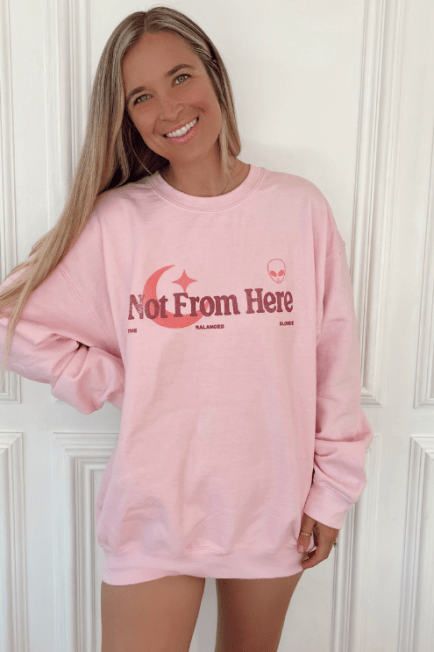 New Merch & New Site is Here! Evolved, Transcended, Brand New 💕
Guys! Ahhh! I cannot even believe this day is here. Let's just say that we have been working on the revamp of my website for the last nearly 3 !!! YEARS !! I literally remember being on my honeymoon in 2019 & sending my designer Anelise voice notes with ideas & inspiration for so much of what you will see on the revamped site today.
And now, it is finally here! & not just the site, but NEW TBB MERCH!!!! Which we will get into! Shop it up while it lasts & use the code BLONDE15 for a discount. 😉
REVAMPED BLOG & WEBSITE, BABY!
We have been working diligently on the revamped blog and have created so many refreshes & magical new elements for you guys to soak in and enjoy. We took a break from working on it for quite some time to be honest with you guys (hence the three year period between the idea & the launch) because the acceleration in my own life has been so rapid over the last few years. It has been a vortex. I mean, I know it has been that way for everyone (ahem, the year 2020…), and on top of it, my own spiritual awakening has been extremely fast-moving.
So how could we create a longterm new vibe for the site when my own experiences and preferences were not lasting more than a few weeks at a time?! There was the human-stuff, a.k.a pregnancy, having a baby, becoming a mother, relaunching my podcast, signing with Dear Media! But there was also the energetic, spiritual, plant medicine, shamanic stuff.
For example, the colors of my brand's vibe and aura have completely shifted over the last few years. At one point, everything on this site was going to be hot pink! And while there are still a lot of fun pinks and pastels, there are also celestial, starry-night sky purples, as well as the glowing orbs you will find on pretty much every page. I wanted bright but muted, celestial but elevated, aesthetic to the eye but not overdone, something that evokes inspiration & feels like an EXPERIENCE, you know?!?! And most-most-most of all, we wanted user-friendly. Because duh, that is important. BLOGS are the OG. I couldn't not have my OG blog be reflected as anything but that. So… get ready for the experience of all things TBB, which we are elated to share with you!
I couldn't have done any of this without my incredible team. Anelise, Shelby, Jane, Dan, Hayden, Clint, Ana, everyone at Dear Media — you all played a massive role in this new evolution + vibe & I am forever grateful. Jonathan, Atticus & Huddy, I couldn't do one bit of this without my most supportive boys who hold my aura and heart while I work through the nights & weekends to bring this to life. & to my TBB fam, you guys mean the world to me. I do it all for you. You make every bit of this worth it. 
So now… let's get into all the fun!
Some of the newness you will experience that we have been working on for all this time, you ask?!
– Brand new TBB MERCH (!!!). You guys ready to shop, or what?! The Celestial Club Collection is officially HERE! More on that below! Shop away besties, and use the code BLONDE15 (only for my blog fam) which is live from now until Thursday 11/10, or while items last!
– A fun, interactive, magical Starseed Quiz on the homepage to find out what type of starseed you are (!!) — this is my heart and soul, and am ELATED for you to take this quiz!!!
– Free Guided Meditation downloadable on the homepage to reconnect you to your soul's home, your intuition, & to rebalance the energy in your body & energetic field 💕
– A whole new vibe, look, feeling, & energy with new colors, new interactive elements & elevated chic celestial vibes. We went for the TBB celestial vibe meets 70's Woodstock meets 90's vintage with both the site & the merch, and I am elated because it truly reflects who I am now and where we are headed.
– A fun, interactive SHOP page where you can shop the latest, see all of my most coveted products, & my recommendations for brands & kitchen items from juicers to blenders to coffee enema bags 😉 I got you! These are all of my FAQ's for faves, sorted into one place!
– A brand new, interactive, beautifully designed podcast page showcasing our Top 10 Best of the Show episodes, most popular listener-loved episodes, a list of brand sponsors (a.k.a my fave brands that exist) with discount codes to make that super easy for you guys to locate, & beyond!
– New About page with new photos and a whole new vibe / story that reflects who I am now as a mother, and where I am going. 🙂
– New categories you can find in the archived posts section, from Motherhood to Lyme healing & beyond.
– Did I mention… THE NEW MERCH?!?! We have sweatshirts, a tote bag, and 3 mugs — it's called THE CELESTIAL CLUB COLLECTION & I am over the moon to bring it to you guys… more than words will ever be able to say. Who has been here since TBB Apparel days?!
I am thrilled about this new blog & everything to come along with it! I know that having this revamped site will inspire me to blog more often, just like the old days. I have so many ideas and fun posts up my sleeve, and I cannot wait to take you guys along for the ride. I am so thankful that you are here.
Kick back, relax, enjoy all the new elements of the website (!!!), and tell me below how long you have been here! Also, be sure to shop TBB Merch while it lasts (!!!) & use that code BLONDE15 to get 15% off, through 11/10 only!!
ALL MY LOVE!!! XOXO