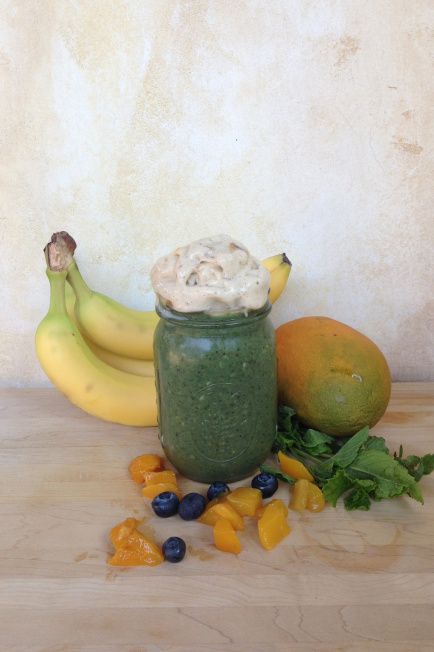 You all know I love my Jars of Yumminess, so you may have been surprised when I decided to make my signature namesake creation a smoothie (even though I am almost equally obsessed with smoothies as I am with JOYs). The reason I chose to make The Blonde Vegan a smoothie is because, silly as it may sound, green smoothies changed my life.
This time last year I was eating chicken, fish, eggs and dairy, and I was feeling like crap. I was a gym fiend, yoga junkie, and ate a pretty clean diet so I never understood why I often felt bloated and nauseated after I ate. I also suffered from frequent migraines, and even though I was at a healthy weight I felt like I had some excess pounds on me hanging on for dear life.
By the end of the year I decided to make a change, and I cut out all the foods I knew made me feel not my best – dairy, sugar, fried foods (which I never ate much of to begin with), anything oily, and most chicken and fish. I dropped a few pounds and was feeling better than ever, and felt like I was in a good place to do a cleanse. So on the first of the year, my mom and I did a five day fruit and vegetable cleanse, drinking two veggie juices a day and a green smoothie each morning.
There really are no words to explain how awesome I started to feel. I had SO much more energy, felt lighter, and woke up each morning with my stomach feeling calm and hungry instead of nauseated and upset (a first in my entire life). I started making big salads for lunch full of kale, spinach, fresh berries and walnuts. Dinners were roasted vegetables with super minimal oil, and desserts consisted of fruit.
I felt sooo ridiculously amazing by the end of the week, I tried to keep the cleanse going into the next week. Not the best idea, because it was winter so I was constantly cold and even lost the color in my lips a few times. It was time to introduce grains, legumes and healthy fats like more nuts and certain soy products and protein powders. Otherwise known as: a vegan diet.
And presto, that's how the vegan me was created! I lost a few more pounds, said goodbye to my migraines and stomach problems, and fell in love with cooking and experimenting in the kitchen. I continued to have a green smoothie for breakfast every single morning for six months (until I discovered vegan breakfast variations that I've also fallen in love with… oats, other types of fruit smoothies, etc.), and each day it served me well.
I also had a notoriously bad immune system, and have only gotten ONE cold since I became vegan… went through the entire year living with six girls and only had one instance of getting sick? Serious miracle – and it's absolutely because my body is flooded with vitamins and minerals each day.
So when it came time to create a signature dish for The Blonde Vegan, a green smoothie only seemed appropriate. And the creative side of my brain was begging me to find a way to add "blonde hair" to the smoothie (who doesn't love a good play on words?), so I whipped up some frozen banana "ice cream" with cinnamon to top it off with.
I also decided to pack the smoothie with superfoods and nutrients to pay tribute to the fact that green smoothies have changed my life, improved my health, and helped cement the vegan I am today that I am so very proud to be.
Serves 1-2.
Ingredients:
Green Smoothie Portion:
–       1.5 very ripe bananas
–       ½ cup sliced fresh mango
–       ½ cup spinach
–       1/3 cup fresh mint leaves
–       1 tablespoon vanilla hemp protein (I use Manitoba Harvest- can be found at Whole Foods)
–       1 tsps cinnamon
–       ½ tsp spirulina
–       1 tsp maca (I use Nativas- can also be found at Whole Foods)
–       1 scoop almond butter
–       ½ tablespoon flaxseed meal
–       ½ cup almond milk (or water, but the almond milk will make it more creamy)
–       ¼ cup water
–       handful of ice (or however much it takes to bring it to desired consistency)
Blonde Hair Portion:
–       2 frozen bananas (I like to freeze mine overnight to make sure they are frozen enough for extra creamy "ice cream"!)
–       1 tsp cinnamon
Directions:
Blend all ingredients together until you have reached the desired smoothie consistency. I used a Bamix (handheld blender from Williams Sonoma), but any blender will do. Add more ice if you need to make it frothier or thicker. Add more water if you need to thin it out.
Blend the frozen banana with cinnamon, and top the smoothie with it until it's full to the brim. The "ice cream" will probably melt pretty fast, so enjoy that first or, do as I do and mix it in to make the smoothie even more flavorful and delicious.