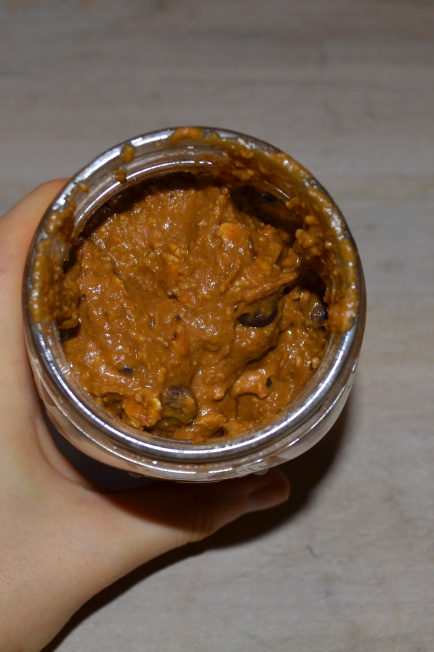 Vegan Pumpkin Chocolate Chip Cookie Dough
Oh. My. Goodness. Let me start off by saying… this stuff is dangerous. In the best way possible, obviously.
This week was a very good week eating-wise for me. My sister and brother-in-law did their first ever three day juice cleanse, and to support them (from across the country!) I did a one-day cleanse and then a fully plant-based cleanse throughout the rest of the week – just fruits and veggies, and lots of green juices.
By the end of the week I was feeling awesome, and I was also ready for a weekend treat. I knew I wanted something pumpkin-chocolate based, but also something that wasn't going to set off the great eating routine I had worked hard to come back into this week.
I had seen some recipes online for a chickpea-based cookie dough and it was something I was dying to try it for a while. I also had an inkling that adding in pumpkin, oats and chocolate chips would turn this cookie dough into a sinfully delicious treat. (But still totally a clean and healthy one… hello, chickpeas and oats instead of sugar, flour, eggs, etc.)
The best thing about this scrumptious dessert is that when eaten in the right portion size (can't promise that that's going to happen – it's that good), it's only about 150 calories and is packed with protein, fiber, vitamin A and iron. There is just about zero sodium in it, and actually zero cholesterol. Since it's full of protein, it's a great post-workout snack to have along with a green smoothie! And super filling. (I actually ate a nice big bowl of this for lunch today. Whoops?)
And it's freakishly delicious!!! It kind of reminds me of my cacao oats… but better. 
Ingredients:
Blended portion:
–       2 cups (1 can) organic navy beans/chickpeas (I used Eden Organis)
–       1 cup (1/2 can) organic pumpkin pie puree
–       ¾ cup oats (I used Red Mills gluten-free)
–       1 T cinnamon
–       1 T honey
–       2 T cacao powder
–       1 tsp vanilla extract
–       ½ cup water (add more if needed)
Mix ins:
–       ½ cup  dairy-free chocolate chips
–       ½ cup oats
–       ¼ cup raisins
Blend or process all of the ingredients from the Blended portion of the list until smooth. Add more or less water depending on how high-powered your blender is.
Pour into a bowl and mix in the chocolate chips, oats and raisins by hand.
Eat right away or refrigerate if you like your cookie dough cold! Once refrigerated, the dough will take on a firmer texture like the traditional cookie dough consistency.
Enjoy! Annndd, it also makes a great dip for strawberries, bananas, apples, figs, etc. (Or if you're feeling wild, pair with some graham crackers and marshmallows and have yourself a S'mores party.)