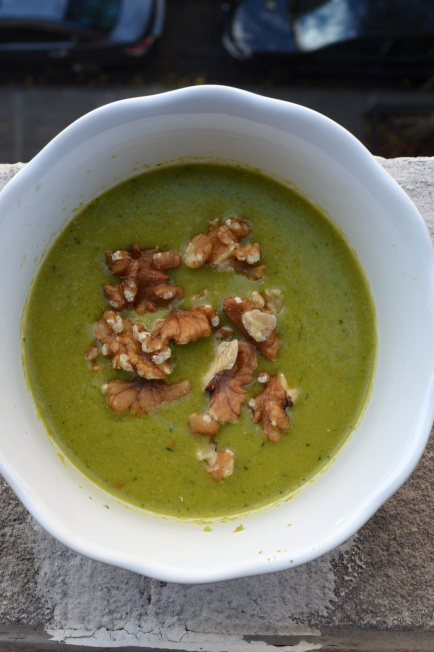 Since I am in the middle of leading The Blonde Vegan 5-Day Cleanse Program, I don't have much extra time to post on the blog this week. However, it kills me to see this blog going un-posted on (yes, even for a couple of days!!) so I am going to share a recipe from the cleanse and also give a little update on how it is going.
We have over 200 participants in the cleanse this week – woah!!! I am so unbelievably proud of everyone for choosing to dedicate their weeks to starting 2014 on a superbly positive and healthy note.
It has been fun to have the email thread going. We have corporate cleansers (people going into the office every day and prepping their juices, smoothies and meals ahead of time), mama cleansers and moms-to-be (yes, we have three pregnant cleansers!), couples cleansers (lots of boyfriend-girlfriend, husband-wife pairs), groups of friends (my friends and even my mom are on board) and student cleansers!
We even have someone prepping for their wedding this weekend by participating in The Blonde Vegan Cleanse this week! I can't even tell you how thrilled I was when I heard that. She is going to be glowing, light, energized and feeling amazing at her wedding on Saturday.
On a personal note, this cleanse came at a great time for me. I will delve further into this in tomorrow's post. After I sat down and started writing about this I realized I had a major story to tell – something I have been keeping to myself that I feel it is time to share with all of you.
To brief you a bit: My stomach problems have been starting to return over the past few months and I have been struggling with feeling out of balance and a bit unsatisfied with my diet. I knew I had fallen off the plant-based wagon, and every time I tried to get back on I caved and told myself I was being too rigid.
When I say plant-based I mean a diet consisting of fruits, veggies, nuts, grains and legumes. Nothing processed, no faux meats, no soy products, no oil, etc. I hardly eat processed food or even soy products as it is, but once I incorporate them into my diet at all they immediately start to mess with the way I feel and I start wondering if maybe I'm not on the perfect eating path after all.
Yesterday (Day 1 of the cleanse) was a bit difficult – I was super hungry, low energy, a bit irritable, and exhausted from my morning workout that usually leaves me feeling energized. But by late evening I started feeling better, and after a super good night's sleep (thanks to the cleanse), I woke up feeling so great. My stomach felt totally calm, cleansed and light. My body felt in balance. I felt energized and excited to have my glass of warm water with lemon and my Naked smoothie.
More about that tomorrow. I am excited to share the full story with you.
For now, here is the Raw Green Avocado Soup from Day 1 of the cleanse. (Pictured above before I decided to add avocado!)
Ingredients:
1 cup romaine lettuce
1 cup kale
4 stalks celery
1 sliced tomato
½ avocado
1 big clove of garlic
1 cup water
¼ cup cilantro
juice from ¼ lemon
a few shakes of cumin
salt & pepper to taste
Topping:
¼ cup walnuts (or any nut of choice. Pine nuts would be good, too!)
Optional: 5 sliced cherry tomatoes
Directions:
Blend thoroughly. Add more water if necessary. Top with nuts and cherry tomatoes, and enjoy!