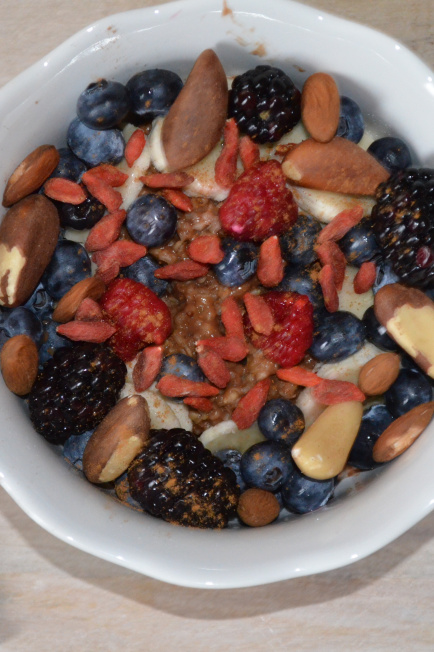 Banana Cacao Chip Muffins
What to do when you have four super duper ripe bananas staring you in the face (on the verge of collecting fruit flies)?
Normally my answer would be to chop them, freeze them and save them for banana ice cream… But after my visit to the nutritionist last weekend I have been cutting back on my fruit intake, which sadly doesn't leave much room for my beloved banana ice cream. Still, limiting myself to four servings of fruit per day has been working wonders on my tummy problems so I'll take it. 
If you're not gonna freeze 'em, might as well bake with them! I have been craving a nice cakey, flavorful banana chocolate chip muffin lately. One that tastes delicious and is not full of refined sugar, preservatives, oil, milk and flour. When I was in college, I got a pumpkin chocolate chip muffin at our on-campus coffee shop every morning that I had an 8 a.m. class.
It was more of a social thing than anything else – all of us who had 8 a.m. classes would walk over to the "Lion's Den," our student-run coffee shop, and get pastries and coffee (tea for me), and chat groggily about our classes, what was going on that weekend, how terrible it was to wake up so early, etc.
I loved that big old muffin from the Lion's Den. But the problem was, aside from it being nearly 1,000 calories, eating it made me feel terribly nauseated. By lunchtime my stomach would be hurting so bad that I would have no idea what to eat to make it feel better.
Story of my (old) life. I am so grateful to have found this healthy lifestyle that allows me to eat what I want, to feel great and take care of my body all at the same time. The art of eating clean means that everything you put into your body is fueling you in one way or another. Health = Nutrients / Calories.
Every ingredient in these banana chip muffins has great health properties. They are full of protein, fiber, potassium, iron and your daily intake of vitamins. Sugar-free, gluten-free, flour-free, oil-free, and totally all natural. And delicious!  These are actually little chunks of heaven, and I adore them.
I am going to be making these all the time… if I can ever let 4 whole bananas get that ripe again without eating them first 😉
Ingredients:
4 overripe bananas
¼ cup flaxseed
¼ cup almond butter
1.5 cup oats
¼ cup cacao nibs
OPTIONAL: 1 tablespoon coconut palm sugar (I added this. So yummy) and/or 1-2 tablespoons agave/honey to sweeten. You can also add dairy-free chocolate chips instead of cacao nibs depending on how clean/sweet you want these to be.
Directions:
1. Preheat oven to 350 degrees Fahrenheit.
2. Mash the bananas with a fork or a mashing tool until smooth.
2. Add in flaxseed, almond butter, oats, cacao nibs and optional ingredients and stir well.
3. Scoop spoonfuls into muffin tin, or roll into cookies or balls. If they are still so gooey/liquidy from the mashed banana, add more oats, more flaxseed and/or more almond butter until a dough-like consistency is formed. I topped mine with extra cacao nibs and banana slices for aesthetic purposes.
4. Bake for 15-20 minutes or until golden brown around the edges.
5. Let cool, and enjoy!
*Store in fridge and either eat cold (so yummy) or reheat in the oven before eating them. I've found that room temperature their consistency becomes a little soft and mushy.
Nutrition Info:
Enjoy!!!
P.S.
For those of you who have been interested in my journey thus far on my new meal plan, I wanted to give you a little update. It has officially been a week since I started the meal plan, and I am feeling incredible. There have been a few days that I have not stuck to it rigidly, either because I had a craving, got too hungry (happens quite easily when you're training for a half marathon!) or because I was in a social situation and didn't want to be rude.
However, even when I haven't stuck to it 100% it has provided me with the best guidelines to eat clean and eat only at mealtimes when I am completely hungry. An example of a day in the life on my meal plan:
Breakfast: 1 cup oatmeal with 1 serving of fruit (this morning I had ½ cup gluten-free steel cut oats with ½ cup berries, 1 tablespoon tahini, and 4 brazil nuts.)
Lunch: A big green salad filled with cucumbers, cherry tomatoes, sprouts, green beans, etc. with 1 cup of beans. Today I'm having home-sprouted Lima beans. Woo!
Dinner: Green salad with non-starchy vegetables (like cauliflower, broccoli, Brussels sprouts, etc.) and 1 serving of tempeh.
Every day is different, but it usually follows these portion sizes and general health properties. Sometimes I add in a protein shake or some pieces of fruit here and there, but for the most part sticking to this has made me feel so much more balanced. I am still in the beginning stages, so I can't wait to see the transformation that takes place as I continue to follow this plan.
The best thing about it is when you are sticking to an eating schedule like this one; your body knows when it is hungry and what it needs to fuel it. It's hard to overeat or under-eat when you are completely in balance. That has been the best part about it for me, since when I get knocked off balance my body basically has no idea what to do with itself!
Will continue to update you all as I go along. Happy Sunday, my loves!