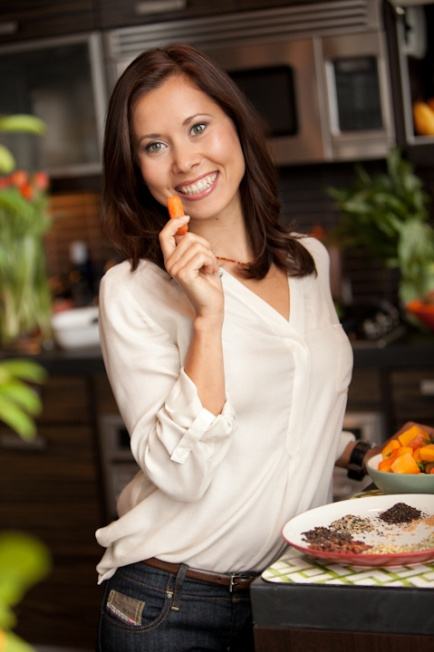 Video Interview & Giveaway with Nadya Andreeva of 'Happy Belly'
Hey, guys! The other day I had the awesome opportunity to interview someone I admire greatly when it comes to health, digestion, wellness and overall wellbeing. Nadya Andreeva is the author of the book Happy Belly that I have been mentioning in my posts for the last several weeks. The moment I picked up the book I knew it was full of knowledge and firsthand health tips that I wanted to share with you.
(Image source: WorldLifestyle)
In the interview Nadya and I discuss a whole bunch of topics, including her journey to finding a healthy relationship with food, her wellness vision (my favorite part of the book!), my wellness vision, rules of food combining, what a typical day of meals looks like for her, where she got the inspiration to write the book, and info about the GIVEAWAY we are doing!
I am so beyond excited to be giving away three different copies of Happy Belly to you lovely readers! All you have to do is check out the video and comment below telling us why you think you would benefit from reading this book (let's be real – who wouldn't benefit from reading this book?). The giveaway will be open until this Saturday, April 19th when I will be choosing three winners.
(Image source: Mind Body Green)
Creating a wellness vision has been something that has helped my overall relationship with food immeasurably – and that's just one of the things I learned how to do in Nadya's book. I also plan on following a cleanse program that Nadya offers in her book once I finish my juice cleanse, because it sounds like her digestive issues are very similar to mine so I trust that it would work very well.
Oh, and did I mention that Nadya is a health blogger too? Her website is called Spinach and Yoga, what a frickin' cute name is that?
Around 16-17 minutes into the video, our connection got a little fuzzy, so ignore my late reactions and the brief minute or so that we couldn't see each other clearly.
Also SUPER excited to be sharing this video with you all – this is my first video on TBV (thanks Nadya for videoing and sending me the mp4). It was such a fun experience and I think it's so much more personal than just writing and photos. Although you know I do love my writing and photos. Here is a little slice of me chatting with one of my idols and health gurus:
So… what do you think?! Am I the way you pictured me to be? 😉
Why would you like to receive a free copy of this book? Can't wait to see what you all have to say and to choose the winners!