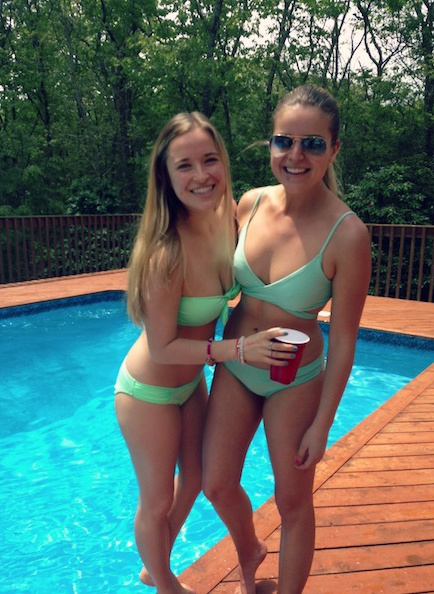 Memorial Day Weekend + My Thoughts on Alcohol
Hey, hey! I hope everyone had a fabulous Memorial Day Weekend. Mine was filled with friends, sunshine, poolside shenanigans, and a whole lot of… partying! Pretty big for me since I don't drink nearly as often as I used to since making my lifestyle change a year and a half ago. But I want to write about it because I believe in living life in moderation – being as healthy as you can while still enjoying life to the fullest.
Not that drinking equals enjoying life. It doesn't. If you prefer to be 100% sober all the time, then that is also a fantastic prerogative. I have done that for months at a time and have been entirely happy with the results both mentally and physically. I stopped drinking for a few months when I graduated college because suddenly it felt so freeing that my social life no longer revolved around taking shots, going to bars and parties that were identical to the ones I had been going to for four years, celebrating events that revolved around alcohol, and day drinking because "when are we ever going to be able to have this lifestyle again?"
Umm, now I know that's a silly reason. I live in Manhattan where day drinking is the thing to do, and brunching over mimosas and some seriously aggressive cocktails is the norm. And I still hear people say – "Why not? When are we ever going to be able to do this again?!" (There I am in the green!)
I also have a lot of friends in the health blogging community who prefer not to drink at all, since there are obvious downsides (what alcohol does to your liver, for one) and the fact that people who maintain a super healthy lifestyle have a hard time being cool with being hung over and rundown the next day.
I currently find myself somewhere in the middle. I have been on the opposite end of both extremes – college Jordan (wild) and post-college Jordan (terrified to have a sip of alcohol) and now I am trying to coast in the middle. While I was happy not drinking at all for a while after college, abstaining from alcohol did manage to get in the way of my social life when I first moved to New York. I find that I am happier and, in many senses, healthier (in the mind!!) when I allow myself to relax and have a few drinks.
And, because I know the question is coming… how often do I drink? Usually about once a week I will have a cocktail or two with friends. This weekend? Enough cocktails and vodka shots to last me for a WHILE. It was fun, and even though I do kind of feel like I have been hit by a bus repeatedly and my voice is gone and my body isn't sure if it has slept at all in the last 72 hours… I had a blast of a weekend and I don't regret my choices.
As someone who is ridiculously controlling in the food department, allowing myself to let loose and enjoy life without stressing over my health and exercise and food choices for a few days is realllly good in a psychological sense. I do believe that is important first and foremost. I mean… look at how happy I am in these pics!
And I got to rock my "Is Vodka Vegan?" shirt all weekend, so that was a plus and a half. You can buy the shirt here, if you're interested! 
Also, when you maintain a plant-based lifestyle, you don't need to drink nearly as much to start feeling a buzz as you do when you are eating carb-heavy foods and red meat. Definitely something to keep in mind. I used to have to drink about double what I do now in order to feel the same effects!
Tomorrow I will share my Hamptons eats with you – I went food prep CRAZY as always, and it certainly did not disappoint. I also had Clare there with me, who is newly vegan, so it was beyond fun for me to have a vegan buddy and someone to share my veggie-filled meals with while everyone else was subsisting on burgers and hotdogs. 
Also… the Hamptons are gorgeous! I had always had a picture of them in my mind (especially from Revenge, thanks ABC) and for once the image in my head was very similar to reality. Sprawling green lawns, tons of beautiful trees, long, winding driveways, lovely beaches and the cutest beachfront stores, restaurants and bars.
In other news, I am growing increasingly sad to be moving away from NYC in a little over a month. I am so happy and comfortable here now, it's going to be a very bittersweet move (but I know LA will not leave me hanging). I will especially miss my sissy… it's been so, so fun living together in NYC. So fun, in fact, that I seem to have lost my eyes in this photo with her…
What are your thoughts on alcohol? Have you evolved from a partyer to a mellower person and back again like me – or do you like to abstain from alcohol / drink in moderation / what?! I am so curious.