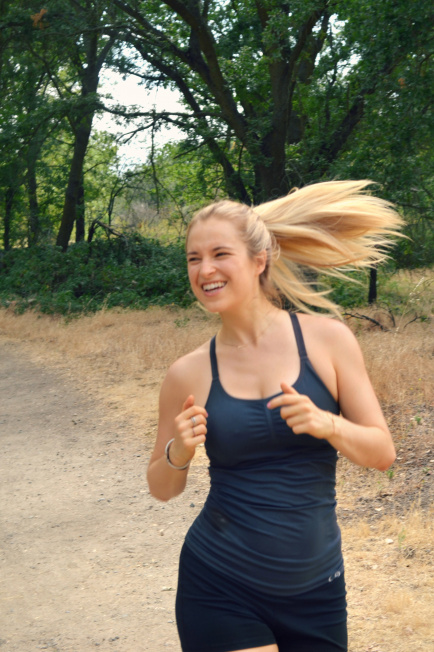 TBV Tries (and loves!) Target C9 Active Wear
Hello, hello! I am back in Sacramento for the week, and it feels so good. It's HOT here (think 101 degrees on the reg), but the California heat still doesn't quite hold a candle to those humidity soaked NYC streets. I am officially winding down from the whole "coming out" saga (I promise I'm not blogging about that today – we've talked enough about that for now), and I am super ready to share some new stuff with you guys.
There are some fun things coming up on TBV this week – like a feature of one of my fav bloggers, Miss Lauryn Evarts of The Skinny Confidential, and a Year in Photos post detailing my year in NYC. Oh, and a fun giveaway post with a yummy new recipe (or two). Yay!
Today is fun too. Today we are going to talk clothes. Specifically, active wear. Because I really don't wear anything else… and you all know that! Or do you? Well now you do.
Why do I basically only wear active wear? A) Because I like to be the comfiest of comfy at all times, B) because I like to be able to go to the gym or yoga without having to change (lazy, whoops), C) I am freakishly active, D) I don't like to wear makeup and I do like to wear tennis shoes, so the workout get-up usually works quite well for me.
Target® C9 Active Wear:
Disclosure: This post was sponsored by Target® C9 through their partnership with POPSUGAR Select. While I was compensated to write a post aboutTarget® C9, all opinions are my own.
Sooo when I was asked to participate in Target®'s campaign and check out some of their awesome C9 active wear, I was super duper in. I tried out their Mesh Back Print Cami Tank, the Cardio T-Back Tank (favorite!!!), and the reversible Women's Premium Shorts. I had desperately needed some new shorts for running and yoga, and these are so comfy and breathable I am in love.
But I wanted to give the clothes the true test – I couldn't just try them on and say comfy, check, cute, check, and post away. I needed to make sure that they actually withstood the test of working out! I won't wear workout clothes that don't absorb sweat well (hellooo power vinyasa yoga junkie – a.k.a sweat city) and/or that stick to me in uncomfortable ways, ride up in any places or feel weird on my skin. Yeah, I'm picky. So you can trust me here.
And then I started climbing trees because I was so happy to be back in my element and out of the "concrete jungle" (ew, I hate it when people call NYC that but oh well) for a while, and it was beautiful out so how could I not?
I went down to the river to go for a run in the clothes and then finished off with some yoga (and some fishing!) by the water. Since it was 101 degrees out I was sweating my butt off, and I learned that they do in fact absorb sweat well and they don't get uncomfortable when they get a little wet. The shorts don't ride up or slide down when I run, and they are flexible enough so that launching into one of my many yoga poses won't stretch them in uncomfy ways.
I kept saying to my mom when we were down at the river, "wow, these are SO comfortable!" And she was kinda like, "umm, why are you so surprised?" and then she remembered who I am (her daughter, duh) and that it's very hard to please me when it comes to clothes. And I sort of hate shopping… I know, I'm the anti-girl in some ways, it's weird… so finding a great outfit that I know I will wear all the time is a huge plus.
Now that I'm home I am also getting in the groove of going to personal training three mornings a week with my mom at our gym. It's been pretty awesome (and frickin' killer!) for me to do strength training when I am used to alternating between yoga and running. As always, the circuit training reminds me how good my body feels when I am giving it a full body workout and switching things up the way I know I should be.
And because I love you, I'm sharing… This Class FitSugar Target®: Shoulders exercise video. It is AWESOME. It kicked my butt a little bit. And I'm hoping it'll work some wonders for my shoulders, since my upper body strength could use a little work right now. Click here to watch the vid, and to get your workout on!
Now… Do yourself a favor and check out some C9! I wouldn't lead you astray when it comes to workout clothes.
P.S. Target® C9's approach is accessible, optimistic, and confident. Three things I love most! Exercising is 100% about accessibility and enjoyment. If you hate the workout you're doing, you can't be optimistic, and well… that just sucks. I truly believe there is a workout out there for everyone. You have to be confident enough to try new things until you find what you love! Love you all & happy, happy Tuesday!