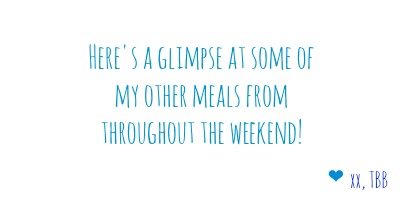 What I Ate Wednesday: Recovery Style
Eek, it's my first time participating in "What I Ate Wednesday" as a non-vegan. I used to be ALL about this thang when I was eating a plant-based diet. Big changes goin' on over here! There's a few reasons I haven't participated in the last few months:
A) I was still getting used to my new diet and wasn't super comfortable posting photos of non-vegan foods in fear of (more) backlash from the vegan community and also because this was a vegan food blog to begin with so initially I wasn't sure how to build upon that.
B) In my recovery process I find myself taking fewer photos of my meals! I still photograph most of my good looking meals, which happen to be a ton of them, but I used to photograph from every angle, have friends shine lights on the food, etc. and now I kind of just go with the flow more. At the end of the week, I have a heck of a lot fewer photos to work with than I used to!
C) Paying distinct attention to everything I eat in a day isn't exactly the healthiest way to recover from an eating disorder. I now feel much stronger than I did a couple of months ago when food gave me raging anxiety, and thinking about my next meal could have sent me into a serious panic attack. Now I am learning to let go and enjoy food a lot more, and also do a LOT less planning when it comes to what I eat in general. After a fun weekend eating out with my mom in town, I feel like it's about time to hop back on the "WIAW" train and give you all a glimpse into my non-vegan recovering food life.
It feels good to be back on the WIAW wagon. Big thanks to Jenn for hosting! Ready? Here we go…!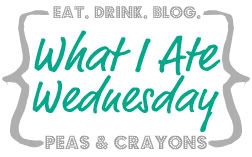 What I Ate Wednesday: Recovery Style
My mom came to visit me in LA this weekend, which meant lots of eating out at yummy spots, lots of furniture shopping (furnishing the new apartment, woo!!) and laughing hysterically all weekend because that's what we do together.
Breakfast:
Before I picked her up from the airport on Friday morning I ate this super delicious superfood oatmeal. The recipe is in my post from Friday. It's definitely a new breakfast staple. So many nutrients packed into one filling little bowl!
Lunch:
After I picked her up we headed to the Brentwood Country Mart and shared a lovely lunch spread from the Farm Shop. We had organic free-range chicken breast, a corn and nectarine salad (YUM!), mushrooms and Brussels sprouts. Lots of plant-based goodness balanced out with some protein, and everything was local and bursting with flavor. Farm Shop is fabulous and it was so fun to show my mama one of my new neighborhood spots!
Snack:
While we were driving to Target (which ended up being a "City Target" a.k.a not even a full-sized version of Target which was so disappointing… who even knew those existed?) we passed a Penguins frozen yogurt shop. Penguins brings back so many memories for both of us – there was one right next to LMU where I went to college so I used to go all the time with my friends, and there was also one in my hometown that my mom used to go to longgg before I was even born. We decided it sounded delish and we were going to get some.
This might sound like not such a big deal to you at all. Because it really isn't. But for me, this was kinda huge. I can't even remember the last time I had an impromptu dessert (non-vegan, to boot!) in the middle of the day for fun. And it was so good! Worth every bite. Indulging is fab every once in a while and I am learning that more and more in my recovery process.
And now we made new fun memories there! That's what food is all about afterall, isn't it? Enjoying it with the people you love.
Dinner:
Okay, so dinner was a little trickier. I have gotten some feedback from readers lately that I may or may not tend to make recovery sound like it's all sunshine and rainbows and a beautiful excuse for self-discovery. There is definitely that positive aspect to it, but most of the time it's just hard and psychologically taxing. Dinner on Friday night was one of those experiences.
We met my aunt for dinner at Katsuya, a cute and super trendy sushi restaurant a few blocks from my apartment. After all the indulging from earlier in the day I was a little freaked about eating a regular meal, and to top it off I wasn't even really hungry. (One of my biggest fears is eating when I'm not hungry and then throwing myself all out of whack.)
My aunt suggested that we all split a few dishes, but I quickly responded that I don't do tempura dishes (fried food) and that the two of them should split and I would order my own thing. I ordered a kale and salmon sashimi salad that was a special on the menu, thinking it sounded great and balanced and nice and light.
Well, it came to the table, and the kale was fried in oil!! It was basically a plate of kale chips (super oily kale chips) with a little bit of salmon sashimi. I was horrified. But for some reason I wasn't in the mood to send it back and I made up my mind I was going to eat it and deal with it. I suppose as far as recovery goes that was a good thing and I am proud of myself, but as far as my BODY goes… and I know my body and what works and doesn't work… my stomach was writhing in pain for 48 hours after eating it.
Fried. In. Oil. Does not work for me.
But instead of obsessing and letting it ruin my weekend, I woke up the next morning and had another bowl of oatmeal. I was tempted to just juice or not eat anything until well into the day like I would normally do when feeling super gross after a meal… but I didn't! And there's where the growth came in.
PS… We're goobers.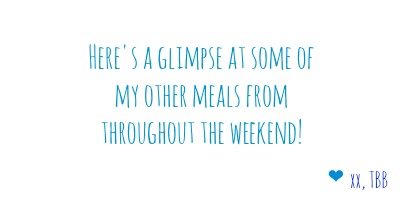 Superfood Oatmeal for Two (Yum!):
Quinoa Chicken Salad at Wood Ranch:
Iced Almond Milk Mocha at Axe:
Dungeness Crab Salad with Chili Lime Dressing at Axe:
Steel Cut Oats with honey & berries at The Coral Tree:
Strawberry Fields at the Brentwood Farmer's Market:
The M Chopped Salad at M Café (Okay usually I love this place but this salad kind of tasted three days old…ew?):
What did your eats look like today / this weekend?! Any fun new indulgences or is that just me? 😉