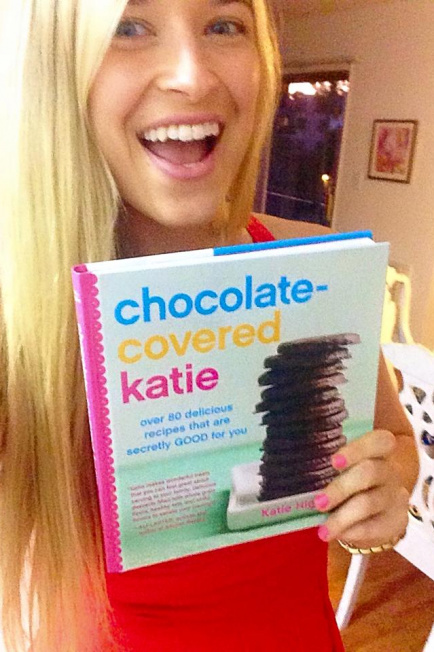 Q&A with Chocolate-Covered Katie on her BOOK!
Hi babes! It's no secret that I totally idolize miss Katie Higgins of Chocolate Covered Katie. She is both a friend & an inspiration to me. I followed her blog long before TBB was a thang & learned so many healthy dessert hacks that I still use in the kitchen allll the time. You might remember seeing Katie on TBB from when she participated in my Recovery Series a few months back!
Now Katie has written a BOOK and I couldn't be more thrilled about it and proud of her. If there's one thing I love as much as reading (and writing) blogs, it's reading (and writing) books. To commemorate finishing the veryyyy last of my memoir about 3 days ago, I wanted to check in with Katie & talk about all things book writin' (and healthy dessert blogging… let's be real).
PS — Did you know that Katie was the one person I talked to on the phone mere seconds before I posted my transitioning from vegan post?! Her words of wisdom and support in those moments will never be lost on me. She was both realistic ("you'll get death threats") and encouraging ("you go girl") and just the right amount of HONEST ("you're a little crazy for doing this so impulsively"). If you haven't purchased her book yet, you absolutely must.
Q: The amount of delicious recipes in your book is on another level! Was there ever a point in recipe development where you *dare I say it* got sick of trying desserts?
Yes! There were many times I'd think, "I never want to look at anything chocolate ever again." Inexplicably, three hours later I'd find myself craving brownies…
Q: Walk us through the book writing process — how long did it take you when all was said and done?!
It began about three years ago. I received an email from an editor with Grand Central Publishing asking if I'd ever thought about writing a book. At first, I wasn't sure about the idea; but once I decided I actually did want to write a book, the editor put me in touch with a few different agents to interview. Then came the proposal writing, where I outlined for potential publishers my vision for the book. Publishing houses bid on the proposal, I signed a contract, and then it was finally time to start writing. We went through about a year and a half of planning, editing, and choosing layouts. Three years later, the finished Chocolate-Covered Katie Cookbook went out to the world.
Q: Fav recipes in the book… Go!
The Chocolate Infinity Pie and the Secretly Healthy Fudge Brownies. I could eat those brownies every single day. 
Q: Your book uses only natural ingredients and features no unnecessary fats or artificial sweeteners. Do you find that by keeping things "clean," you are able to eat as much dessert as you want and still feel awesome?!
Yes. So often, people don't believe me when I say I eat dessert at least twice a day… but I can't believe that they don't! Mainstream media may say to limit dessert to a few times a week, but as long as the desserts provide nutrition and are natural and low in sugars, I don't see any problem whatsoever with indulging whenever I want–which is very often!
Q: Envision yourself writing another?
Jury is still out on this. I really love interacting with readers, and you lose a lot of that relationship with a book. It's fun now that the book is out, but keeping all of the recipes a secret for three years was difficult. When I make something I'm excited to share, I want to share it with people immediately.
Q: Favorite part of writing a book / least favorite part?
Favorite was definitely being able to see my recipes in print for the first time. Least favorite was all of the times the publisher and I had creative differences with regards to the layout and even the cover of the book. 
7. What fun projects can we expect next on CCK's horizon?
I've long been meaning to delve into the world of YouTube. And my site needs a mobile version. There are so many things I'm working on right now… if only there were more hours in the day.  
TBB Sidenote: Who thinks Katie & I should do a YouTube vid together?!?! Katie, you've totally just unleashed the beast. Next time we are in the same city I am getting a lil' filming crew together to video us in the kitchen cooking up one of your masterpieces!
Also… here I am repping CCK's book!