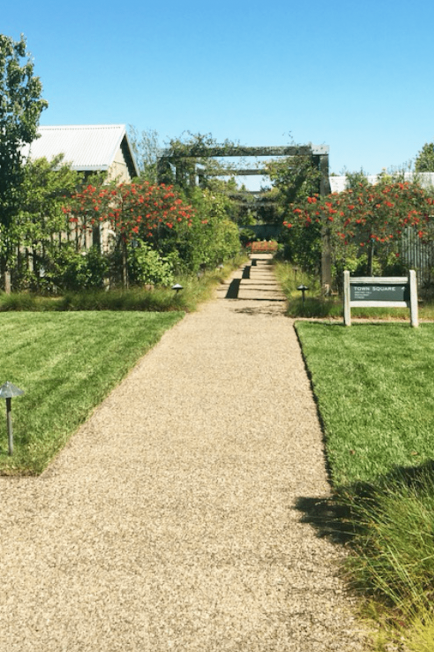 Hi beauties! I am popping in to say hello before I hit the road for my 6 hour drive back to Los Angeles from Nor Cal today… Please tell me if you have any audiobook, music or other time-passing recommendations — I am all ears! I just downloaded Mindy Kaling's "Is Everyone Hanging Out Without Me?" audiobook, and am super excited to finally give it a listen. Also open to others. 🙂
Before I hop into the car (bleh), I wanted to give you all a glimpse into my Napa Valley getaway weekend with some of my very best girlfriends. It was my dear friend Danielle's birthday (her golden birthday, to be exact) so we headed to wine country to live it up, lounge by the pool & soak in all of Napa's awesomeness. And the sun. We soaked up a LOT of sun… My lower back is such a blaring shade of hot pink right now it is both comical and painful.
THE HOTEL: The Carneros Inn, otherwise known as one of the most gorgeous, vast, beautifully located hotels I've stayed in probably ever. The rooms were cottages, and they were grouped together in different "neighborhoods" (yes, that's what they call them! I die) throughout the property. Between every neighborhood are rows of all different types of gardens, plants, apple orchards, fig trees (yeah, I tried one; no, they weren't ripe), fountains, hummingbirds, the works. It felt like walking through a true fairy tale. The pool overlooked rolling vineyards, the fitness center was super awesome, there was a huuuuge and gorgeous lap pool, three restaurants, a super-cute marketplace that I obvi made  twice-daily pitstop to, and a superbly beautiful and perfect lobby on the hilltop. And our room had an outdoor shower AND indoor shower. We had a bit of fun with that… (Plus, if you follow me on Snapchat @jojoyounger, then you got the full room tour complete with our over-excitement about the double shower situation!)
THE ITINERARY: We collectively decided to have a pretty low-key trip, as we all have super high-stress lives during the week and it's not every weekend that we get to all be together and enjoy each others' company. Instead of going wine tasting/venturing into the town of Napa, we stayed at the resort all weekend and soaked it ALLLL in. I am such a huge fan of doing that on certain trips, especially because our resort was so big and had so much to offer. We have all spent a lot of time in Napa (Helloooo, Nor Cal girls!) so staying at the hotel was so glorious and relaxing. On Friday night we hung out at the fire pits in front of the hotel, talked, drank wine, and caught up. Then we snuggled up back in our room and watched Orange is the New Black — well, those of us who could stay awake did. And you KNOW I was awake– insomnia nation. 😉 Saturday we spent the WHOOOLE day at the pool, and it was so wonderful! We met awesome people from all over the place (also from our hometown. Too cool), had yummy drinks, sunbathed, floated, dipped into the hot tub, enjoyed the views, had a few #slipperyshoulder moments on top of each others' shoulders, and had a blast. Then we had a nice long time to chill & get ready before our late-ish dinner reservation at Boon Fly Cafe, where I ordered this delish kale salad with berries & smoked chicken:
Sunday we hung out in our room and watched MORE Orange is the New Black, & the girlies ordered room service. I headed down to the market to blend my own smoothie since I LOST my NutriBullet mixer top after bringing it down to the seating area the first night… #fail.
THE FOOD: Food in Napa is always very good. Wine in Napa is always very good– it's the home of the most dreamy wineries in California and pretty much all of the US. You can't go wrong with any of it. Unless of course you're me or anyone else with food allergies/intolerances, and you have to pay great attention to the food/drink you put into your body so you don't have a terribly adverse reaction that might ruin your whole trip! So I decided to play it cool and continue this awesome clean gut program I have been doing for the last few weeks (will write all about it once I finish). That's why I kept walking down to the market to blend my smoothies after I lost my darn NutriBullet top– but it was awesome because I brought my own shake packets and almond milk and they blended it for me with their blender! Saints. And I did have one meal per day of protein + veggies, and of course it was all delectable. Oh, AND Katie and I hit up this absolutely amazing market called OxBow Marketplace when we first arrived into the own… And we fell in LOVE! It was like a mini Chelsea Market from NYC and we about died. They even had a juicery. Too cool for words… I want to live inside of it.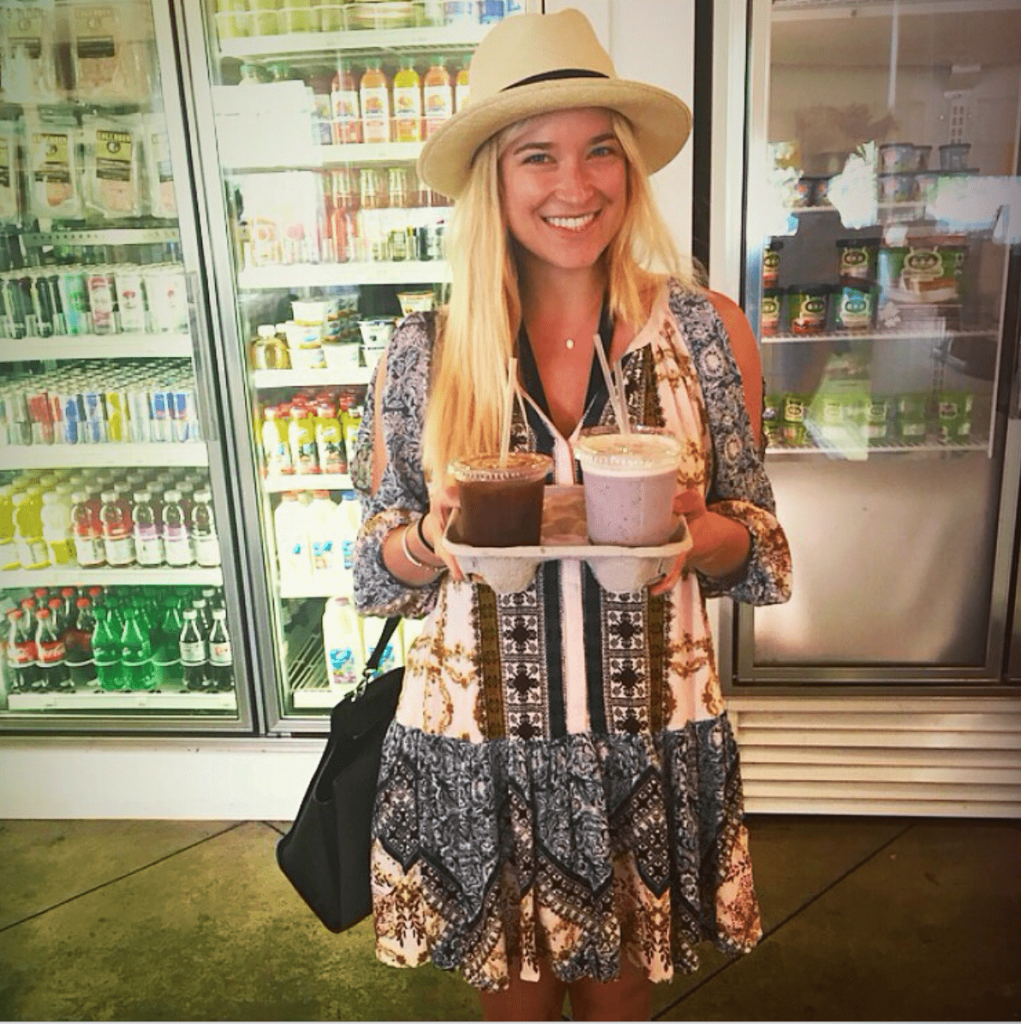 The drinks were also to die for… (Confession: mine in the middle is a sparkling water with lime + muddled mint, and it was also AWESOME. Never be uncomfortable to do your own thing for dietary reasons/personal preferences. It might be a little awkward at first but if you're confident about it then everyone else will be. Be unapologetically YOU! Not to say I don't drink, but it makes it tough to drink very much when I am working so hard to heal my stomach issues on a clean gut program. )
I did however sip on some yummy, crisp & chilled white wine. And here's my poor NutriBullet top the last time it was to be seen! Wah!
And here is some more regular food porn for those who aren't as limited as I am food-wise… #yum
THE CREW: What really takes a trip from good to great is the crew you're with. I always have a blast with my close friends, and it was extra special because we are all so close and haven't all been in the same city to celebrate D's birthday for years and years. Don't forget, Katie and I lived on the other side of the country until recently! And she only moved back super recently. We all have so much fun together & let's just say when we were toasting to D's bday & our lifelong friendships I may or may not have gotten a little teary eyed. : )
THE DEALIO: Other favs in Napa include heavenly food at Bottega, champagne tasting at Chandon, delicious lunch/dinner at Mustards Grill, wine tasting at Beringer, spa treatments at the Solage in Calistoga annddd so much more. Now I am adding the fab Oxbow Market to that list!
THE HIGHLIGHTS: Living in bathrobes, taking in the views from the pool, creating memories with my BFFs, sliding off of Danielle's/Katie's shoulders into the pool again and again (lol), seeing the cutest puppy ever named Beatrice, falling in love with Oxbow Market, and so much more.
Who else loves Napa Valley?! Anyone considering a trip there soon? I am so in love with the whole area… We are so lucky to have so many beautiful places in this world to visit. 🙂