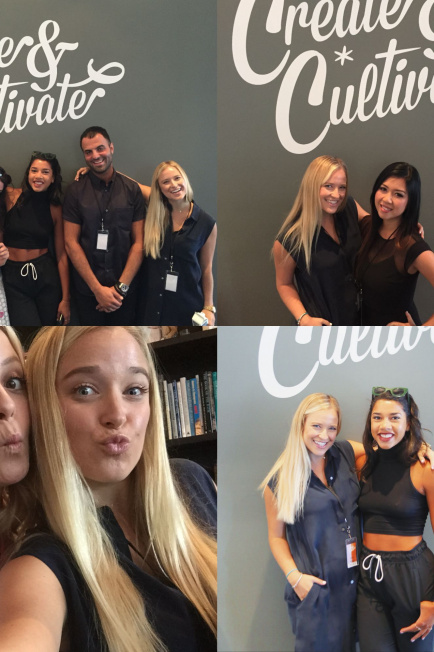 Travel Diary: Create + Cultivate Recap // Chicago Experience!
Happy Tuesday, my loves! I have been back from the Create + Cultivate conference in Chicago for nearly a week and a half now, and every day since I've returned I've planned on sitting down and writing a recap of the experience. What's taken me so long, you ask? Me, the girl who pours her heart out on the Internet every single day in some way, shape, or form? Why has it taken me days and days to find the right words to express how the experience affected me & what I got out of it…?! Let me tell ya why. 🙂
( BTW, in case you're unfamiliar with Create + Cultivate, it's a conference for female entrepreneurs in the digital space, & I spoke on one of their many awesome panels at the Chicago conference two weekends ago! PS, here is the link to what I'm wearing in all of the below photos. )
Pretty much, speaking at the C+C conference was a dream come true in the many ways I thought it would be, but beyond that it also held so much more weight and inspiration than I could have possibly expected in ways that were much less tangible. The ways I expected it to resonate with me were pretty obvious. I was looking forward to spending the weekend with creative, successful, like-minded women in the digital space who I would no doubt be able to draw inspiration from, including several women I have already admired in the blogging space for years. (Hint: Garance Dore, Emily Jackson from Ivory Lane, & Amber Fillerup from The Barefoot Blonde!) I was also excited to meet the girls attending the conference and hopefully pass along some words of wisdom that they could take home with them and apply to their own blogs and projects in the works.
Obviously I was also excited to check out Chicago, hang with my fellow speakers at the W rooftop speaker dinner on Friday night, soak in some epic knowledge at the conference and take endless amounts of photos with the super-Instagrammable set up at the event. I had my photographer Danika in tow and we were ready to take on the day by storm. (So ready, in fact, that I straight up left my cell phone in the back seat of our cab right before the event started. I noticed with about ONE second to spare, chased the sh*t out of the cab driver – in my heels – while he drove away, and by some stroke of miracle caught him before he was gone with my phone forever. Then I solemnly swore to myself I would *hopefully* stop letting my nerves/excitement get in the way of my common sense, but the day kept unwinding as such… #TypicalTBB.)
Those were the clearcut things I knew I would get out of the event. But what I didn't realize was how much more I would walk away with that day. I happened to be placed on the panel that was to speak about "Using the Digital Space for Good through Blogging, Commerce & Content." It sounded like pretty open speaking terms to me, and I wasn't sure exactly which way our conversation would flow. I was down for whichever way it ended up going, since my blog is so rooted in lifestyle content, inspirational content (I try, at least) and commerce (TBV Apparel!) but I still wasn't sure how exactly to prepare.
The way the conversation ended up going totally BLEW MY MIND and ROCKED MY WORLD in the best of ways. The night before we spoke I met an awesome girl, Camellia, who works for the organization I Am That Girl, and I instantly pounced on her for info because I knew her boss, Emily Greener, was the moderator of my panel the next day. After talking to Camellia for .02 seconds I already knew I was super into what I Am That Girl is all about and that I would be in great hands with Emily as a moderator. Plus, Emily had sent over potential talking points including, "What is your favorite non-material accessory, i.e. compassion, creativity, passion, etc." and I already fell in love with her. (Sidenote: where has I Am That Girl been all my life?!?! I am OBSESSED with everything they promote and stand for.)
Then, the morning of, (after I had chased down my phone #thankgod), I met some of my other panel members. Tracy Le from Darling Magazine became an immediate soul sis as we chugged wine spritzers at 9:30am (okay, I chugged, she delicately sipped) and Katie Sturino from The 12ish Style & Toast Meets World (and wifey of The Fat Jewish!) calmed me down by just having her and her doggy nearby. There was also the fab Julianne Goldmark from EmiJay (who started her company when she was 14!!! And I thought I was the young one!) and Kathleen Wright from Piece & Co who I also had an instant connection with.
Am I gushing about them too hard yet? Is it clear that I fell in love with these women and everything they stand for before we even stepped foot onto the stage?
I was getting a little nervous to speak, even after the wine chug sesh, because hello this was an awesome opportunity and I didn't want to forget to say anything important! But Emily warmed up the audience for us by being her super real, down to earth, radically honest and beautiful self and by the time we walked on stage my butterflies were still there but my nerves were gone.
We went on to talk about awesome things from finding and maintaining balance in the blogosphere (both health-wise and work-wise), starting companies that inspire people on a daily basis, building a business at a super young age (Julianne!) and how family plays into that / how important their support & guidance is, how we stay true to ourselves when sh*t gets messy and stressful, and so much more.
I was so high off of the speaking adrenaline I was later told by some of my blog readers in the audience that I held the microphone up to my mouth even when I wasn't speaking — which made it so clear that I wanted to leap right back into speaking as soon as there was a window for me to! But I promise I wasn't a speaking hog… That can be so annoying on a panel of 6 super awesome women who all want the chance to speak from the heart and go into depth.
So, after we spoke and the hour + 15 mins whizzed by in the blink of an eye, I walked off the stage with not only a heart bursting with happiness and inspiration, but 6 new girlfriends who motivated me in a whole new way. The whole thing was too awesome for words.
Danika and I stayed for pretty much the rest of the day to listen to other people speak and to hang out in the super cool speakers' lounge upstairs, and by the time we left in the early evening we were pretty much only leaving because we were starving and wanted to try one of the awesome restaurants we'd been recommended to go to while in town. We ended up going to The Girl & The Goat, which was hands down one of the BEST meals I've had in a very, very long time. I could eat that chicken every day… And the green beans! Ah!
Afterward we had drinks with the one and only Hillary Sawchuck from A Drink With, on the SoHo House rooftop overlooking the city. It was a pretty picturesque end to an epic day. We chatted about all the things we wish we could have covered on our panel (the conference would have had to quadruple in length in order to cover EVERYTHING we wanted to say, but it was a damn good overview) and of course all of our observations and enjoyments from the day.
Sunday also rocked. I had juice at one of the yummiest low-glycemic juice places I've ever been to, Owen & Alchemy, with a long lost soul sis of mine Jessica Murnane from One Part Plant. (We have the same kickass literary agent.) And the juice bar was INSIDE of Eataly, which is one of my favorite markets on earth… I've missed it dearly from my NYC days and was all too stoked to find out that there was one in Chi town.
Then Danika & I hosted a super fun meet up at Real Good Juice Co for some of my Chicago based TBB readers. (Surprise, surprise, they were all girls! Where the guy TBB readers at?! I know you guys are out there!) It was so fun and so special to meet the girls I've chatted with from afar, and I also fell in love with Real Good Juice. If you're ever in Chicago do yourself a favor and mosey on in there… Their smoothie/juice names are on another level of awesomeness.
So, basically, that's why it's taken me so long to recap C+C. It was too great, and there were so many layers to it. It was also mentally and physically exhausting, because when I travel to events like that I FEED off of the energy of my surroundings… So much so that I don't even notice when my body/mind starts to get super tired, jetlagged and on overload. Then I crash hardcore, which kind of happened last week, but not in a bad way. Just in a "damn Jordan you need to sleep in past 8am JUST ONCE, PLEASE kind of way" and a "no need to workout majorly every morning, J" and I even napped a few times midday last week to recover. #balance
I hope to speak at many of the C+C conferences to come, and hopefully even share my book with you guys at one of the upcoming events! I have some speaking ideas up my sleeve…! Speaking of the C+C team, a HUGE thanks to Jaclyn, Hope and Priscilla and their team for putting on a sensational event. They are the ultimate rockstars.
Have you been to Create + Cultivate before?! What are your thoughts on the event? If you haven't been, you've got to check it out. It's an unreal event that you will learn so much from — and gain tons of inspiration from to boot. 
ALSO, we stayed at the W Hotel City Center & I loved it. It was perfect for the weekend. We also went to an event at the W Hotel Lakeshore which I also loved… I may actually choose to stay at that one next time! And of course there is always SoHo House which I adore & fell in love with while I was in town!
More photos from the weekend…