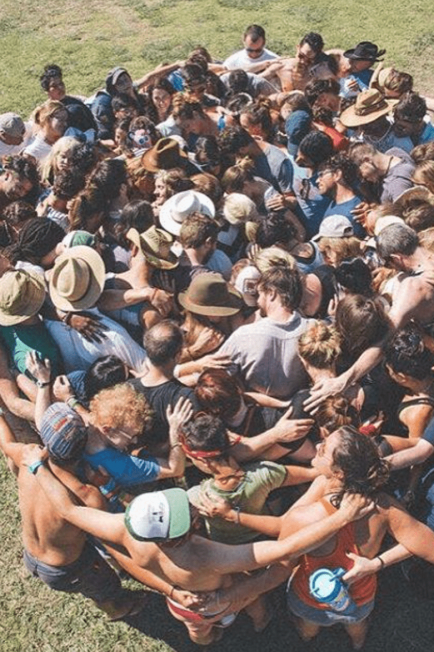 COSTA RICA Sisterhood Retreat in March
If you know me then you know that I keep "secrets" about very few things in my life. Nearly everything is out on the table, always. And by the table, I mean this blog (or my Instagram or my Snapchat or my Facebook or my cat's Instagram, but ya know, I digress). On the other hand I am REALLY good at keeping other people's secrets, just not my own. So if you've told me something recently or ever that is private don't worry… I can keep that shit on lock down.
One of the ONLY things that I have ever kept secret from my family, close friends and YOU GUYS until it was fully, fully, fully done was my BOOK! Now it comes out on November 15th, and some of the closest people to me have now just recently read the final copy. That was the first time my mom, dad, sister and best friends had read even one single word of the book. Pretty crazy if you ask me, since I normally can't take five steps forward without informing my mom exactly what I'm doing and how I'm feeling and why it's great or why it sucks. Yes, I'm one of those people. Very verbal, very communicative, very "ON" — with my tight knit crew, at least — and I'm cool with it. 😉
Something else that I have managed to keep (pretty much) a secret over the last several months is the fact that I am HOSTING A YOGA / SISTERHOOD / MINDFULNESS / DISCONNECT TO RECONNECT RETREAT in Costa Rica this March with one of my dear friends and true inspirations, Emily Nolan.
Emily and I are straight up soul sisters. Before we even met in person, we'd decided to host this retreat together. She is a body image crusader, the Chief Empowerment Officer of her very own non-profit women's empowerment organization #TOPLESS, a yogi, a writer, a soulful being and an all around badass. She is, in a nutshell, what everyone I know aspires to be. She is comfortable in her own skin and she radiates that EVERYWHERE she goes. She is supportive to a fault and she cares deeply about the people in her life. And she also does what she loves on a daily basis while empowering others to do the same.
COOL, RIGHT?
Emily and I connected immediately, and we knew right away that we wanted to share our love for sisterhood (friendship, empowerment, support, mindfulness, deep rooted connection), soul and YOGA with as many other women as possible. And why not do it in a beautiful location to boot?
You guys know that I attended a yoga retreat in Costa Rica last April, and it was life changing to say the least. We are going to be headed back to the same area for this retreat, this time at The Sanctuary of Two Rivers retreat center in Santa Teresa. Their motto is, "Where transformation happens naturally." Um, can we all go, NOW?!?!?
Here's what Emily & I crafted together to give you more info on the retreat (because we all know I could go on and on rambling in the meantime):
#SISTERHOOD Retreat, March 2016
March 13 – 19
You deserve it: Adventure, empowerment, self-confidence, connection and seven days of uninterrupted you time.
What We Know
As women, we are infinitely more powerful when we support one another. To own who we authentically are and celebrate our uniqueness, we have to trust that we are good enough just the way we are, and that act alone takes courage and a leap of faith. We're asking you to leap with us. And more importantly, take some time off with us to reinspire yourself.
What Can We Expect?
Together with Emily Nolan & myself in the jungle of Costa Rica at The Sanctuary at Two Rivers, we'll experience practices and adventure that guide us deeper into our own self-examination: Journaling, beach bonfires, hiking to waterfalls through the jungle, surfing, yoga/meditation, river swimming, intimate sharing and a beautiful waterfall ceremony led by Liz Lindh.
There will be relaxing downtime for a lazy beach day, shopping in town, getting lost in the jungle, or simply lounging by the pool with a good book.
Who Should Ggo?
If you've been looking for a sign, this is it; specifically if you've struggled with body image and dieting like we have. Emily and I will teach you the routines we've developed that helped us both overcome our personal struggles around the relationships we have with food and our body image.
This retreat includes daily physical activities like hiking, swimming, yoga, surfing (optional).
What's Included?
#SISTERHOOD is an all-inclusive retreat. From the tree top jungle houses to the organic vegetarian food and thoughtful group activities and excursions–we've got you covered.
All meals are covered on the property, but there may be times that you want to eat at a delicious local restaurant in town. In those cases, you will be in charge of your own expenses.
Reserve Your Spot:
Email [email protected] or [email protected] to reserve your spot. The cost to attend #sisterhood is $2,550; this includes your treetop jungle hut and meals on the property.
Once your spot is confirmed, we'll send you Paypal payment details via email. We will hold your reservation confirmation for one day after PayPal payment details are emailed to you.
The Travel Deets:
Once you've paid, you'll need to book your flights. We ask that you fly to San Jose, Costa Rica on March 12, so you can hop on a quick morning flight to Tambor on March 13.
When you've booked all of your flights, you'll need to book a hotel room for the night of March 12 in San Jose, Costa Rica (Around $120/room). This booking is separate from the retreat; please let Emily or Jordan know if you're interested in sharing a room this night, we're happy to match you with another sister.
Once you've booked your flights and hotel, please send your reservations to [email protected] or [email protected]. We will then arrange for your taxi from Tambo airport to The Sanctuary and Two Rivers and send you the details of your pickup arrangement a week before you arrive.
A LOVE NOTE FROM EMILY + JORDAN
We call it like it is–we're sisters. We might not be blood relatives, but we've picked each other as family. We're women that support each other's desires, truths and goals; we hold each other accountable. It's rewarding to feel a sense of genuine belonging amongst friends and to feel good enough just the way we are.
We're looking forward to sharing this intimate, one-of-a-kind experience with you. Welcome to #SISTERHOOD, our inspiring women's week packed with self-confidence practices, adventure at every turn and sacred time for self-reflection.
We're looking for fourteen special women who are ready to change their lives. Spots still available– get in on it NOW! We want to spend the week in COSTA WITH YOU!!!
BOOM. Email me if interested. Can't even freaking wait. Emily & I have already decided that this experience is going to most likely be the best week of all of our lives. 🙂