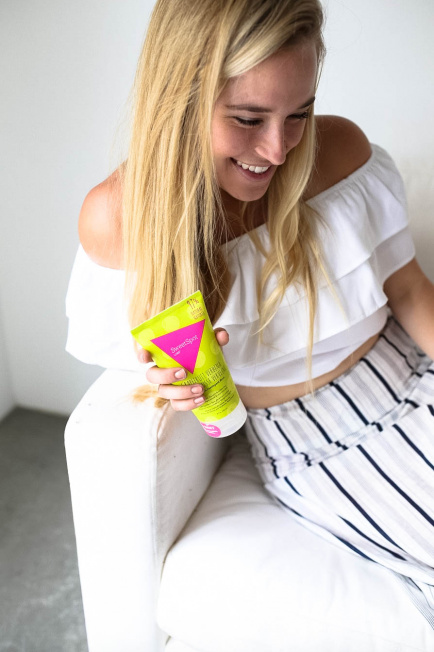 What the Heck is in my Gym Bag? (For the LADIES!)
This is a question I get asked almost every day, mainly because I am one of those girls who carries around pretty much anything you could need for any circumstance whatsoever. Bobby pins for a greasy hair moment? Check. Colorful pens in case you need to sign something or want to whip out some journaling mid-errand run? Check. Running shoes, yoga towels, hair ties, sports bra just in case you can squeeze in an unexpected workout? Check, check & check.
I also try not to keep my gym bag and/or my regular bag too cluttered for this very reason, so I try to do clean-out sweeps at least twice a week. (I swear, if I don't, I find ten million empty gum packets and random receipts from 2007 floating at the bottom. Not cute.) I just grab a big trash bag from my kitchen, throw everything unnecessary in there, and then run around my apartment emptying all the trash cans into the bag while I'm at it. For a girl on the go, it's the only way to get it done and do it often enough.
I think we are all aware by now that I workout pretty much every day. If I don't, it's probably because there were too many other things going on that day. And because I do not usually go straight home after I exercise, I have to think strategically before I leave the house. Girl ain't got time to come home and leave again! Not when there are so many workout buds to get coffee with, projects to have meetings about, photo shoots to jet to, grocery shopping to be done, long walks + phone convos to be had, on and on.
Plus, living in LA, I sometimes end up driving all over town to get to one of my favorite studios, so it's definitely in my best interest to make the best use of my time while I am already out and about.
The New Post-Workout Cleansing Product I've Fallen in Love With // For My Ladies…!
This brings me to my next point… My ladies will feel me on this one. It's not the best for our skin or our lady parts (wait till you see where I'm going with this…) to wear sweaty gym clothes all day, but sometimes we do it anyway. Even if you change your clothes at the gym before you head off to get to the rest of your day, if you're anything like me you want to freshen up and feel like you've actually gotten that sweat off your bod & far away from you. It's just itchy, unclean and downright kinda gross to leave it sitting on your skin all day. (No judgement BTW, because I do this ALL the time. Yes, I'm calling myself out on being #kindagross.)
Anyway – what if I told you there was a solution to this basking in sweat post-workout problem? Enter SweetSpot Labs, the first pH balanced feminine skincare line. They've created a collection of natural washes and wipes that are balanced for our "sweet spots" (you know what I'm talkin about!) but are good to use on our entire bodies too.
I love this product because it's made by women, for women. They have pretty packaging, fresh scents (can you say Vanilla Blossom wash?! Yes please), and a team of women who understand what other ladies truly need. I am all about products that view the consumer as an individual and not a mass group of people who are the SAME — we are all diverse, unique and completely 100% original in our own ways and when there is a product out there that understands that distinct quality, I can stand behind it.
Their ingredients are natural (#MUST), and they are blended carefully by a team of chemists to gently clean, hydrate and soften skin. There is no glycerin in this product — a sugar based ingredient that yeast thrives on — so it's safe to use on your feminine areas and get yourself all clean & freshened up post-workout or post-anything, really. For me, it makes the most sense post-workout because I do like to run out and have a full day of activities and meetings after the gym.
Instead of glycerin, SweetSpot uses coconut -based cleansers and a combination of natural oils including coconut, apricot and sunflower to give an even better cleansing and moisturizing experience. Basically, let's say goodbye to glycerin and drying soaps that aren't good for our skin in the long run. Let's also say goodbye to feeling kinda gross after the gym and dying to get home to take a shower. (PS, if you DO wanna come home and take a shower after the gym — I get it, not everyone is as cray as me when it comes to wanting to be out and about all day post-workout — you can also use these products in the shower!)
Best for on-the-go are their wipes & wipettes. They use 98% natural ingredients, are clinically tested, gynecologist recommended and the perfect size for your purse or gym bag. My fav is the Vanilla Blossom, and I always get compliments on the pretty bright yellow packaging in my bag.
So now, among my bobby pins, hair ties, running shoes, yoga towels, perfume, on-the-go journal, colored gel pens, endless supply of gum, mini hair brush, etc. are my SweetSpot products.
And yes, I realize it's a little intimate to be talking about our lady parts in all of their post-workout sweaty glory, but if I don't talk to you about it — who will!?! Obviously my blog is no holds barred, so I am always going to try to cover the interesting new products you may not have heard about yet. 😉
ALSO, there is a deal going on right now (gotta let you in on the hookups!) – Get 15% off using Target Cartwheel App!
Let me know if you try it and what you think!!! PS — more What's In My Bag posts to come… There is so much I have to break it up into a few diff subjects! XO 
Photos by Nicole Moser