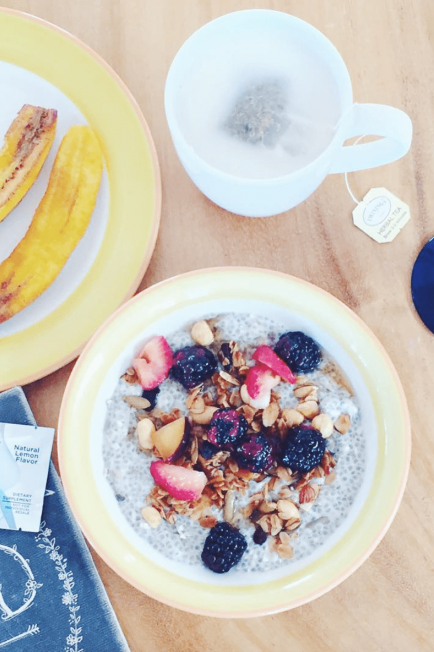 Hi beauties! Today I am off to Napa to run the Vine Body Sole Half Marathon with ASICS… And I am so exciiiiited. Since Napa is only a hop, skip & a jump from Sactown (my hometown), I will get to see my parents & my BFF's that live in the bay while I am up there!
I will also be with my other BFF Alexi — you've surely seen her all over my Instagram & in any post-race picture, since we have been running all sorts of 10k's together this year.  And here is a fun THROWBACKKKK from the first half marathon either of us ever ran… in 2012 in Long Beach! We were highly unprepared and had no idea what we were doing — LOL.
Pretttty awesome. And I am stoked to run the half, especially because the last one I ran was a training race for the marathon and that was in January… So my bod is ready for another half. 🙂 It's probably my favorite race distance, since it feels like a massive accomplishment but you can still walk the next day, as opposed to a whole marathon. Lol, but #truth.
Anyway, today I am here to share my latest LOVING LATELYYYY's with you. I used to do these posts every single Thursday, but now they're more of a treat because of all the other posts I try to juggle every week. Ready? Let's go.
LOVING LATELY!
↠ ↠ Digital Detoxing Before Bed — I'll admit it, I was never a fan of the phrase "digital detox" (as I mentioned in this article on MyDomaine), because I felt like it sounded like it was trying too hard. For those of us who use social media for work purposes, completely going off the grid just isn't an option like it may be in other people's lives. It's all relative, so going phone-less during meals, when I am with people, and while I exercise/do yoga/meditate, etc. always seemed like enough to me, relatively.
But lately I have been feeling extra tied to my phone. Like obsessed with scrolling through Instagram, checking people's Snapchat stories, updating my Twitter, texting people back right away, calling long distance friends, etc. And last Saturday when I had the WHOLE evening to myself for the first time in months… What did I do? I was ON MY PHONE for a huge frickin' portion of it. And I didn't like that. At the end of the night I looked back and thought… what the heck have I been doing for the last 6 hours?
There is a time and a place for our phones, and I embrace everything they do for our communication and our self expression through social media. BUT, there is a lot more to life. Like reading, writing, BEING with people, thinking + tapping into our creativity, cuddling with animals, cooking, even watching TV phone-less.
So my new thing is that I am "digital detoxing" from 9pm – 9 am every day. That gives me plenty of time before I go to bed and plenty of time after I wake up to do whatever the heck I want to do… so I have been reading a lot, and Huddy and I have gotten a lot more time to cuddle in the mornings without my leaping directly onto my phone. Some nights I am out past 9 so it doesn't work, or I have to be somewhere before 9am, but that's okay. It's a baseline, and so far I am loving loving this new routine. TRY IT WITH ME?! 
↠ ↠ CHIA SEED PUDDING — When I was in Mexico on my yoga retreat, we ate chia pudding for breakfast every morning. You guys know me and my sensitive stomach, and when I find something that works for me for breakfast (i.e: something that satiates me and gives me energy but doesn't also bog me down and make me feel bloated, nauseous, acid-refluxy), I get really excited. Chia pudding tastes phenomenal and it's full of plant-based protein and fiber, health fats (omega-3's, baby!), calcium, manganese and magnesium. On our retreat I think it was made with soy milk which made it taste heavenly, but back at home I have been using almond milk. Do you guys want a chia seed recipe?! If so, I'll post about it next week — I've legit been having it for breakfast every single morning! I am obsessed!
↠ ↠ Engaging w/ People on Instagram — This is a funny one, especially coming after the digital detox! But I have been going back to my roots lately on Instagram and really engaging with other users. When I first started my account (3 years ago, wow) I used to comment and engage with tons of other wellness Instagrammers to show my support and connect. As my brand has grown, I started doing that less and less just because I spent less time scrolling through the platform in general. I always engaged with people who commented on my stuff and asked questions, but I wasn't doing a ton of outreach on other people's pages except for friends & people I follow closely.
Lately I have been searching hashtags and really taking a look at what the people I follow post so that I can support them, comment, engage and show them love. I think that the more we can bring our real-life personalities into social media and form bonds and friendships and even support-from-afar type of scenarios, then we can turn this whole "technology disconnect" thing into less of an issue. I treat my Instagram friends like I would treat my real friends — I show them my genuine self, support what they are doing, and get to know them through their imagery and captions. (Granted, I only follow people who give enough substance through social media in order for me to feel like I get to know them — that's important to me, so the blogging world continues to feel real and not stale.)
↠ ↠  YOGA — This will not come as a shock after my big news the other day and after everything I have shared on Instagram lately, but yoga has found its way back into my life with a vengeance. It makes everything better — my sleep has been deeper, my other workouts (OrangeTheory & running!) have been more enjoyable to get through because my body is OPEN, my mind is so much calmer, and I feel really clear and at peace. It's crazy. Even when I locked myself out of my building this week (twice, actually) and when I have been running to and fro to get everything done in the short span I was in LA this week, I have felt strangely calm and at ease. For me, that's big. Thanks yoga for proving yourself so powerful in my life yet again. <3
↠ ↠ The Women's Health Body Clock Diet, a fab book by Certified Eating Disorder Registered Dietitian Laura Cipullo! This book is amazing and I couldn't put it down (thanks to my nightly digital detox I've had so much more time to read lately). Basically it's all about how it's likely our bodies are out of whack if we are eating well, exercising, being kind to our bods, and we still aren't seeing any results. When our natural body clock is out of whack, it causes hormone disturbances that pack on fat and leave us feeling yucky.
In this book, Laura is able to tap into her knowledge & the latest scientific research to help women adjust their body clocks and other internal timekeepers for optimum health and fat-burning capacity. It's basically a #LIFEHACK extraordinaire, but with so much research behind if you'll be like OMG why did I not know/learn all of this years earlier?!
The book has a plan to follow that will help reset your body clock back into proper rhythm in less than 2 weeks, a meal plan and an hour-by-hour daily action plan to take advantage of our bod's atural hormone "bursts" to burn more calories, reduce sugar cravings, and optimize sleep. PRETTY AWESOME! You guys must read!
There you have it my boos! A few things that I am LOVING LATELY. What you are loving lately? Do tell!! I will share so many pics + fun stuff from Napa this weekend… Get ready!! MUAH! XO