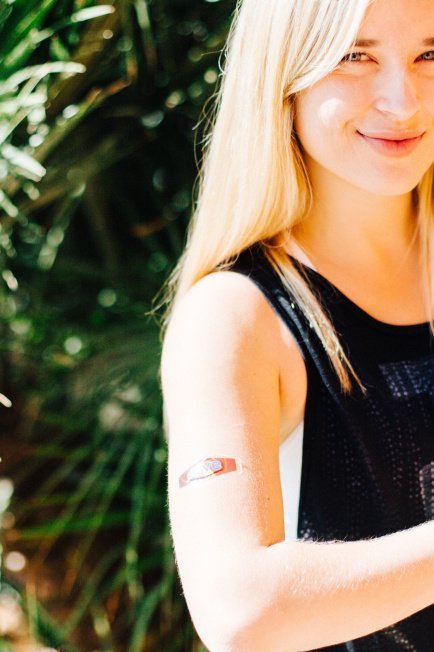 Top 10 Iron Rich Foods for Our Bods
Guys! Did you know that today is World Blood Donor Day? This is such a passion of mine because nearly 5 million Americans require a blood transfusion each year — and being someone with a pretty rare blood type, I always make sure to give blood whenever I can in hopes of helping someone with my type!
I'm so excited to partner with Nexcare™ Brand (the cutest bandages around — I love, and my nieces love even more!) this World Blood Donor Day for their eighth annual Nexcare™ Give Program. This initiative celebrates the importance of giving blood, especially during the summer season when blood centers often face what is known as "summer shortages," because fewer people donate blood due to summer travel.
Who knew?!
To spread awareness for the cause, Nexcare™ Brand created a limited-edition collection of bandages printed with the word "give" which will be handed out for free at participating America's Blood Centers donation sites around the country. You can also pledge to support blood donation at NexcareGive.com, or share your donation story using #GiveInspires.
To celebrate GIVIN' BLOOD (omg, I feel like I'm in True Blood, dreams do come true), I am sharing the Top 10 IRON RICH Foods that keep us healthy & strong, and that keep our blood healthy and balanced of course. 🙂
First of all…
Potential signs of Iron deficiency:
Fatigue
Weakness
Dizziness
Headache
Pale skin and nails
If you have any of the above, or if you are ANEMIC (I have been my whole life — no bueno), then you will want to pay special attention to the list below!
TOP 10 IRON RICH FOODS:
Chickpeas: Rich in iron, protein, fiber, complex carbs, folate, zinc, and they are DELISH. You know I have been making so many recipes with them this year to celebrate the #YearOfPulses! Chickpea superfood  balls, anyone?!
Pumpkin Seeds: These bad boys contain 16% of your daily iron needs in just ¼ cup — you can get pumpkin seed protein powder if you enjoy it more. I like to sprinkle pumpkin seeds on top of my salads and soups for an additional crunch + saltiness!
Beans: We all know that beans are chock full of fiber, but did ya know that they are super iron rich as well? Black beans are my JAM… Especially in Cafe Gratitude's "I Am Whole" bowl. 😉 Guilty as charged of ordering that from Postmates at LEAST twice a week. #whoops
Lentils: Lentils are the bomb dot com, and they contain 37% of our daily iron value in 1 cup (cooked). I like black lentils and yellow lentils combined, and I love to eat them with arugula, roasted veggies and pesto for the yummiest salad of all time. They're also full of potassium, folate & bursting with antioxidants!
Cooked spinach: Helloooo, Popeye, anyone? To absorb the most iron from cooked spinach, pair it with vitamin C like oranges or bell peppers by making a yummy citrus dressing! #YUM.
Quinoa: This superfood grain contains 15% of our daily iron value in just 1 cup (cooked). It's gluten-free and packed with protein, and there are so many delish things you can do with it. I do have a yummy quinoa breakfast porridge in my book… Just sayin'!
Wild caught fish: I prefer salmon the most, but any type of wild fish will give you a good boost of iron to  work with! Wild fish also reduces the risk of depression, heart disease, and cognitive decline. Score x 4.
Dark Chocolate: YEE, you knew I'd put this one on the list! Dark chocolate is high in antioxidants, boosts cognition & reduces risk of heart disease. Plus… it's chocolate. Need I say more?
Peanut Butter: Okay, PB only has a moderate amount of iron but it is a significant source for people who are vegetarian or don't eat a lot of meat. I put a little bit of peanut butter in my smoothie every day for good measure. I am also a certified PB addict…
Turkey: Dark turkey is the best source of iron among poultry (good to know!), and just 3 oz. has 10% of daily value, so you don't necessarily need to load up on it!
How do you plan to join in on World Blood Donor Day? I think I will celebrate (after donating, of course) by whipping up something with dark chocolate & peanut butter… How could I not?! XO
This is a sponsored post on behalf of Nexcare™ Brand, but all opinions are my own as always. <3