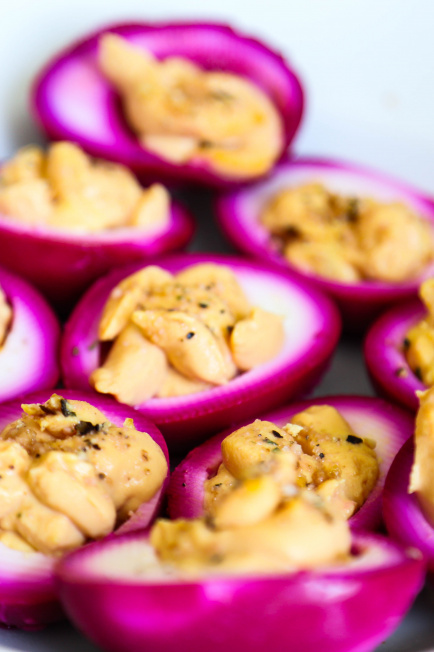 Beet-Dyed Deviled Eggs… YUM
Yes, you read this right. Beet-dyed deviled eggs. Otherwise known as the healthy edible Easter egg craft project of your dreams. Or was that my dreams?
Hopefully both!
Can we also talk for a second about how ridiculously delicious deviled eggs are? I remember the first time I had a deviled egg. I was on a camping trip with my sister, my brother-in-law and my nephew Theo. I think I was about 9 or 10, and Theo was about 3.
That weekend was a lot of firsts. My first time sleeping in a tent. My first time going up into the mountains without my parents so I felt like such a big cool kid. My first time trying ranch dip (OMG I fell in love), and my very first time eating a deviled egg.
Right after the first bite, I was HOOKED. I was like wait, these are eggs? Why are they so good? Why are they so creamy and flavorful and light and delicious?
I think I ate a few too many deviled eggs that day and I definitely ate way too much ranch dip with potato chips… But I was officially broadening my food horizon. And my camping horizon. 😉
As the years have gone on, I have changed my diet quite a bit. As you know, I was vegan for several years which meant I didn't eat eggs at all. At that time, I had to get crafty. I made a lot of eggless tofu scrambles with veggies, and pretty much mastered the art of every non-egg breakfast.
Nowwww that I am back on the animal protein train, I am all about the eggs. I get them from the Brentwood farmer's market from an awesome farmer and his brothers that I love to support. Sometimes I even buy their duck and quail eggs!
But, being me, being so very TBB, my preference is still toward the utmost healthiest of foods. How can I healthify everything? How can I sneak in some added nutrients and veggies?
BEETS.
Beet-dyed eggies! This is one of the more time-consuming recipes I've dove into lately, and they were super fun to make.
Sometimes I love spending a little extra time in the kitchen — it calms me and soothes my soul. Especially when I get to photograph it after and I know the food will be beautiful and photogenic like woah!
I used Best Foods' Carefully Crafted Dressing & Sandwich Spread to make these delicious little devils — the same spread I used in my recent zucchini noodle w/ pesto recipe! Their spread is natural, organic, non-GMO, cholesterol-free, artificial color free & egg-free (haha I know, we are still making eggs).
Sidenote: I LOVE when companies that have been around for a long time and had been doing things one way adapt to healthier alternatives and give options for those of us who like to live a healthy, organic lifestyle. That means no pesticides, free of synthetic additives, unprocessed and nothing genetically engineered.
Woo!
Okay, recipe time! Let's do this! Get your apron on (if you have one…), this one is an adventure! (This recipe was adapted from The Kitchn, with a TBB spin!)
Ingredients:
6 large eggs
1 16-ounce can or jar pickled beets
1 cup apple cider vinegar
1 teaspoon salt
1 teaspoon mustard
1 tablespoon Best Foods Carefully Crafted vegan-friendly Spread
1/2 teaspoon curry powder
1 tablespoon vinegar
2 tablespoons olive oil
Salt and pepper to taste
Fresh rosemary for garnish
Method:
Hard boil your eggs and remove the shells. (For perfect hard-boiled eggs, I use this method.) Set the eggs aside.
To prepare the brine, pour a can of pickled beets into a large mason jar or bowl. Add cider vinegar, sugar, peppercorns, and salt. Stir mixture. Carefully (that beet juice will stain!) lower the peeled eggs into the brine. Cover and refrigerate for at least 12 hours, or up to 3 days. The longer you leave them in the brine, the more sour and pink they'll end up. I like just the rim of pink and slight pickled flavor, so I let mine sit about 16 hours.
When brining time is finished, cut each egg in half and scoop out yolks. Place yolks in a medium-sized bowl, along with the mustard, mayonnaise, curry, vinegar, and olive oil. Mix and mash until smooth. Add a little bit of water to the mixture if it's too stiff. Salt and pepper to taste.
Using a pastry bag or a plastic bag with the corner cut off, pipe the yolk mixture back into the pink eggs. Sprinkle with chopped rosemary and season with salt and pepper.
This post sponsored by FeedFeed and Best Foods – thank you for supporting the brands that support me. 🙂