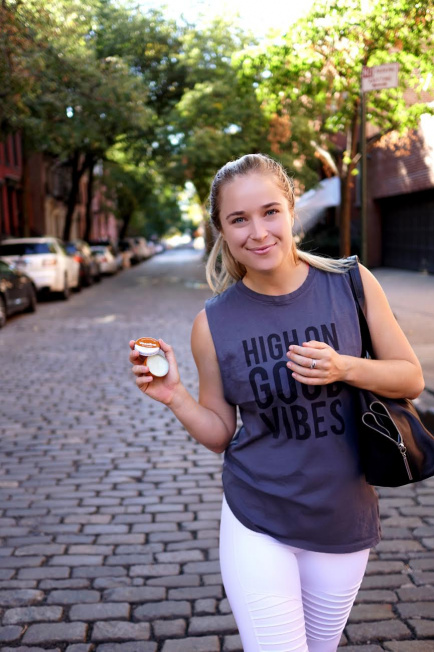 HI GUYS!
I started a running list of my travel tips and tricks when I was on the plane to NYC a few days ago, because as I looked down at my feet and saw my overspilling bag with all of my travel go-tos and can't-live-withouts, I realized… *oh damn, I have this down to a science.*
I am a very particular person. When I fly for 5+ hours between LA & NYC, I need to make sure I am comfortable and have everything I need. If I'm not, my whole trip gets impacted by it because my bod is so hypersensitive.
For real — even with all of my travel must-haves in place on my most recent trip, I stayed in bed for a solid 18 hours between Saturday night and Sunday evening after arriving in NYC and hitting the ground running on Thursday, Friday and Sat. I am just VERY sensitive, so I need to stick to what works for me and be very routine about it. For example… if I get on a 10 a.m. flight from LA and don't land in NYC until 6 p.m. because of the time difference, you KNOW this girl be needin' all sorts of snacks. Because I really don't like airplane food, and I don't think I've touched any of it since probably 1999.
So of course no matter what I bring my Perfect Bars, bananas, almond butter, tea bags, and even to-go salads and full-blown meals from my neighborhood spots in Brentwood.
Beyond food, there is a FULL LIST of travel "must-haves" coming your way in the next few days (including the yoga tune up balls that have changed my entire liiiiife on the airplane) but today I wanted to break it down into something smaller. Because this ish is my JAM and I need you to know about it…
Ready? (P.S. if you're my fam or friends then you already know my obsession, but bear with me.)
Vaseline Cocoa Butter Lip Therapy Tin. This stuff feels like BUTTER. I have super, duper sensitive and dry lips when I travel, and this is the only product I've found that keeps my lips feeling hydrated & totally fine no matter what the travel day was like.
Also, regardless of travel — this is just my thang. I don't wear a whole lot of makeup, as you know, so to find a lip product that isn't going to make me feel out of my element by having a huge pop of color but actually give me hydration and a shine for photoshoots, etc. can be difficult. It also comes in a really super cute little tin and the branding is on POINT.
So yeah, from one hyper-sensitive traveler to another, you need this in your life. I am constantly on the search for what works and doesn't leave my lips feeling even more dried out later, and this Vaseline w/ cocoa butter really does the trick. If you try it, you'll have to let me know your thoughts!
A few other travel musts for me right now (even though, like I said, full post with links to all this stuff coming!):
– the yoga tune up balls that I mentioned because they help with digestion and also feel SOOO good on your back and legs during a long flight
– getting up to stretch like 2984398 times during the flight. I'm sure you've heard that it's much better for your bod and your bloodstream to stretch and move rather than sit still during a long flight — so I usually do some yoga stretches in the way back of the plane at least twice during the flight… #gamechanger
– obvi all of the snacks that I mentioned
– having a GOOD BOOK: currently, I'm reading She's Come Undone by Wally Lamb and it's so, so sensational like all of his books are
– being NICE TO PEOPLE during your travel day… I will elaborate when I do my Part II of this post!
And for reals, check out the Vaseline Cocoa Butter Lip Tins. I whipped one of these tins out of my bag on the beach with my family a few weeks ago, and my dad, niece, and brother-in-law swarmed me to use it themselves & became obsessed with it as well. Now they ask me for it every time I am with them… Priceless. 😉
Disclosure: I was compensated by Vaseline to write this post, but all opinions are my own as always!
I'm curious — what are your go-to travel musts? Can't wait to share Part II of this with ya in a few days!