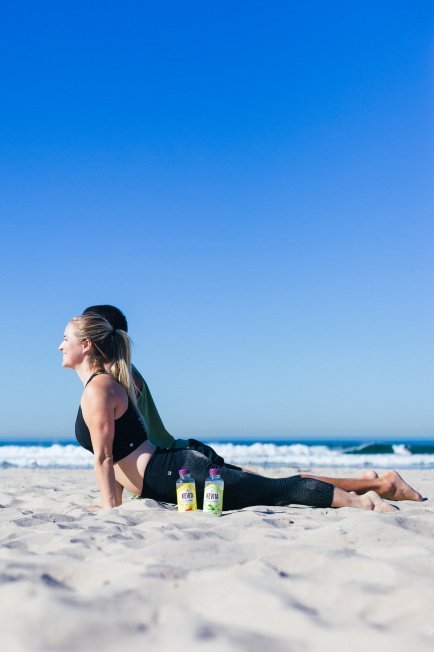 My Go-To Workout Routine When I Don't Have A Lot of Time…!
Guys. You may have seen my friend Todd in my photos or on my YouTube channel — and if you have, you wouldn't forget. Because he looks like a god, and he is actually one of the kindest, most generous souls that I know here in Los Angeles.
He is one of those total gems who genuinely wants other people to do well, to feel their best, and to achieve their happiest, healthiest self. Kind of in alignment with my TBB goals, so we decided why not partner up to promote his TMAC 20 Workouts which just so happen to be my go-to workouts when I don't have a lot of time on my plate.
Like, for example… right now! I am writing this post, eating an egg, avo & paleo bacon scramble (#YUM), hopping right into the shower and then heading off to a hockey game downtown tonight with some friends.
It's almost 3 p.m., I've been working all day with two full-blown photoshoots this morning — when the heck would I get my workout in otherwise?? In come's TMAC 20, and in 20 minutes I get a massive full body workout and feel WAY better going into my evening.
The incredible thing with Todd's workouts is the super small amount of time needed and the results that take place from those 20 minutes. You think workouts in a 20 minute period can't be hard and test you to your limits… trust me, I thought that — but these workouts are SO HARD, you guys!!!
When Todd and I were prepping for the YouTube video we did together, we did that workout 2 times through so that I could familiarize myself with it. Do you know how insanely hard that was? I was dripping sweat and my heart was pounding out the roof — and we didn't even do it full out! And I consider myself to be in pretty darn good shape.
This dude knows what he is doing. And it's no wonder — he was a starting linebacker for the Florida Gators in college, and he went on to play for Italy in the European Football League after school. His approach is not just about fitness, but also about eating well and having a strong spiritual practice. I am ALL about all of those things going hand in hand with one another, because I wholeheartedly true wellness is a lifestyle, and I am so glad that Todd's program provides all three of those staples for you guys to benefit from.
Fitness. Food. Drawing Inward. #BOOM
What You Get in Todd's TMac 20
20 days of 20 minute workout videos
Clean + simple 20 day meal plan
Daily (short) inspirational videos
TMAC 20 PDF recipe guide
TMAC 20 PDF program guide
30-day access to the program
& use my code "TBB123" to get $20 off any purchase!!!
He also incorporates some yoga into his routines, because he understands the importance of alignment, stretching, and the spiritual element that yoga provides. So within the 20 minute workouts you're not just sweating your butt off — you're warming up and cooling down with essential mini-breaks for your body's internal system to recalibrate.
I won't lie, these workouts are hard. But they're nothing you can't handle. Especially in the comfort of your own home and with the small time commitment so you can chip away each day and slowly but surely get stronger and stronger.
There is a reason why Todd is a top trainer in LA and his client's swear by his workouts — including me! These 20 minute workouts WILL change your life, and I am honored to share them with you. You can check out his TMAC 20 workout here, and check out his 20 Day New Years Challenge here.
Also, you'll see me in the videos! Brandin and myself are in one of the vids, and also my signature TBB smoothie and salad are in the nutrition portion of the program… pretty darn awesome!! Thank you Todd for creating such an awesome and well-rounded program for people to find TRUUUUE balance and health in this crazy world.
So yes, you do NOT have to sweat for 75 minutes a day to see results. Just eat well (KEY), move your body, and be kind to yourself. Done and done.
Oh, and don't forget to use my code "TBB123" to get $20 off of any purchase from the TMAC site!!!
XO