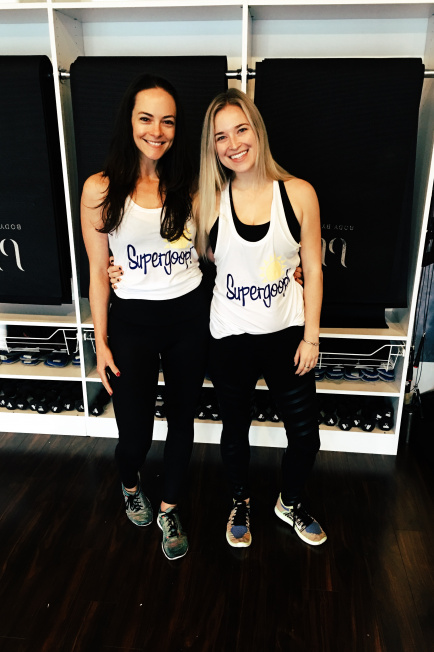 SUN CARE + Hangin' With Maria Sharapova
HI GUYS! Happy TUESDAY. 🙂
Sooo, if you follow me on Instagram then you probably noticed that last week I went to the raddest event ever at Body by Simone in Brentwood, hosted by the fab Supergoop! team and taught by the fab Simone De La Rue herself!
(Sidenote, Simone is the cutest and most pixie-like human with rock hard abs that I have ever seen, and now I am dying to get her on the podcast! It's happening. K, Simone?!). I mean, look at her!
The event itself was so enjoyable, from the workout to the people to what the Supergoop! brand is all about. Sometimes as a wellness blogger I have these pinch me moments where I start thinking… this is actually my job?! I actually get to go to fitness classes, hang out with my friends, try cool new products on the market, and write about all of it… DANG girl, life is good.
You know I say all of this for the key reason being that I firmly believe we can all create the lives of our dreams if we put enough passion, time and creativity into what we do. And also, I don't like to be one of those bloggers that says, "UGH my job is so much harder than it looks — it actually sucks, you guys have no idea," because although there are tough moments… I wouldn't trade this shindig for anything. Anything.
I mean, come on! Fitness classes in the morning on my street with the most effective skincare/sun-care brand on the market? With the founder teaching us all about the product ANNND Maria Sharapova there to discuss it to boot?!
That brings me to my next point. Did you know that Maria Sharapova is a co-owner of the company?! As an athlete, she recognizes the importance of sun-protection and shared with us all of the reasons why Supergoop! is her absolute favorite and why she had to be involved. Let's list some reasons below…
skin cancer is the most prevalent type of cancer by far, even though it's largely the most preventable… but so many of us feel invincible when we are young + active pre-sun damage, so a lot of us don't take the effective pre-cautions that we should be taking!
90% of the signs of age are caused by day to day sun exposure (wrinkles, sun spots, discoloration, you name it)
1 in 5 Americans will be diagnosed with skin cancer in their lifetime
A person's risk for melanoma doubles if he or she has had more than five sunburns at any age (BTW, that totally rules me out… I have gotten sunburned SO MANY DAMN TIMES in my life!)
It's not just about UVB-burning rays, it's also about UVA-rays which are the aging rays. They are present with relatively equal intensity during daylight hours throughout the year. They even penetrate clouds and class. Those rays penetrate the skin more deeply and don't show up in color so we have no idea it's happening.
Supergoop prevents sun damage with SUPER broad spectrum (UVA + UVB) + Infrared (IRA) protection by including potent antioxidants in their formula. Infrared radiation comes from anything that emits heat… from hair dryers to nail lamps to, of course, the sun. In fact — over half of the solar energy that reaches out skin is infrared! Yikes. And antioxidants are the ONLY defense against IRA to ensure this type of protection.
Supergoop includes NO parabens, oxybenzone, or synthetic fragrances. (All staples in my book.)
Their products are lightweight, never greasy or sticky and easily absorb into skin — including their fab CC cream that I have since became addicted to!
The products are available at Sephora/ Sephora.com nationwide and you can also purchase online at supergoop.com — and if you're wondering what my fave products are: their CC cream is insane, the Defense Refresh Setting Mist with SPF and their SPF 40 Sunscreen.
BTW, my personal favorite thing about these products are that they really are grease-free because of the ingredients that they use. They don't make my face feel greasy or sticky… which is the main reason why I've always felt that sunscreen was such a pain. As I get older (26 — WHATTT) I am realizing more and more, as a super fair-skinned individual, I need to be serious about sunscreen and really take care of my skin.
People currently think I look 21 on the daily, and I want that to happen for a LONG TIME to come!!! Ya hear?!?!
If you guys try the product, let me know your thoughts! They are hosting a really fun Instagram challenge with the #ProtectYourPosse hashtag to encourage sun-care and posting fun workout pics with our squad. They are giving away $500 worth of product, Sweaty Betty athleisure gear, $200 to Moon Juice, and a workout class of your choice with 5 friends!! ENTER and tag them (and me, so I can see for fun!!) to try to win! XO
Always dedicated to bringing you guys info on the newest + what I consider to be the best natural stuff on the market. Hope you enjoy this lil' recap. MUAH!