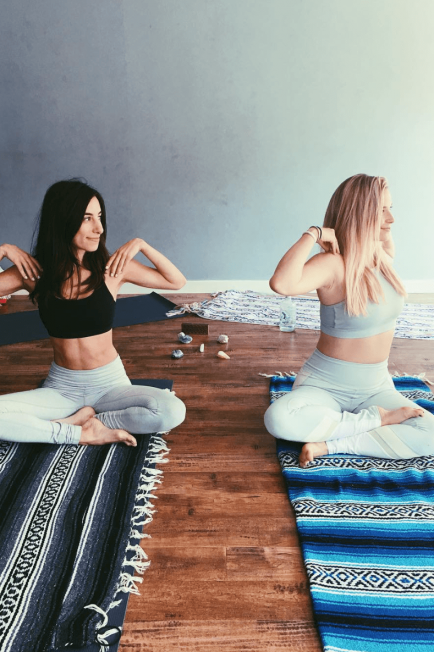 Life Lately // Kundalini Yoga, Cryotherapy, Cupping & MORE
Well, life lately has been awesome.
I feel like I am finally, finally learning how to slow down & enjoy the "fruits of my labor," if you will, and appreciate that I have created the lifestyle of my dreams with this awesome, flexible schedule.
Where I get to teach yoga, write on the bloggy, interact with you guys, write freelance for some of my favorite publications out there, film yoga flows, photograph allll day long, write ebooks and ebooks, host events, connect with you MORE, lay in bed in the middle of the day when I feel like it, ya know. All that jazz.
For a long time I felt like if I slowed down to enjoy it all, maybe it would all disappear. Because then I wouldn't be working as hard or busting my ass (for lack of a better term) in the same way I had been from the very day that I started this blog almost four years ago!
I used to write 5-7 blog posts a week. On massive topics with a major photoshoot for each one. It was fun, but it was a lot. Too much. I think I had no life beyond the screen.
And guess what? I was wrong. When you slow down, good things don't disappear. Hard work doesn't disappear. Partnerships, management, events, good stuff, relationships, etc. don't disappear or just vanish overnight. They stay, because a solid foundation has been built.
I'm not saying I plan to really slow my roll any time soon. My drive is still there with a vengeance & some days there are SO MANY PROJECTS and fun things I want to manifest and turn into reality that I am stumped into total paralyzation because when your mind is speeding 10,000 miles a minute, where do you even begin?
It's just about balance.
For years I didn't have a lot of things I wanted — like a loving relationship, a cozy home life, ANY time at home outside of going to sleep, extra help so that I'm not the only person managing every single aspect of my business, weekends off to do spontaneous things with my friends, casual nights in the bath to read and listen to podcasts, vacations that didn't center all around work and blogging (okay I still do that — getting there!!), that kind of stuff.
Now I do! I slowly but surely developed a life where I do have all of those things, but beyond that I know that I am at a place where I can cherish them. It's not about "having" them, it's just about living and continuing to create a life that is not entirely from a scene out of The Devil Wears Prada.
I have never been happier or more content. I really do credit my Panchakarma for bringing to light the awareness that I simply was just rushing through life every moment of every day and not slowing down to enjoy it.
Also, if you remember my podcast Episode 4 with Miranda Alcott (my animal communicator), HUDSON my cat also told me that if I didn't learn to slow down I would never have what I wanted most in life — love, connectivity, longevity in all that I do. Crazy, but he was right.
Anyway, all of that to tell you a few things: I had the best weekend, because I am learning to take weekends off. And I have been ON my self-care game lately. So I am gonna tell ya about it.
This weekend I…
+ did KUNDALINI YOGA for the first time & had the most epic experience of life. More on that in a sec!
+ tried out Russell Simmons' yoga studio Tantris Yoga & got to take class from one of my fave NY teachers whose class I used to take at Modo every day!
+ did CRYOTHERAPY at Next Health in West Hollywood which was the true bomb dot com. I got to dance to rap music in the cryo chamber with this dude & freeze our butts off for three whole minutes. Apparently when there were about 10 seconds left I looked at him like "WHAT THE HELL????" and obvi couldn't talk because of this cute lil' mask situation. At that point my shoulder was feeling numb (in a cold but good way) and I was thinking — is this ever going to end? Then it did. And then I felt AMAZING and was on a serious & true energy high for the rest of the day. My muscles still feel great from it!
+ taught my weekly yoga class at Kinetic in Brentwood. You can sign up for my 1pm Sunday class or 7:30pm Tuesday class here — I teach them every week & would love to have your amazing faces there!!!
+ bought Steve Ross's book Happy Yoga & am diving deep into it along with a ton of other books I can't put down right now… I think a TBB Book Club post is in order!!
+ spent a lot of time with people I love, had some good food at Erewhon not once but twice (obsession), jammed out to some epic tunes (MC Yogi's newest album on fleek) & all around just enjoyed every single moment and soaked in the good vibes in the air.
+ I also had an awesome cupping session at the end of the week at The Spa on Rodeo & again feel light as a feather afterward — I feel the toxin release big time, even if there are skeptics out there about what cupping DOES to release toxins. I think (as with everything) you have to try it yourself and be the own judge of how much you like or don't like the experience and why!
So yeah, it was amazing. And I have to tell you about Kundalini before I sign off!!!
I want to do a whole post on this. Or ten. Or fifteen hundred.
But for now I'll just tell you — kundalini this weekend blew my mind.
I got to do a private session with the ladies of High Vibe Livin & my best friend Jill.
I had been wanting to try kundalini for months. It was weird actually — everything about kundalini was presenting itself to me in a BIG WAY, as all things do when the universe is trying to tell us something.
( Like this book JUMPING OUT to me at The Den Meditation a few weeks ago as if it were the only book on their huge shelf of books for sale. It was literally the only thing my eyes could see! )
I will share more about this story in my upcoming Soul On Fire ebook, but I can't even begin to tell you how deeply kundalini was calling to me. It was calling to Jill too, and when she told me that (my not-as-spiritual-as-me best friend, I mean come on) I was like OK WE ARE DOING IT.
So because of that, trying it this weekend was truly epic.
Britt & Tara of HVL are the real deal, you guys. From the kundalini session itself to the kriyas, mantras, soulful conversation, and post-session chat about our spirit guides (Tara saw them, yes, she's an intuitive goddess human), Jill and I got so much out of the experience.
My hugest takeaway was that I was FLOODED (I mean, BEYOND flooded) with creative stimulation and massive inspiration during the session.
I was also fighting off tears and huge waves of emotion which wasn't entirely shocking to me, because I know what I need to work through that's been sitting on my mind for months (okay, years, but I digress).
It's like what happens to me in a normally good yoga class but on steroids. My brain was inundated with visions about things I am in the process of creating that I believe will play out this year. Straight up visions — about my yoga ebook, some other things I am setting up (so close to being able to share with you), a yoga tour, book tour, and more.
SOUL ON FIRE life, basically, is what was seeping into my brain from all angles.
I felt so divinely connected & in tune. Very similar to how I felt the entire time while reading Gabby Bernstein's The Universe Has Your Back.
The breath work itself in kundalini had me feeling HIGH OFF OF BREATH in the absolute best ways possible.
At the end of the session Tara & Britt made it clear to us that we have a lot of spiritual power to tap into. Which is COOL! Based on the numerology of our birth charts, our minds were blown at what sort of divine guidance there is out there for us.
I know that for how spiritual I am and how much I care about  my practice of yoga and devotion to the universe, I have a lot of work to do when it comes to actually… meditating. Connecting. Chanting mantras. ALL of it.
I also felt energy shifting within my body to the point where when I taught my class at Kinetic Yoga a few hours later, I truly felt like I was teaching from a higher version of my self (a higher power, in many senses). THAT was cool. Amazing. Intriguing. I MUST LEARN MORE.
I've felt a shift happening deep inside of me for a long time, and I am excited to see how it comes to fruition — this new kundalini yogi side of me. 🙂 I am going back with Ashley on Wednesday, eek!
Thoughts?! Who has tried kundalini?! Cryotherapy?! Cupping?! I know I am all into the self-care right now and loving every second of it. Would love, love to hear what you guys think! X