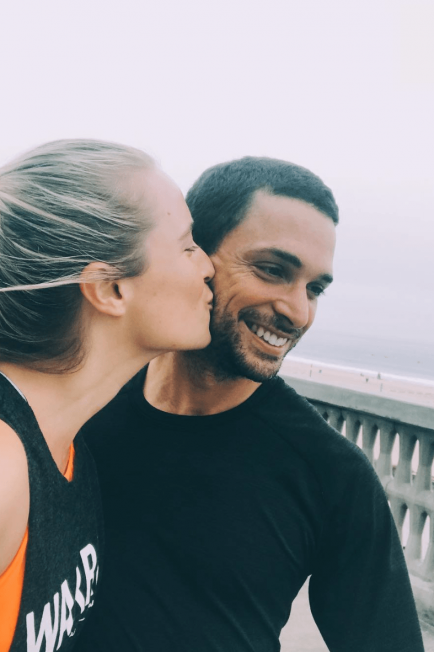 Grain-Free "Oatmeal" Recipe & A Lil' Candida Update
Good morning and Happy Friday, my loves! Today is a special day for a lot of reasons.
For one… it's my 8 month anniversary with Jonathan today. Yes, we celebrate and notice each month of our anniversary which happens to be on the 1st every month, because of starting our relationship on New Years Day. 😉
It sort of feels like we have been together for ages, especially given that we were friends for so long first, and at the same time the relationship still feels brand new and pinch-me exciting. My heart flutters when I think about him, and he's been away for about 24 hours (in Montreal) and call me crazy but I miss him already.
I love sharing these little things with you guys because I've had this blog in some very single times in my life, through some rocky relationships, and now after taking the time and energy to myself to really set an intention for who I wanted to be with, and how I wanted that person to make me feel… (which required a lot of slowing down) that's when I was rewarded with the best-for-me person in the world.
He is a special person and I want everyone reading to have that in their lives at some point if you don't already, and first it takes drawing inward, getting clear, and being content and happy with yourself (in love with yourself!) above all else.
The SECOND REASON why today is a special day is because I am finally sharing my grain-free "oatmeal" recipe. Or, as I have learned on social media after posting this a few times, noatmeal! (No-oatmeal, hehe.)
I know that after sharing I was going grain-free and continuing to post about this recipe idea while I tweaked it, some peeps were like, "Jordan, WTF? Just share it already! I don't get why it's taking so long!" and that's because when playing around with totally made up recipes, I like to make sure I try them with enough variations to give you guys the best one I find.
This is a recipe that I feel like I will continue to tweak and is really one of those "throw everything into the bowl and see what happens" kind of mixture, which I love because kitchen creativityyyyy, but also if you're more of a structured recipe person then you can stick to the below.
After I share the recipe, I will give you a little update on my candida journey, the other various health issues I am sorting out, and why exactly I am going grain-free.
Grain-Free NOATMEAL Recipe //
Ingredients:
1 tablespoon coconut oil (for greasing the pan)
2 eggs (I use Vital Farms pasture-raised)
1/3 cup of coconut flour (I use this one)
3 tablespoons almond milk (I use this one)
2 teaspoons chia seeds (I use these)
1 tablespoon almond butter (current fave)
2 drops of stevia (current fave)
*You can also use coconut butter, flaxseed, protein powder, or break up a few squares of an Eating Evolved Midnight sugar-free chocolate bar (as I always do!) depending on what you're in the mood for.
Method:
Grease a small skillet with coconut oil and turn your stove on high heat. Let it simmer and heat up.
Mix the eggs, coconut flour, almond milk, chia seeds, almond butter, and stevia in a bowl.
Once thoroughly mixed, pour the mixture into the greased skillet and let it simmer.
Use a spatula to move the mixture around so all sides get a chance to cook. You can also chop it up with the spatula into little "scrambled egg" pieces, but it will likely crumble regardless which is what you want!
The mixture will begin to turn golden brown, and once all of it seems cooked to your liking (only takes about 5 minutes or less), pour it into a bowl to cool off.
Add in some additional toppings like coconut butter, chocolate, or more almond butter, and then add a dab of almond milk to make it more cereal like if you prefer that texture.
Grab a spoon, and enjoy!
Boom! There you have it. Easy AF, right?
That's the thing about my recipes. They are EASY. I don't spend a lot of time in the kitchen gettin' down and dirty, and I like it that way. My whole thing is easy, doable, paleo / keto friendly (most of the recipe) recipes for people on the go. Not that I advocate being on the go all the time, but I am also realistic.
Yummy, right?!
I actually came up with the idea because Jonathan and I have been making a lot of paleo protein pancakes lately, and I noticed how crumbly they would get every time I used coconut flour. When I started taking the gluten-free oats out of the equation due to going grain-free, they got REALLY crumbly.
At that point I noticed that just mixing it all up into a bowl was easier than trying to form a pancake and caused me way less stress texture-wise. Then I realized, "wait… this looks like oatmeal and reminds me of oatmeal. This is totally a grain-free oatmeal!"
So it's pretty much a cross between a crumbly grain-free pancake and a really sweet version of coconut flour scrambled eggs.
If you don't like the way yours turn out, feel free to play with the coconut flour amount (I have had to do this a lot since starting to make them) by using less than the amount I listed, or more. You can always add more or less almond milk and almond butter to make it more oatmeal-ish or cereal-ish than eggy.
Also, I love adding protein powder for an extra kick of protein in the morning! Regardless, these bad boys are pretty filling.
So… why the grain-free?
A few reasons. For one, I am a very intuitive eater and my intuition has been telling me for quite some time now that cutting out grains would be a really good idea for me. I notice that when I eat grains (even gluten-free, which is the only type of grain that I would eat to begin with) like quinoa, gluten-free oats, rice, etc. then I would feel extra bloated and inflamed.
I have a touch of IBS to begin with, so being bloated and inflamed after eating breakfast was really not on my agenda to add to the mix. Then, after feeling particularly gross and inflamed and out of whack after leaving my family trip to Santa Cruz a few weeks ago, I started developing a MASSIVE, bumpy, red, bleeding rash all over my body.
It was the worst under my arms, on the sides of my stomach, on my pelvis, and on my elbow… but it also spread minimally to the tops of my legs, the middle of my stomach, and my chest.
Again, from being an intuitive person who knows my body, I knew it had to do with food. Skeptics and/or advocates of Western medicine (which I totally respect, under certain circumstances) asked me again and again, "How do you KNOW it has to do with food? It could be eczema, a heat rash, staph, a skin irritation, an allergic reaction to soap or detergent or deodorant, or a variety of other things."
And while I didn't want to rule those things out… when you know your body, you just know. And the truth is, it was eczema! Eczema can be caused by food allergies and intolerances, and is a key sign of candida leaving the body if you have candida in your gut and you are beginning to detox from the fungus.
Also, I do believe it got the worst under my arms because once the eczema began, my natural deodorant certainly was not helping and was totally burning it and making it twice as inflamed. So in a way, most people's opinions were correct.
After seeing my functional medicine doctor (Dr. Lekkos, what up!) he confirmed my suspicion of the food allergy, and gave me a Meyer's Cocktail IV which is a blend of vitamins administered through an IV drip that has been used to treat a variety of conditions including chronic fatigue syndrome, general hormone imbalance, migraines, fibromyalgia, depression, stress, insomnia, and more.
We also confirmed via my recent blood and stool tests that I have a whole host of hormone imbalances, and a nasty bout of candida. Candida is a yeast overgrowth in the stomach that is fed by sugar, grains, dairy, and soy among other things. Of course, this prompted me to go grain-free and confirmed my intuitive feeling that grain-free is the best choice for me right now.
(Sidenote: I was already dairy-free, soy-free, and 95% sugar-free so now I am re-dedicated to the sugar thing too!)
Candida symptoms can show up in a variety of ways but for me it was a ton of bloating, inflammation, discomfort, skin rashes, skin fungal infections, chronic fatigue, insomnia, muscle aches and weakness (you should have seen me at the 5k the other day), and a general sense of imbalance in my gut.
P.S. I JUST talked to an amazing shamanic energy healer who also confirmed to me by her traditional methods that I have an overwhelming and out of control amount of candida in my system, and that grain-free is the absolute best way for me to be right now. She suggested a lot of natural remedies I will be trying out.
Soooo there you have it guys, I am now on a round of supplements, a candida protocol diet, and am doing further testing to see what types of foods I also have an allergy to that could possibly cause more of the issues I am experiencing.
I will share all of my supplements in a future post but I hesitate to do it right away because I want to see how they work for me first and then give you my honest feedback on them.
As for today… I am off to get a Myer's Cocktail IV drip from Dr. Lekkos, a facial from my facialist in the same building, and acupuncture / cupping from my acupuncturist! It's a full day of taking care of myself.
Without our health, we have nothing. I have felt that more than ever lately in my own case and also in the case of several friends who are going through a difficult time health-wise right now. I am endlessly passionate about and dedicated to living my happiest, healthiest, most balanced life and showing you that you can too.
Love you guys, and open to suggestions in this time! I am happy to have my blog be a resource for healing the gut and working with my candida, and going grain-free of course, but I DO want to say that while I am open to suggestions I am also taking matters into my own hands with my doctor and appreciate the respect of that process. 🙂
Lastly, I will be using the hashtag #tbbgoesgrainfree on all of my social media handles and would love for you to follow along and use it too if you feel compelled! We are all in this journey together!
XOXO