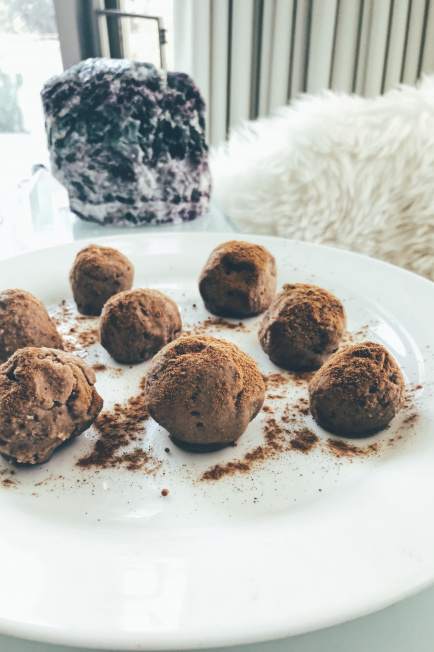 RAW CBD TAHINI BALLS & The DL on CBD!
Hi my loves!
I just got back to LA after a whirlwind week in NYC, and dayummm does it feel good to be home.
I love New York so much and that city will always feel like home & fill me with an unbelievable energy and the highest of vibes… but this home, my boys, and my KITCHEN are truly where my heart is at this stage in my life. I walked in the door last night and let out the hugest happy sigh to be here. My whole body relaxed for the first time all week!
Last night J and I got a couple's massage (#HEAVEN!), I made dinner, put on a face mask, and had the deepest sleep of my life. So very necessary.
Now, I am spending the day unwinding, catching up on work, cooking away, and conserving my energy so that I am  feeling like my lightest, best self tomorrow at The Good Fest here in LA! I hope I get to meet some of you there… if you're coming, come say HI!
CBD, BAYBAY!
On my way to NYC, I shared a raw tahini CBD ball recipe on my Instagram, and realized quite quickly that you all want to hear more about CBD, otherwise known as Cannabidiol. So awesome!
I am so unbelievably excited that CBD is having a moment right now in the wellness scene. It's something I have used medicinally for almost a year and a half, and has been the ONLY thing that has helped banish my lifelong insomnia. It also helps me ease stress, release anxiety, and all around feel more CHILL when I have a tendency to get very high strung.
I often use it after a long day, or I will drop it into some water or tea to sip on while I make dinner. To fall sleep, I take a higher dose and it's a bit different than the CBD you can buy at the store (here in California now! Woo!) but I will get to that below.
First, let's break it down. What is CBD?
CBD is a chemical compound found in the Cannabis plant — yes, in marijuana. But unlike THC which is also found in marijuana, CBD does not produce any psychoactive effects. In other words, it doesn't make you feel high. So there is nothing to be afraid of if you don't like the feeling of getting high off of marijuana.
I will say, if I take enough Cannabis oil (not hemp-derived CBD) I do feel a little bit similar to being high, but not in a psychoactive way. There are no feelings or paranoia, lack of control or anything else I have felt in the past with marijuana + THC. The high I get from Cannabis oil is a very calm, controlled, and relaxed feeling. It's amazing.
Plus, CBD has the highest medicinal value of the whole Cannabis plant! It is a powerful plant medicine. Research has found it to be effective for treating inflammation, pain, anxiety, sleep, muscle spasms, skin disorders, and more.
I haven't tried it yet on my hives and eczema, but I know I should really get my hands on a good CBD cream to see if it will help heal my chronic skin inflammation. I have heard amazing things! What I have tried it for and can speak to is for insomnia, general anxiety, and relaxation purposes!
CBD comes in many forms — oils, creams, pills, cooking oils, the list goes on — but I am specifically referring to CBD oil in this post because that is what I have the most experience with, and it's personally my favorite way to enjoy CBD.
There is both Hemp CBD & Cannabis CBD, and if you have access to the Cannabis form I would highly recommend it. Hemp oil is great, but if you are looking for the stronger medicinal effects of CBD I would highly recommend Cannabis. I like hemp oil for cooking (like these balls!) because you want to be able to eat, do your thing, drive, etc. and not worry about getting too tired or TOO relaxed!
Why Do I Love It?
I was prescribed CBD by my functinal medicine doc (he's amazing, the actual best) about a year and a half ago for the RAGING insomnia that I have been experiencing for my whole life. He recommended me to an amazing site (I will share below) founded by a doctor who helps you decide which ratio and concentration of THC to CBD that you need deepening on what your desired outcome is.
For me, the outcome was sleep. He helped me find the perfect formula, and my little oil tincture helps me sleep like a BABY. I recently ran out and cannot wait for my new one to arrive. I truly didn't sleep at all in NYC… I mean like AT ALL (until I bought CBD at a corner store in the west village which wasn't that strong but still did the job) so I can really speak to and understand how frustrating and miserable true, debilitating insomnia is.
I had years in college where I legit did not sleep. My whole sophomore year, I don't think there was a single night that I slept soundly unless I was sedated with Trazodone (heavy prescription sleeping meds — so bad for you…) which also made me pass out in my shower once so… there's that. I would never recommend prescription sleeping meds to anyone, now that I know better.
So needless to say, the sleep and relaxation qualities of natural, plant medicine CBD are next level game changers in my life. I also love it for when I get really stressed and anxious, as I often do. I take a few drops under my tongue and it completely calms me down. I even took a little before my panels at BlogHer this week, mainly because I was so exhausted from having no sleep the night before and it did make me feel immediately more balanced.
How Do You Take It?
Most CBD oils come in a little tincture that you can drop either under your tongue, into a beverage, or use in recipes + cooking!
With the less intense oils that I have (like the ones I buy at Erewhon, which are more hemp-derived) I usually use one or two droppers' full under my tongue to feel the effects. The stronger Cannabis oils, like the one I buy from the doctor online (below), are something I only need a few drops of.
(Funny story… when I was first getting used to taking Cannabis oil to sleep, I gave Jonathan TWO WHOLE DROPPERS' FULL of the very intense, medical CBD + THC oil. I took less because I know my body is a lot more sensitive and less tolerant than his. We slept so soundly, and when we woke up for a yoga class I was teaching Jonathan was *high* as a KITE and so, so out of it during the class. We couldn't stop laughing hysterically during or afterward. After that, I knew that a droppers' worth of that potent oil was too much, even for people who aren't super sensitive!)
Where Do You Get It?!
The medical website I keep referring to that was referred to me by my doctor is myCAprovider.com. Depending on where you live, you may need to upload a doctor's note or medicinal marijuana card to be eligible to order from them, but their Cannabis oils are AMAZING. Those are the ones I take to sleep. You will have a phone call with the doctor from the site  and he will recommend a specific dosage and ratio to you.
Their stuff is expensive, but it also lasts forever. I used mine pretty liberally and my first tincture lasted for over 8 or 9 months.
Other, more everyday places to buy CBD oil are Erewhon (if you live in LA), Tantris (West Hollywood) and Earthbar (all over LA), and now there are dispensaries all over the place! I haven't been to a dispensary yet but I am dying to — I will update you guys once I go to one.
At Erewhon I like to buy the brand Charlotte's Web. I like their Everyday Advanced because it's the strongest, and I love the Mint Chocolate flavor. This brand is a hemp-derived oil, meaning it won't get you high — so it's safe to cook with and enjoy without worrying about limitations on the amount you use. That one was used in this recipe!
I also bought a very random brand of hemp-derived CBD in NYC, I am not even sure what it was called, and it had a funny lemon flavor but it also worked. The point with this stuff is… as long as the source is natural and organic, I trust it. It will work, because the medicinal properties are undeniable. But if you have access to some of the above brands and places that I mentioned, check those out! They both ship, so you don't have to live in a specific state!
Now… The Recipe!
The reasons why I like to use CBD oil in recipes are endless. How amazing is it for our FOOD to have the same relaxing, rejuvenating qualities as taking CBD oil alone?!
I also love the little hint of earthiness it gives to a recipe. CBD does have a faint taste of marijuana, and when it's in really small doses I really enjoy that earthy, hemp-derived flavor. And if it's a flavored CBD it will really enhance the taste too.
I use the Chocolate Mint variety that I mentioned above for this recipe, so of course that tastes delicious in these yummy balls. 🙂
RAW TAHINI CBD BALLS //
INGREDIENTS:
• 3-4 tablespoons CBD oil (play around & add more or less depending on your preference. we are all diff!)
• 1/2 cup coconut flour
• 1/4 cup tapioca flour
• 4-6 dates, pitted
• 1 cup tahini
• 3/4 cup coconut oil
• 3 tablespoons cacao powder
• lots of stevia! i use about 10 drops or more
• optional: 1 tablespoon maca, 1 tablespoon chlorella, 2 tablespoons cacao nibs or any other crunchy topping like coconut flakes, chia, the list goes on 🌿🌱
METHOD:
• BLEND all ingredients together in a high speed blender or food processor. let the mixture sit in the fridge for about 25 minutes to thicken, roll into balls with your hands, place in the freezer, freeze for 30 min, + ENJOY! (if the mixture doesn't thicken enough to make into balls easily, add more of one of the flours, dates, or coconut oil)
• they keep well in the freezer and/or the fridge and are the yummiest, tastiest snack, dessert, or breakfast.
Yummmm!! You guys will love these! I can't wait to hear what you think. Let's spread the CBD LOVE!
If you try them, tag me & hashtag #tbbmademedoit so I can see!