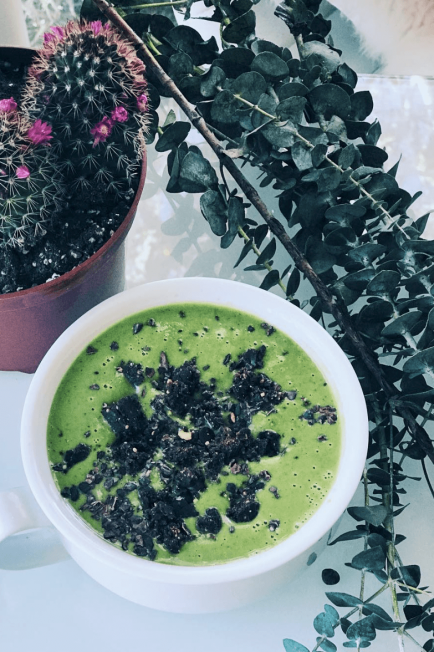 Happy Wednesday my loves, and yay for a new podcast episode today with my amazing acupuncturist & Doctor of Oriental Medicine… Kara MoraMarco! You can listen here, or on the podcast section of the blog. We are giving away one free LOVE CUPPING session with Kara (!!!) for those who subscribe to the podcast on iTunes, leave a rating and a review, AND follow HER on Instagram!
(P.S. if you've never rated & reviewed a podcast, all you have to do is type 'The Balanced Blonde Podcast' into the iTunes Store Podcast section, click on 'Ratings & Reviews' and then click on the stars to rate and 'Write a Review' to review! Simpler than it sounds.)
SO STOKED, because I am a firm believer that everyone needs to get cupped and see for themselves how amazing the practice is. Kara uses & sells heart-shaped cups (she and her mom invented them) so that's why her sessions are called love cupping sessions.
We tried to answer as many FAQ's about acupuncture, cupping, Oriental Medicine, herbs, treatment for eczema / hives / female issues / hormones as possible… so let us know below if you have further questions!
Now it's time for a LOVING LATELY, my longtime favorite way to connect with you guys on the blog. If you're new to the bloggy, these posts are basically where I share in list format what I am obsessed with lately, things I think you'll like to check out, etc. It's fun. I love a good list. 🙂
Loving Lately // 2.21.18
1. Checking my email ONCE a day or less! 
Okay this might sound crazy for any entrepreneur / business owner, but checking my email once a day OR LESS has been the hugest saving grace & most amazing positive change in my daily life. For YEARS I felt like I was chained to my email, which was a shame because I built this blog & lifestyle so that I could have a super flexible schedule with lots of time to be creative, play, do yoga, connect with people who inspire me, reflect on new ideas, meditate, create content, the list goes on. That list does not really include email.
Of course emailing is a facet of my business and any business, so it's gotta get done & also get done in a relatively timely manner, but if someone is getting a response within 24-48 hours of sending a request or message… I think that is pretty darn timely. And if I miss a window of opportunity because something was super urgent, it probably wasn't my kind of opportunity to begin with. This is something I really learned to accept when I was in Bali — when I took TWELVE DAYS away from email completely — because I did miss a lot of cool opportunities and brand partnerships that needed immediate responses, and it was pretty amazing to me HOW EASY IT WAS FOR ME TO ACCEPT that those opps weren't meant for me in the first place.
No sweat off my back, at all. Because when we take the approach that life is abundant, that there are an abundance of opportunities that are meant for us and will make their way to us when we are open to them, there is no such thing as a missed opportunity. Because it literally wasn't meant for us in the first place. And I am here to say for everything that I "missed" because I wasn't able to respond while on vacation in Bali with the love of my life… ten times bigger & better things have taken their place. Because those original things simply weren't for me — and I hope whoever those opportunities went to had their lives & workflows enhanced because those opps were for THEM.
The solo hike I went on this week (and it started RAINING out of NOWHERE! It was so beautiful I cried) because I ditched my email for the afternoon to ground & EARTH.
Anyway, I digress. Checking my email once a day has opened me up to do all of the things I always dreamed of doing but felt I didn't have time for. Getting outside daily, either by solo hiking (where I get all of my best thinking done), going on a walk with one of my best friends, going to the beach, or taking myself on an adventure where I feel completely in the flow. It also gives my brain a rest to wake up and know that I am not going to be chained to my email — I can wake up, do my morning routine, take a yoga class, give Huddy my undivided attention, write a blog post, record a podcast episode, and THEN check email for an hour or less… it's brilliant and why wasn't I doing this ALWAYS?!?!
This book really helped me when it came to learning how to use time more efficiently and not be 100% tied to my email. Highly recommend!
2. Spending time offline with my love at the Ojai Valley Inn last week & weekend! 
Between the two of us and our crazy schedules, getting away to a quiet, serene, relaxing area awayyyy from the cities every so often is exactly what we need. We got to relax, ride bikes, get massages, see Nicola (you can listen to my podcast episode with her here, she is AMAZING) for energy alchemy sessions, try out some delicious vegetarian restaurants in downtown Ojai, explore, and soak in each other's love.
The hotel is truly one of my favorite places in the world. I stayed there for the first time about a year ago for my best friend Danielle's birthday, and we all feel deeply in love with the serenity, the stunning grounds, and the way it somehow feels just like home.
Their apothecary is truly GOLD! I could get lost in there for hours. And our room was right across the way!
They were also super accommodating with all of my food sensitivities & difficulties right now (try coming off of a full Panchakarma + liver cleanse and having hives / eczema / parasites / more and then going right into a vacation… #eek) which I so, so, so appreciate.
The Ojai Valley Inn has offered this code: TBB2018 for 15% off of your stay if you book before May 31st, 2018 (the trip can be anytime from now until July 31st, 2018 — it just has to be booked by the end of May)! They are offering midweek trips but you can also do as we did and extend that stay through the weekend so you're still getting a deal on some of your nights AND staying for part of the weekend. 😉 #TBBhacks
Pre-massages with my boo. The only thing we wished is that the massages were 10x as long because they felt SO GOOD – lol. The spa is also so nice… afterward I soaked in the steam room & sauna for HOURS, meditated, and blissed the heck out.
3. Starting to eat more foods again after my Panchakarma!
I started the Panchakarma diet about a week before my PK in January, which means I have pretty much been eating kitchari for every meal of 2018! I was even lucky enough to find an Ayurvedic restaurant in NYC to cater to my Ayurvedic obsessions. 🙂 And more than just obsessions… important food preferences because of all of the health & gut stuff I have been going through lately.
I still kept up my kitchari & veggie routine in Ojai, but when I got back to LA something came over me and I knew I was ready to branch out a bit. I truly believe our bodies SPEAK to us and tell us exactly what they need, so I was fully ready to listen.
This smoothie was so delicious I can't even handle it. I will share the full recipe soon but it's very easy — butternut squash, spinach, almond milk, one date, mint leaves, blend!
I haven't gone too crazy yet because my system is highly sensitive right now, especially after the liver cleanse I did last week, but I have been incorporating some smoothies (without ice so they don't get too cold — cold is not good for my digestion), some super light granolas (I love a brand from Erewhon right now that is called Canopy Clusters), a bit more fruit (bananas, dates, apples), and a few super healthy desserts (of course, also from Erewhon). I missed the dessert life so much… we all know I'm a chocolate junkie.
I am also back on my elixir train, drinking my beloved dandelion tea and chaga! I have a lot of fun RECIPES to come… expect some of the ingredients in my below fridge photo to be included. 😉
So many of my faves lately below…!
4. So many discounts & codes for you guys lately! 
I have had so many awesome podcast sponsors & brand partners lately I thought it would be easy to put a bunch of the codes & links in the same place so you can get some free + discounted stuff! Ready?
5. COLLAGEN EVERYTHANNNGGG!
Now that I am able to incorporate my usual supplements, powders, teas, elixirs, etc. back into my life again post-MASSIVE HIVES breakout (okay I still have them but they're starting to go away) I have been back on the collagen train like crazy.
My favorite collagen for the longest time has been Vital Proteins, and specifically their Matcha Collagen because it is the perfect blend of matcha deliciousness with the boost of collagen for hair, skin, nails, and joints. Collagen also just makes me feel amazing in general… it is the key thing I take that I notice a difference with on the daily.
I have a super yummy Matcha Collagen raw chocolate chip ball recipe coming at you this week, soooo get excited because it's probably the most delicious dessert I have made in a while. Maybe also because it was the first dessert I had since before my Panchakarma so it was crazy exciting to indulge!
You can also check out Vital Proteins' Coconut Collagen Creamer, which I also use daily — usually in a smoothie for me since I've been off of coffee. AND their Collagen Beauty Waters, my fave is the Lavender Lemon.
Just get some collagen into your life whatever you do because you'll feel amazing. <3
6. VULNERABILITY & OPENNESS ON SOCIAL MEDIA!
I have long been a proponent of sharing our real, raw, from the heart, true lives on social media. (OMG, anyone remember the True Life series on MTV?! LOL I just thought of it when I said that…. oh boy.)
But I really have, and to me sharing from the heart feels as natural as anything else. It's sharing things that I am not passionate about or that I don't feel in alignment with that don't feel natural to me.
I am completely obsessed with Lauryn Evarts' of The Skinny Confidential's post from yesterday, To You, From Me about losing her mom when she was in high school. It struck me on such a deep level for so many reasons, but specifically because she has been blogging for 8 years and decided now to share that incredibly personal part of her life publicly for the first time ever.
I respect Lauryn and any blogger who chooses to keep the deepest, most vulnerable parts of their private lives PRIVATE (there is no reason to spill painful details if it doesn't serve you to do so), and I also commend the shit out of her for sharing and opening up because she knows how much it will help and impact her readers.
The way she describes how she KNEW it was time to share is exactly how I felt when I shared my first solo episode on my podcast. The episode was about the biggest trauma in my life, similar to Lauryn, something that shook me to my core and that without that experience… I would not be me today.
I never planned to talk about it on my blog or podcast exactly, but one day I woke up, walked to my computer and started recording. It flowed out of me and was the most cathartic thing I have ever, ever done.
The best part is that I learned SO MANY PEOPLE have been in the exact same boat, and we can all support each other & lean on each other. We are NOT alone.
Read Lauryn's post and if you've never listened to my first solo episode… perhaps now is the time if you feel called to. I think it is my proudest blogging / podcasting moment, because it's JUST. ME. And it's who I am, where I've been. It's what shaped me.
OKAYYYY on that note. Because I can't really follow that up, it's too important. I will head off for now (to acupuncture with Kara!) & say I LOVE YOU. Enter our love cupping giveaway, check out the codes I've provided above, try some collagen in your life, use that code to get a discounted stay in OJAI (!!!), and BE VULNERABLE & RAW in your every day life — you never know who it will help. <3 XOXOXO