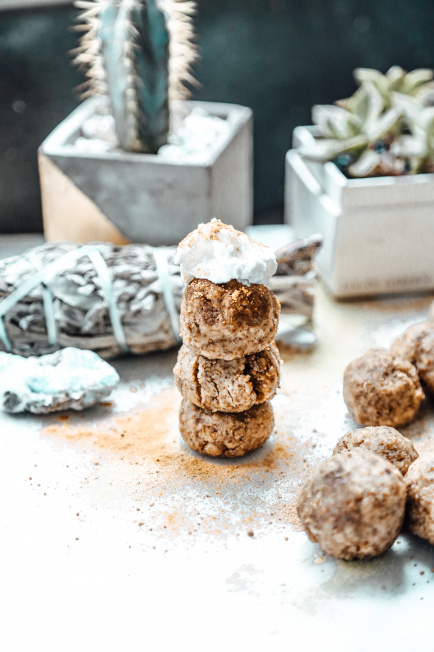 SECRET INGREDIENT BEAUTY BLISS BALLS… CBD OPTIONAL ;)
You guys… I am getting back in the recipe game and it feels so good! How I have MISSSED photographing food in my kitchen. I think I needed a healthy break from it after all my food stuff went down, but these days I have been loving it more than life.
Yesterday I shared this sweet potato smoothie bowl on Insta (it's WARM… so good for us vata / pitta doshas) and then I spent the afternoon in the kitchen crafting up these delectable, fat-filled, fiber-rich, nourishing, flaxy-tahini BLISS BALLS.
You know I love my healthy dessert balls. Remember these CBD ball gems?
These are a littttle different, they have a BEAUTY BOOST, AND there is a secret ingredient in these bad boys! Can you guess what it is?
Probably not by the likes of these photos because the color of it didn't pop… but I'ma tell ya – it's MATCHA COLLAGEN!
That's right, the Matcha Collagen from Vital Proteins that I am madly obsessed with and did a whole post on here over the holidays.
The ingredients in these balls make them the perfect option for a fat-filled breakfast, to a nourishing snack, to a skin-healthy treat, to a tasty (and sweet-tooth satisfying!) dessert. I have just been popping them in my mouth throughout the day, and I also love to put them in smoothie bowls or on top of coconut yogurt.
Here, I even topped one with full fat coconut cream for even MORE skin-health happiness! (Hint: all of the healthy fats make our skin super duper happy, especially when paired with collagen!).
Jonathan has been fully raw this month so he's learned all the tricks to make raw desserts extra delish in all of the ways, and he was the one who topped a raw macaroon with the coconut cream and I thought… genius! #doingit.
WHYYY Matcha Collagen Balls?!
Well, ever since I have been off of caffeine I have been looking for ways to get just a tiny bit of it into my life without going overboard. And collagen is just a must. You can read all about the importance of it and my longtime obsession with collagen here.
I know I told you guys I have been on the decaf coffee train right now (but only when there are no chemicals involved… so I pretty much just go to Alfred every day!) which has been awesome, but I also enjoy the other benefits of clean caffeine (read: matcha) that don't give me the jitters.
Just to recap why matcha is so awesome…
+ matcha green tea is packed with antioxidants, which can help fight free radicals in the body and promote long-term health.
+ it is rich in fiber, chlorophyll and vitamins
+ it enhances mood and aids in concentration
+it calms the mind and relaxes the body
+ it is the powerful polyphenol EGCG in matcha is known to boost metabolism and burn calories (just an added bonus to the health benefits
+ it provides slow & sustained energy versus the jolt and jitters that coffee gives us, so it's also easier on our adrenals + hormones (the BIGGEST plus for me)
Plus the benefits of COLLAGEN (the one non-vegan thing in my life right now, because I have experienced so many benefits since adding it into my life about two years ago):
+ it is the most abundant protein in the body.
+ it is responsible for the maintenance of healthy connective tissues, such as bones, joints, skin, hair, and nails.
+ my SKIN has benefitted greatly from collagen… our body produces collagen naturally, so giving it an extra boost with a supplement like this powder is something that our body appreciates greatly, and it SHOWS when we do!
I thought it would be fun to mix a bunch of my favorite things into one delicious little ball: collagen, matcha (clean caffeine, just a smidge), healthy fats, dates (because I am not running from sugar like I once was, so dates are in ALLL of my dessert recipes right now), good fiber, and spices.
Is it just me or are those all of the best things?
Ok, let's dive into the recipe!
INGREDIENTS //
– 1/2 cup coconut flour
– 1/2 cup flax seed (or ground flax meal)
– 1/2 cup coconut oil (I used MCT oil because I had it handy!)
– 4-6 dates, pitted (and soaked, if your blender has trouble blending hardened dates)
– 1 cup tahini
– 3 tablespoons cacao powder
– 2 tablespoons Vital Proteins Matcha Collagen
– Several shakes of pumpkin pie spice, or cinnamon / nutmeg if that's what you have on hand!
– You can of course add CBD to these if you want (I didn't this time around, but if you want to I recommend 3-4 tablespoons!)
METHOD //
– Pour all ingredients into a high speed blender and BLEND on high until smooth. You may need to add a bit more coconut oil if your blender is having trouble getting the mixture smooth, or you can also add a dab or two of water. Keep pulsing until it is smooth and thick enough to roll into balls.
– Pick up the mixture with your hands and roll the dough into balls. You may need to press it firmly together each time because the coconut oil can make the mixture separate a bit more than usual.
–  Once all of your raw dough is rolled, put the balls into the freezer until balls harden.
– Keep them in the freezer for them to hold the best, or put them in the fridge if you don't like the frozen ball thang. They last for about a week in the fridge, longer in the freezer!
And then enjoyyyy in every way you know possible. Balls are the JAM and they make such easy on-the-go snacks. These balls don't hold up TOO long out of the fridge or freezer so if you're eating them out and about, make sure you are keeping them in something cool!
You can find the Vital Proteins Matcha Collagen here, it's kinda the best thing ever.
If you make these, be sure to tag me on Insta so I can see (a.k.a so I can stalk you) and use my new hashtag… #intuitivelyplantbased! Which, as you've now seen from this recipe, does not mean that I am fully vegan. To read more about my intuitive switch back to being plant-based, head here.
Love you guys! Hope everyone is having an amazing day.