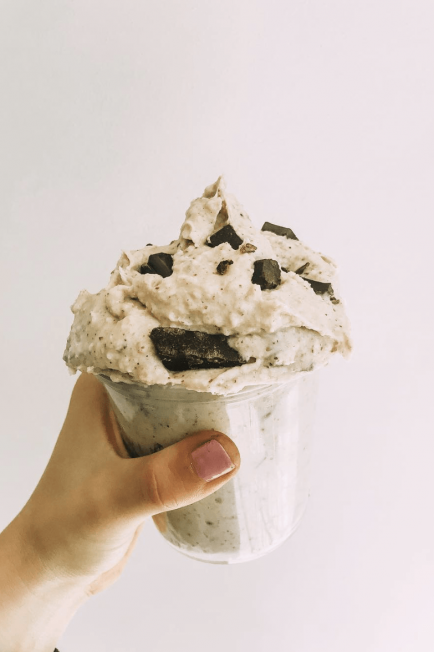 A Lil Update on the SOS-Free Vegan Life + a Cookie Dough Recipe
Hi guys! Happy Monday. 🙂
I hope everyone had a beautiful weekend with friends, fam, loves, fur babies, or some good solo time because that is just as needed from time to time too.
I had the most magical weekend in Sacramento celebrating one of my best friends since kindergarten as she married her forever love, who is truly her PERFECT MATCH (!!!) and we got to celebrate their amazing relationship.
There is nothing like being home, having all of my hometown best friends in town, and getting to share more and more of my Sactown life with Jonathan. So much has changed since we were all in high school almost 10 years ago, but Sac will always be home + my childhood BFFs will always be like sisters.
Truth be told… I was determined to live in the moment this weekend and enjoy myself despite my raging Lyme symptoms, which always flare up even worse than usual when I travel. Between all of the excitement, the lack of sleep, the sips of alcohol I had at the wedding (guys, I was really living my best life), the dancing ANNND the travel (we missed our first flight home yesterday, no big deal) I pretty much started to feel down. for. the count.
I made the decision after being diagnosed that I will never let Lyme get in the way of celebrating these massive, once in a lifetime moments with my closest friends. YES Lyme did get in the way of me attending Eleni (the bride)'s bachelorette party for obvious reasons of what I can't do (late nights, alcohol, travel unless necessary, my meds being a full-time job, you know) but nothing was going to stand in the way of me attending & enjoying her wedding. Because I push myself to do these things & be "on" for these types of weekends, which roll around more than you may think, I have to be mindful to take REAL GOOD care of myself before/during/after the fun and the events.
One of the main ways I stay on top of my health and prevent what I call "Lyme attacks" (anyone else with Lyme feel me on this?) from coming on is by maintaining a salt-oil-sugar-free plant-based diet.
Quickly before I get into that I'll just tell you — a Lyme attack is no fun. I feel my Lyme symptoms about 99% of the time to begin with but they are basically livable especially because I am so used to them. Several days a week they flare up and keep me in bed, and once in a while I get a really bad attack that will knock me DOWN in a massive kind of way. It can be anything from such severe brain fog that I don't even have a clue how to drive or speak or take care of Hudson / myself (it's scary, I'm telling you) to more like crippling full body pain and what I call a "full body migraine." You can imagine it. Another type of Lyme attack is severe nausea and/or severe insomnia. All of these things can make me feel truly batshit crazy, and miserable to the core. I try to avoid them at all costs.
Back to the diet!! The Whys, Hows & Huhs!
Ok I just want to chat again about why I am following a salt-oil-sugar-free plant-based diet and what it does for me. This seems to be a question I get upwards of 25x a day on Instagram so I wanted to address it again and give you a big update on how I feel!
I learned all about the lifestyle at True North Health Center where I stayed for nearly all of May doing a heavily supervised water fast for Lyme, fibroids, severe eczema, and other related health concerns. All of the doctors at True North advocate and live a salt-oil-sugar-free plant-based lifestyle for a variety of reasons. Some doctors I would highly recommend looking into to learn more about this topic are Dr. Goldhamer, Dr. Fuhrman, Dr. Klaper, and Dr. Neal Barnard.
The lifestyle can be followed for a variety of reasons that range from anti-inflammatory benefits, to anti-aging, to disease-fighting, to weight loss, and so much more, not to mention the cruelty-free aspects of veganism if you are passionate about that element on top of the health benefits. 🙂
I personally follow the diet to keep my Lyme symptoms at bay, reduce the severity and frequency of the Lyme attacks that I get, to keep my body mostly alkaline and eradicate the mold and parasites and other toxins that have built up over time, to keep my eczema and hives at bay, reduce my gut health issues (from SIBO to candida to the most severe IBS and bloat imaginable), and first and foremost… because it makes me feel the best I have felt in years.
(Cruelty-free is a huge added bonus!! I love animals so much it hurts, but I have ZERO judgment toward people who eat animal foods because I too have been there for my health and for many people eating animal foods is a necessity in order to be their healthiest.)
FAQ: What about beneficial elements of sodium, oils, and sugars?
A salt-oil-sugar-free plant-based diet is NOT 100% free from sodium, oils, and sugars. I get lots of sodium from natural plant foods and leafy greens, plenty of oils from nuts and seeds and other healthy fats, and plenty of naturally occurring sugars in fruits and starchy veggies. I would never advocate a sodium-free or oil-free diet *completely* (for most people at least) but when you are eating an abundance of healthy plant foods you are getting what you need in terms of nutrient breakdown.
I take PLENTY of supplements to manage all of the nutrient deficiencies I have from Lyme and co-infenctions. If I listed them all out here you'd freak because there are so many. Most of them are specific blends created by my Lyme doctor and they are keeping me in check, bringing my hormones back to balance, and getting my nutrient levels back to a stable place. I have a long way to go, but we are at least moving in the right direction.
If you're wondering why else I try to avoid oils and salt and sugars, feel free to head to this post I wrote about SOS-free when I first dove into the lifestyle!
An Update on How I Feel!
The last time I wrote about SOS-free I was on top of the world! It was late May, right after I left True North and just days before I was diagnosed with Lyme (although I was suffering from the symptoms all year!). I was feeling really good despite the chronic exhaustion from Lyme, and soon after I started my meds and treatments and started herxing (the Lyme-world term for "it gets worse before it gets better, because infections are being killed and toxins are building up in your body before you release them"). So now I continue to live the unfortunate herx life, but remaining SOS-free keeps my symptoms at bay.
One reason why I was feeling so good at that time was because my histamine markers went from a 1300 (WAY, WAY, WAY OFF THE CHARTS) to a 600 (still off the charts) during the water fast and the switch to SOS-free, but my doctor and I would still like to get them down to about a 30. But that number getting cut in HALF shows you how much the lifestyle has been helping me keep the inflammation in my body down compared to where it was, which is the hugest plus in the world to me.
My histamine levels are currently still around 600, and I am getting them re-tested in two weeks. I feel them when they rise and fall, and SADLY they rose way up I felt when I started drinking coffee again. I wanted to try to incorporate coffee into my life a few mornings a week but sadly I think my body is still too toxin-ridden to be able to enjoy it even in moderation just yet.
FAQ: Am I SOS-free 100% of the time?
I have definitely not been 100% rigid about the SOS-free diet, because a girl's gotta live! I go to dinners with friends, to people's houses for dinner, and even certain things I get from Erewhon (the organic grocery store by me) have trace amounts of salts or oils. I notice with complete certainty when I eat something that is not SOS-free. It either bothers my stomach, gives me a headache, makes my skin break out, or makes my joints ache. Or all of the above. It also usually makes me bloat beyond belief. So I TRY to keep it SOS-free to the best of my ability with little "treats" here and there.
I love the balance between being mostly all SOS-free plus also living my life. That piece is necessary. I cooked every meal at home from the end of May until mid July, and while I felt really good from the diet it can definitely get isolating. That is not something I want in my life so I try to find the best of both worlds. Luckily Erewhon and a few other places in LA have SOS-free options so I can go out and live and have the foods I love, while also avoiding the things that make me sick.
Drinking alcohol this weekend, albeit less than a full drink, definitely knocked me down. I felt so hungover on Saturday and my hangover only progressed throughout the day. My nausea was out of control and my brain fog was so bad that I made the terrible judgement call to leave for the airport with less than an hour to spare before our flight so we totally missed it!! I had to laugh (even though I was so frustrated I also cried…) because it was so clear to me that being out of my routine, drinking, staying out late, etc. caused my brain fog to jump from a 10 to a 100. (BTW my drink of choice was/always is a vodka soda with lime. And I had the best time with my lifelong best friends & my love soooo it was worth it, since it's SUCH A RARITY for me.)
This week I am back on the SOS-free train and very hopeful about how it makes me feel. The people in my life have noticed a huge shift. I can't go anywhere without people saying, "YOU LOOK AMAZING!" "YOU'RE GLOWING!" "You look better than you have in so long!" etc. which feels great, but also is a little tough because on the inside I still don't feel great at all. But at least I have found a way of eating that works for me.
FAQ: Does being oil-free help with skin issues?
Being oil-free has definitely helped my skin clear up although I still have a long way to go with my skin thanks to the Lyme toxins. 😉 My rashes have gone way down on my body and although I do get some flareups, they are NOTHING like they were earlier this year before I started treatment and before I started eating this way.
FAQ: Does it help with bloat / swelling?
And I have noticed a significant reduction in bloat, facial swelling, puffy face / eyes, and everything along those lines since being SOS-free.
FAQ: Best part about it?
Probably the best part about the lifestyle is that I feel ridiculously good eating this way. My health is still totally blah but I know the immense difference between feeling blah AND having issues with the food I am eating, and feeling blah but on the right track with my food.
FAQ: Is it hard?
Honestly for me it is not hard at all, but maybe that's because I know what it's like to feel like complete SH*T from the inside out, and I try to avoid that feeling however I possibly can. When you're sick as can be, lifestyle/dietary choices come from a place of necessity rather than a place of leisurely choice. When they come from that place of sheer NECESSITY, they really aren't that hard. It's what I've gotta do to maintain my health and live my life to the best of my ability right now.
FAQ: Good recipes?
Here is a fave that I shared on Instagram today… SOS-FREE COOKIE DOUGH!
COOKIE DOUGH RECIPE //
• 1 cup salt free garbanzo beans
• 1 cup salt free great northern beans
• 2 tbsp almond butter
• 2 tbsp cashew butter
• 2 tbsp tahini (you can use all the same nut / seed butter to make it easy but i like the variety)
• 2 tbsp yacon syrup
• 3 medjool dates (optional but they do make it sweeter!)
• 1 crushed sugar free chocolate 🍫 bar (i used 3 squares of @addictivewellness!)
• blend thoroughly then add the chunks in after!
• SPOON IT, use it as a smoothie topping or a spread, or dip carrots / celery into it, so versatile! GIVE IT A TRY… so yummy
FAQ: Will I ever eat salt, oil, or sugar again?
I mean yes, of course. I envision myself sticking to SOS-free for a long time because I have a sensitive system and that's not going anywhere. I also believe in the lifestyle wholeheartedly and MEGA encourage my family and friends to jump on board for their health as well. But another part of my life is that I love going out to dinners with friends, especially in the food MECCCCA of NYC where I am going for my bday this year and I look forward to indulging in some non-SOS-free deliciousness while I am there. Definitely some vegan ice cream and some Matthew Kenney restaurants are calling my name. I hope to be in a place within the next year or two where I can be a bit more lenient as my histamine levels continue to go down and my Lyme bugs continue to get killed.
FAQ: Is it the best diet for Lyme and co-infections?
I wouldn't say that SOS-free vegan is right for everyone who has Lyme because every single case of Lyme is so different. I don't know your deficiencies and intolerances or your co-infections… but for mine, this anti-inflammatory and alkaline lifestyle really works for me. Talk to your doctor before making any significant changes if you are really sick and if this is a big shift for you!
Would love to hear your thoughts and any questions you may have!! Always here to answer them and do my best to get back to you all. LOVE YOUUU XOXO