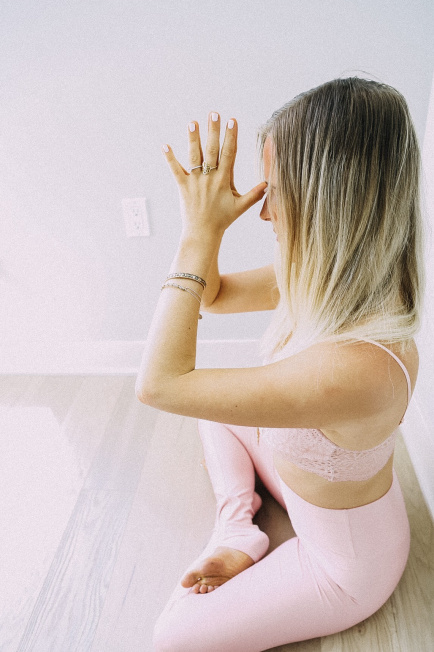 Hello my beauties & welcome back to Day 2 of the September Series on The Balanced Blonde!
What is the September Series, you ask?
It's where I blog every day of the week (Monday through Friday) for the month of September to get back to my blogging roots and stay connected with my favorite humans… that would be all of you. 🙂
Subscribe to the bloggy to get these posts straight to your inbox (it's fun, I promise) or just check back here every day for a new post! Open to suggestions — send them my way via email to let me know what you wanna read about all month! Whoop, whoop!
So for today, we are back to the Q+A we started yesterday, featuring the questions you guys sent in on the 'gram!
TBB Q+A PART II/
Q: Does your fiancé eat like you? How do you prepare meals for both of you?
A: For the most part, yes! Jonathan is definitely way more carefree than I am able to be when it comes to food, because he has no stomach issues / health issues at all. I am forever jealous of him! But also so happy that he doesn't have to deal with the ish that I have to deal with. Jonathan loves to intermittent fast — he does the whole Steven Gundry / Dave Asprey thing where he eats one meal a day, with a 18-ish hour fasting window. NUTS! He does it because he LOVES eating huge meals (lol, such a boy) and can literally eat whatever he wants in that small eating window. He loves to eat healthy though, so usually what he eats is a healthy take on something traditionally "delicious." He loves gluten-free, dairy-free pizza, veggie hot dogs (this amazing brand from Whole Foods I need to find out the name for you guys!), veggie stir fries, big salads, veggie burritos, my "Buddha Bowls," and generally anything I make for him or pick up for him at Erewhon. He is big into the Erewhon combo plates!
He is not vegan but he would happily eat all vegan mostly all of the time. He is one of the healthiest guys I know… from the way he eats to the way he exercises (Ironmans, baby) and the way he takes care of himself. I always joke that he could eat ANY way at all and feel totally fine!! He likes to challenge himself every month by doing something different. One month it will be raw vegan, other months it will be paleo or alcohol-free, other months it is intermittent fasting. The intermittent fasting definitely stuck with him because he's been doing it since May!
I do find it challenging sometimes to get used to cooking for both of us. I forget how much he can eat, so I find myself buying veggies "for the week" that last us ONE NIGHT!! And if course the foods I eat are simple as can be, so I have to think of fun ways to spice it up for him. It is a nice challenge for me and he is good about picking up extra food for himself because he knows the amount I make doesn't always cut it!! Constant work in progress!
Q: What are some of your go to meals right now?
Since I am eating a salt-oil-sugar-free diet that is completely plant-based vegan, I have to get REAL creative with my meals to make them exciting! Lately, I have been all about:
+ green smoothies for breakfast with bananas, blueberries, coconut milk, cashew butter (or any nut butter), kale or spinach (good to switch it up between the two), spirulina, chlorella, the occasional plant protein if I feel like I need it, cacao (CHOCOLATEEE always wins), and ice. Nothing fancy but it hits the spot and keeps me full for hours, plus gives me lots of immunity boosting nutrients!
+ a big salad for lunch with kale, baked tempeh (recipe coming soon), lentils, walnuts, more berries, and tahini / lemon dressing. or sometimes another smoothie honestly, I can never get enough smoothies!
+ BAKED POTATO WEDGES for dinner (every night, literally) with my plant based nacho cheese dip and avocado and black beans, or any type of bean. I am mindful to always include plant protein in my meals when I can, to keep my energy levels up and make sure my blood sugar is stabilized and my body is getting truly satiated. LOVE to bake my potatoes with some paprika and thyme — no oil needed!
Q: What makes you prefer Spindrift to other sparkling / seltzer water?
It is made of REAL FRUIT and sparkling water — that is it!! Their cans are BPA-free and their waters are genuinely delicious / hit the spot for me. This is not sponsored, just true love because a lot of you guys asked!! Since I don't drink alcohol and really don't drink many juices or lemonades or anything that has unnatural sugars, the sweetness and refreshing-ness of Spindrift is my jam. Our fridge is always stocked with Spindrift, REBBL, Suja (Lemon Love), and Health Ade kombucha!! I can't really drink kombucha right now because of SIBO / candida, but J loves it and I love to steal a few sips. 🙂
Q: Do you guys want kids?
HELL TO THE YES! I have dreamed of being a mama since I was a kid. Just as much as I dream of being an author, poet, speaker, inspiration, (and blogger of course hehe). I don't think that having kids and being a kickass, successful businesswoman need to be separated in the least. I want to be a "stay at home mom" as much as possible by working from home but taking lots of time off to soak in time with my kids. I also want to either homeschool them or send them to a Waldorf school or the type of school that I went to, which was a tiny liberal arts K-12 school. To be real I can't imagine myself homeschooling so I think finding the right school will be a key. This is a bit of a tangent but YESSS we can't wait to have kids and we already have our names picked out. 🙂
Q: What is your go-to mantra lately?
NOTHING CAN STOP ME FROM ACHIEVING MY DREAMS AND SATIATING MY DESIRES.
This comes from a magical message I got from my medium, MaryAnn DiMarco, over the weekend. I needed this big time and she heard it straight from my angels. My mantra is always changing but this one really hit home — I have lots of big dreams and goals and I am thrilled to bring them to life — and NOTHING will hold me back. Not my sickness, not my lack of energy, not my debilitating brain fog… N O T H I NG.
Q: What to do if someone makes you a meal at your house that you don't want?
Oh man!! I try to avoid this happening as much as possible by making my allergens and health concerns VERY CLEAR to someone before they have me over for dinner or a meal. If its a big group, I offer to bring food for myself and anyone else who wants to try it so that the host doesn't have to worry about my various health concerns. If they insist on preparing it for me (some people enjoy the challenge) then I just remind them no oil, salt, or sugar, totally vegan and gluten-free. If they're truly up for THAT challenge then they're a rockstar!! My aunt made me some delicious versions of the meals she made for the rest of our family the other weekend and I thought it was beyond kind of her. I made sure to thank her 2938298 times, because she went way out of her way to make sure I was taken care of.
The main thing is, with my health concerns right now I don't EXPECT for anyone to cater to me. I really don't need them to. I am maintaining this diet and lifestyle for my own personal healing reasons and I don't need it to be validated by others or to make their life any harder by having to accommodate it. If they WANT to, cool!! If they're a little confused by it, cool too — I will bring my own thing or eat beforehand!! To make sure I am not isolating myself or offending the host, I also bring extra food for anyone who wants to try "my" meals and maybe even get inspired to eat a bit healthier than they would have otherwise.
I have learned the hard way to never show up unprepared or without warning the host properly — the worst is when they've made something you can't eat and they really wanted to accommodate you and thought they were!! I have also learned that just because they made it for you doesn't mean you have to eat it — YOU are the one who has to deal with the consequences later.
Jonathan made me promise him never to eat something I can't have at someone's house just to be polite or because I am afraid to tell them I can't eat it… because then for days afterward I am in pain and he has to listen to me be in pain! It's really no big deal to say: "Thank you so much, but I really have to stick to my healing protocol. I know my diet is always changing and that can be confusing, so trust me it's MY CONCERN not yours. Don't worry about me at all, I am totally fine eating when I get home! I just want to spend time with you — that's what matters about getting together, not the food."
Q: You're so driven! When you were a little kid what did you want to be when you grew up?
Thank you!!!! I always wanted to be an author, an actress, or a kindergarten teacher. Or a nutritionist!!! I nixed the nutritionist idea when I learned in college how many SCIENCE classes would be required (lol), so props to all of the nutritionists and RD's out there. I did however go through my health coaching certification program after college so I did satiate that desire a bit! Funny to think that author / actress combined is a bit like a blogger. I am definitely not acting (when I was in high school I was very, very serious about acting… I even started college as a Theatre major!) but there are parts of blogging that resemble acting — from being on camera to being on the podcast to speaking in public, it uses a lot of the same skills.
Kindergarten teacher is really the only one I didn't pursue, but when I was in middle school / high school I did work in the Pre-K at my school for many hours each day and it was literally one of the highlights of my LIFE! Some of the kids I was a teacher's assistant for are now GRADUATING HIGH SCHOOL… it gives me a little taste of how teachers must feel to see their kids all grown up. It's really amazing. Another reason why I loved my school so much. My best friend and I always joked we had more friends in the Pre-K than we did in our high school… and THAT was true.
Author… yes!!! I still have huge aspirations of writing fiction and poetry, and like I said above in my mantra… NOTHING will hold me back. I also will be writing a lot more memoir and non-fiction… watch out, literary world. 🙂 Fun fact too for people who don't know: I went to grad school in NYC to get my MFA in Creative Writing, but I left partway through to pursue my blog full-time. Writing is in my blood.
Q: How do you stay so motivated and positive with a chronic illness?
It. Is. So. Hard. You guys see the best, most positive aspects of my journey because that is largely what I choose to share on social media. I also have really, really shitty days and moments — but the good news is, they pass. Sometimes I wake up and I am in such a dark fog of depression and sickness that I ask myself why live is even worth living. Dark, I know, but it is so true and something that should be noted because EVERYONE with intense chronic illness must go through feelings like those.
It is hard to live life on the sidelines for so long. I desperately miss the things I used to be able to do with ease… running marathons / half marathons (okay that was never easy but at least I was able to train my ass off and complete them), doing yoga every day, traveling all over the world, jumping out of bed and working all day long with massive inspiration and energy, hosting parties and events and retreats, being around people for more than a couple of hours at a time without getting debilitating exhaustion… you feel me.
I guess I stay motivated by remembering where I came from and where I am going. I know what it's like to be healthy and full of energy, and man do I miss it. I know I will get back to that place. I also know what it's like to be FULL of inspiration and bring my dreams and goals to life. I have so many goals and intentions… from being a mama in the future to writing oodles and oodles of books, to marrying the love of my life and growing old with him, to traveling the world again and living part-time in Kauai (more on this later) — I can't give up on life now. I can't deprive myself of positive hopes for the future. I MUST focus on these things in order to move forward in my healing process.
Q: What is your blood type?
I am O negative! Interestingly, that is the meat-eating type. I was into the Blood Type Diet for a while (I was into ANYTHING that might possibly save me from my dark hole of sickness and health issues!!) but when I ate meat, I was a MESS. Hormonal, overweight, uncomfortable, major GI issues, not happy, etc. NOT for me, but always worth a try I suppose.
Q: Why don't you talk more about your siblings?
I totally feel like I do!! So funny because as a blogger it can be hard to tell what we are OVER sharing or UNDER sharing. I guess it seems to some like I am under sharing about my family!! A lot has gone on with my family over the last few years. I am the youngest of four, by far. There is a huge age gap between me and my 3 older half siblings. ( I am my mom and dad's only child together. ) I am incredibly close with my nieces and nephews. I am particularly close with one of my sisters and her husband, Jeff. You've probably seen those two and their kids on my IG and blog. Photo of some of us below! ( My dad & J & me with my two nieces Bella + Liv. )
When I say a lot has gone on, I mean that I have drifted a lot from my half brother & his wife & daughter. It breaks my heart and is very hard for me to talk about. If he is reading this I would be surprised, but maybe he is so for privacy I will keep it brief. Yet for the sake of being honest with you guys and myself, it has been probably one of the Top 3 hardest things I have ever been through. The other top 2 being navigating my illness, and an awful con artist scheme my dad was involved in as a victim a few years ago.
Before this distancing with my brother went down, I am sure I talked about my family a bit more, and certainly posted more photos of all of us together. Yet as with all things challenging that happen, I know it is all for a reason (not sure what the reason is yet) and a larger purpose. It has made me exceptionally grateful for the family I do have in my life, and the friends that feel like family. It has also made me grateful for him and his sensitivities, because this wouldn't be going on if it weren't for hurt and pain that he feels in his heart… which breaks my heart but also gives me compassion for where he is in his journey.
(Side note — I am having deja vu right now what the heck??? So weird. Have I written about this / felt this in a past life?!?)
Anyway I am happy to talk more about it in the future if anyone has questions. It is something I have kept very private (because it involves so many people's feelings other than my own) but if what I have shared has helped even a single person feel less alone or more understood, then it is worth it to me.
Q: Favorite thing to look at in your home (other than Hudson & your fiancé)?
Wow!!! Such a fun question. I LOVE our bedroom. We recently swapped out our darker colored sheets for white sheets from West Elm which give a very beachy feel. We have filled our home with green plants (lots of fake plants too) that I love to look at, and a personal fave is our BATH TUB!!! Our bathroom feels a bit like a hotel bathroom. 🙂
Thanks for all of the awesome Q's!!! Leave more below & I will do more of these soon. Stay tuned for tomorrow's post and allll of the posts to come, 5 days a week this month!! Would love your thoughts & responses below. X