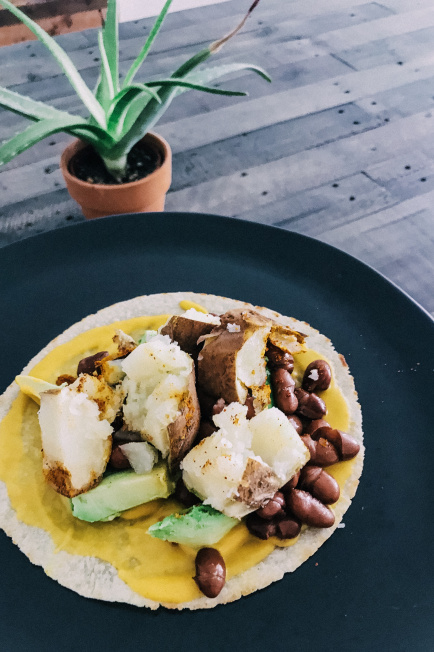 Salt-Oil-Sugar-Free Vegan Cheesy Potato TACOS!
Hi guys! Happy Thursday. 🙂 I am so thrilled to share this recipe with you today. I am almost a week into recovering from the abdominal myomectomy (fibroid surgery) that I had last Friday, and being just about 90% on bed rest and only able to drink liquids I have been DREAMING all week about savory foods.
And specifically… juicy, flavorful, nourishing, bursting full of goods, plant based TACOS.
So yesterday when I woke up after an eleven hour sleep and found myself with enough energy to make my way to the kitchen, pop some potatoes in the oven, and throw these tacos together for lunch I was THRILLED. And they were freakin delectable.
Well, to be honest it didn't go exactly that way. I woke up, groggily took some Ibuprofen, guzzled the superfood smoothie bowl I posted on IG yesterday, texted my mom and asked her to come over (she lives upstairs now, eek!! 50% of the time at least), gathered enough energy to walk to Alfred for a decaf with her, and felt completely overjoyed to be outside and feel the real sun on my skin. After being inside for almost a full week, it felt amazing.
I almost fell asleep on the Alfred patio (lol) so we walked back, laid on the roof for a while — we have a gorgeous rooftop on our new building, it is one of my favorite things about living here — and then I decided I was going to pull it together to make these tacos.
My Siete Foods family was kind enough to send us these grain-free tortillas as a housewarming gift (not sponsored, just all the realness for one of my very fave brands) and while Jonathan has easily downed 95% of them, he was kind enough to leave a few stragglers behind in hopes that I might be hungry / awake enough for solid food sometime this week.
And when I say "solid food" I mean… I have been on so many pain pills and my abdomen has been in such a state of acute pain that all I have really been able to eat/drink are smoothies and açaí bowls. But like I said, my body was really starting to crave some serious savory goodness.
For a salt-oil-sugar-free vegan, potatoes are a literal godsend. They are satiating, nutritious, dense, easy to prepare and store, super affordable, and extremely versatile. I find myself using them in everything these days from French fries to salad toppings to baked and loaded with avocado and other veggies to the using them as the key ingredient in creamy dips to now a TACO FILLING!
This recipe is FULL OF PLANTS. Veggies, carrots, cabbage, avocado, tomato, legumes, cilantro (if you have any — I didn't but it would make the best addition) and anything else you wanna add to your tacos to make them your own!
Ready?! Let's dive in.
SOS-Free Vegan POTATO Tacos
Serves 2-3 people (or 1 person + lots of leftovers!)
Ingredients // 
For the Tacos:
3-4 medium sized organic Russet or Yukon potatoes (1 will be for the cheese sauce, the other 2-3 will be for taco filling)
2 cups shredded cabbage
1 large avocado
1 can salt-free Pinto beans, or black beans, or low sodium refried beans (I use these)
1 package Siete tortillas (I used the cashew flour, but any will do!) or tortilla of your choice
1/2 cup diced tomatoes (optional)
1/4 cup diced cilantro (optional)
Drizzles of turmeric & paprika (optional)
For the "Cheese":
1 medium sized potato (boiled or steamed) **mentioned above
2 large carrots (boiled or steamed)
1/4 cup raw soaked cashews
2 tbsp nutritional yeast (I use this brand)
1/4 cup water (add more if having trouble blending)
1 tbsp tahini (optional, I add it for creaminess & taste)
1 tsp garlic powder
3 tbsp lemon juice
1 tsp turmeric
Method // 
+ Bake the potatoes in the oven at 450 degrees Fahrenheit for 45 minutes or until nice and soft inside. Poke holes in the potato with a fork to give it some good ventilation for better cooking!
+ While those are baking, boil a pot of water on the stovetop and add in one potato and 2 large carrots. Boil until soft, and then transfer to a high-speed blender.
+ Along with the boiled carrots and potato, add water and the rest of the "cheese" ingredients. Blend until smooth. You may need to pause a few times to make sure the larger items are being pushed down to the blade. Add more water as needed.
+ Set the cheese mixture aside, and prep the veggies and beans for the tacos. Dice the avocado, cabbage, and cilantro and open the can of beans (and drain them). Put them all in little bowls if you prefer, or if you're just cooking for yourself you can leave them out on the cutting board like I do. 🙂
+ Once the potatoes are baked, take them out and chop them up into little wedges. Add turmeric and paprika or any spices of your choosing.
+ Finally, put the tortilla on a skillet (no grease or oil needed unless you prefer it) and let it lightly brown on both sides (about 25 seconds each side). Take it out, and layer the cheese sauce, avocado, beans, veggies of your choosing, and potatoes right on top! Fold it up or eat it nice and open-faced. Both are delicious!
+ If you are a salsa person, adding some salsa or hot sauce is another great addition. As you can see in my photos I didn't have cilantro, cabbage, or tomatoes (I was low in the fridge, yo) so I worked with what I had. It's a beautifully simple meal and SO tasty and nourishing.
I love the SOS-free plant-based life because I am back to eating tacos, pizza, "nachos," all the foods I loved as a kid but totally oil-free, salt-free, and sugar-free. Oh, and plant-based. I love the way it all tastes and I have so much fun in the kitchen.
Cannot wait to hear what you guys think if you make these! Hashtag #tbbmademedoit and tag me on your instas if you try!!
PS, I truly think the cheese sauce makes it. SOOO gooey and delicious.
Thoughts?! Other SOS-free recipe requests?! Hit me!