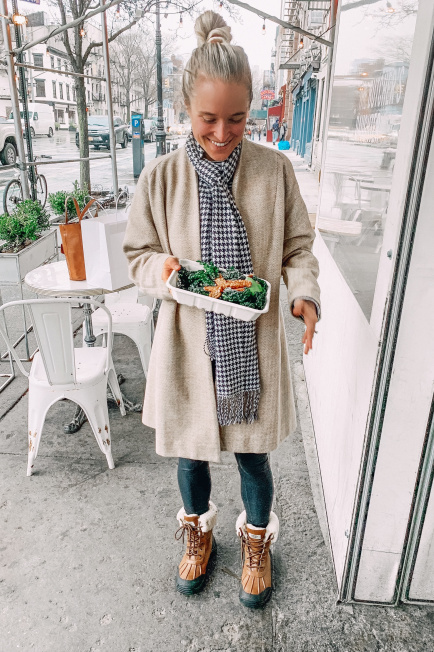 New York City Vegan Food & Wellness Guide!
Hello, hello! Happy Wednesday, loves! It's podcast day with a new ep with my dear friend Olivia Noceda, a.k.a @olive.eeeeats on IG! Can't wait for you guys to listen. YAY!
Also, as promised I wanted to share my NYC vegan eats with you guys, some of the wellness places I hit up, and a little bit about my trip. I have been meaning to do an NYC guide FOREVER so this will serve as a mini TBB NYC guide until I get a full, super duper detailed one up in the future! Other than this NYC vegan guide I wrote in 2014… just sayin. 😉 But it needs a little update!
Coming back to NYC always feels like coming home. When I started my blog I was living in the West Village and going to The New School for creative writing. Well actually if we're being specific, I started my blog in Hawaii and then spent the summer in LA before moving to NYC. But my early New York days will always remind me of the very beginnings of my blogging journey.
This trip was a bit of a gift to myself and a celebration after a really tough few years. Things are not entirely better with my health, but I have come so far. I am well enough to travel without completely crashing for weeks afterward for the first time in as long as I can remember. *Knock on wood*! And it feels so incredibly good to show myself what I am capable of.
I always like to come to New York for podcast interviews because NYC is the Mecca for wellness and spiritual leaders that I so admire and love. So I filled this trip with a few podcast interviews, and also came to spend time with dear friends and just enjoy myself and have fun. Which is exactly what I did. 🙂
As I interviewed my dear friend and spiritual mentor MaryAnn DiMarco yesterday and she reminded me (along with my spirit guides — because she is an extremely gifted psychic medium) how proud I should be of myself for going to New York and following through with this trip despite my hesitations and anxieties about my health leading up to it… I was reminded to really celebrate myself for making this trip happen.
Now that I know what my body is capable of I am hoping to create a lot more travel experiences this year. Last year was solely focused on healing and our wedding (SO worth it) and this year I really see my horizons expanding, which makes me so happy I could cry.
A huge part of why I am healing in such a big way has to do with, drum roll, my plant-based & SOS-free diet!! Surprise, surprise, right? Hehe if you read my blog often then you know this is the case and has been for almost two years now. I am also eating a largely Medical Medium style diet (you can listen to him on my podcast here!) as well as food combining, and all of the above has worked wonders for me on my healing path.
NYC FOOD, BABY! //
So! Let's get into what I ate and where in NYC, keeping it fully vegan and as SOS-free as possible. Sometimes it can be a bit hard to travel and keep it fully salt-oil-sugar-free, and trust me usually I do not have the luxury of not sticking to SOS-free 100% without feeling terrible. But on this trip I dabbled a bit toward the end and felt pretty much fine, which is exciting and an indicator of healing. 🙂
Oh & below that I will share some of the new wellness spots I went to for treatments and experiences!
Okay, where I ate, what I ordered, and honorable mentions below! Also keep in mind you can order SOS-free vegan food just about anywhere as long as you're willing to have a salad without dressing that you can douse in lemon, and add some avocado. 🙂 So that's kind of how it goes in the restaurant scene, along with a side of steamed veggies and a grain or legume if you do those!
Where I Ate //
Soho House: Alright, this is truly where I ate most of my meals because it was also where I was staying. I emailed them ahead of time to let them know that I would like to start every morning with celery juice and a Heavy Metal Detox Smoothie (Medical Medium's recipe) and I gave them a list of all of the ingredients I would need. They were super accommodating and made both for me every morning, delivered to my room!
They were very accommodating for lunches and dinners as well. I was able to order their kale Caesar salad modified (without dressing, without cheese, without breadcrumbs) to come as basically a huge mountain of kale. Then I would order a side of lemon and a side of avocado for the salad. On the side I would also order their gluten-free avocado toast (without chili oil) which was DELICIOUS! Normally I stay away from grains but for the sake of getting enough food this was truly perfect for this trip.
I would also order steamed fingerling potatoes there to go with my meal! Especially at dinner. This is a big Medical Medium food for many reasons and also keeps me super satiated while being fully SOS-free. Not gonna lie, half the time I had to send the potatoes back because they came to the table covered in oil but that's all part of the process — when you're eating in a way that is really different from what restaurants are used to, patience is key. 🙂
All in all, huge thumbs up for Soho House being so very accommodating!
This was room service at Soho! I ordered this same thing in the restaurant too. The side dressing went untouched lol because it was not vegan and was very salty. But the rest… perfection! 
Blossom NYC: Yay, Blossom! This has been one of my longtime favorite vegan restaurants in NYC, long before I was ever SOS-free. So this is a great spot to take friends or family who are not SOS-free but who want to enjoy a delicious vegan meal.
I ordered the kale salad without dressing and added lemon and avocado. It comes with apples which are delicious, and they're also good about steaming veggies here like broccoli which makes a delicious side dish. Like I always say, I eat out for the company and the atmosphere so I don't mind when a meal has to be a bit small or plain from time to time. I know I can always eat more later! Love this place and went here multiple times on this trip!
XYST: This is an amazing vegan Mediterranean place I had heard so much about!! It's newer and has opened since the last time I was in NYC so I was excited to try. Loved the atmosphere and was very pleased they could modify the kale Caesar salad to come without dressing and with lemon on the side. I had their tempeh bacon on the salad as well which wasn't SOS-free but OMG it was good. Worth it. Added avocado too to make it more satiating! My friends and I loved this place.
This was my salad there! The avocado was on the side. So good. The tempeh was the best part!

The Butcher's Daughter: They have this restaurant in LA now as well, but this will always be a special New York spot to me as I will always remember going to the original one deep in NoHo back when they only had one location! I LOVE their kale Caesar (are you sensing a theme here with my orders?! LOL), and their gluten-free avocado toast! I order the dressing on the side because it's definitely not SOS-free and potentially not vegan (as they are a vegetarian restaurant) but the salad is so good it doesn't need it. I also order without croutons! The crispy tempeh is AMAZING and not SOS-free but such a good addition.
I love this place if you need a quick and easy lunch between meetings, and it's also a good spot to meet a friend for brunch, lunch or dinner.
THIS WAS HEAVEN!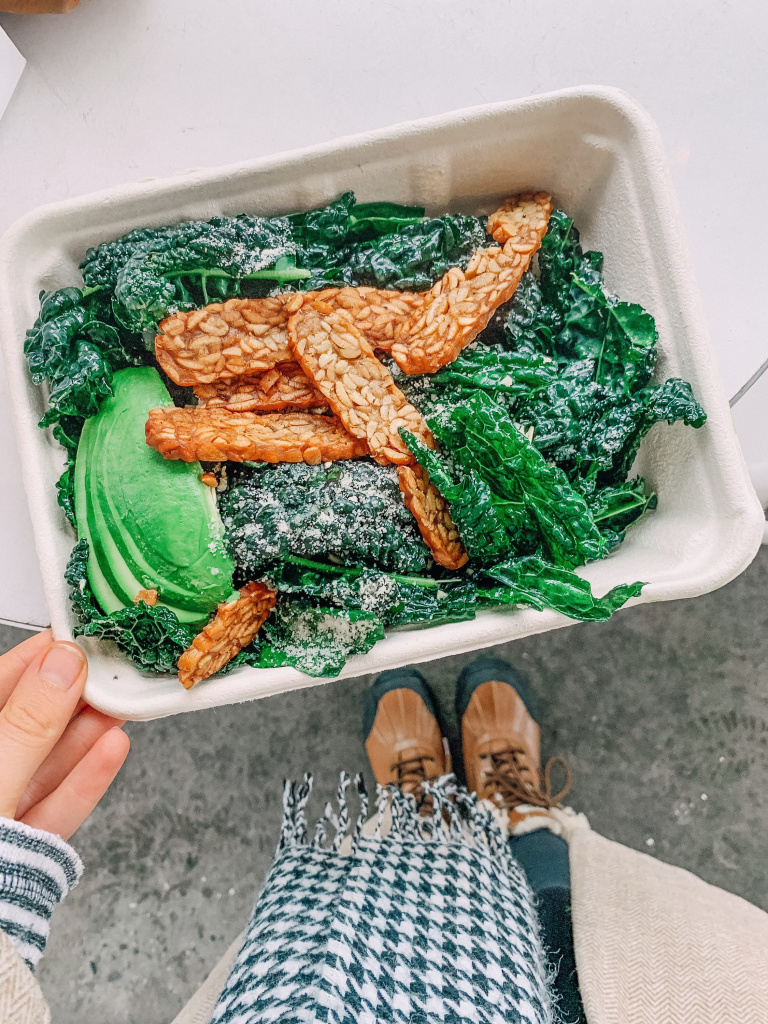 Juice Press: If you've followed me since my NYC days, then you know I have been a die hard Juice Press girl since day one. In fact, I hosted my first ever event for the blog there! Ahhh! I don't love some of their smoothie ingredients now as they seem to be big on coconut nectar, chocolate chips, and other sweeteners, but I like to customize my smoothies there and I will always be a fan. If you're ever in a pinch and need a salad on the go, they have some decent options as well (for vegans, but not for SOS-free, sadly their salads use quite a bit of oil).
My go-to smoothie recipe is the Green Machine, add cinnamon! MMMM.
Juice Press life baby! On my old stoop of my old building… MEMORIES FOREV!!!
Hu Kitchen: Hu will be a forever fave! They are a paleo restaurant so not entirely up my alley with the range of options, but I love that they have options for everyone. They have a salad bar now (or I believe it's called a "bowl station") that has lots of vegan friendly options. I didn't end up eating there on this trip but I did pop in to grab a few things — juices from their refrigerator, chocolate for my friends! I used to live around the corner from Hu so it will always have a special place in my heart. For people who are traveling with vegans/non-vegans alike, this is a good spot to make everyone happy! 
Honorable Mentions //
ABCV: I am so bummed I didn't make it here on this trip because I actually made the reservation for the wrong night! LOL. I never do that but it happened a few times on this trip, if that tells you anything about how much I have had on my plate lately. I have heard the best things about ABCV and can't wait to go there next time I am in town. I do love ABC Home & Carpet forever — it's such a fabulous store to wander around. Check out all of the fun first floor Knick knacks they have and admire their floors and floors of furniture and home decor… it's a literal dream.
Peacefood Cafe: This has been a forever fave spot too! I used to go here ALL of the time when I lived in New York. They are located right below Union Square (they also have an Uptown location but I am definitely a Downtown kinda girl) and I love all of their salads, and if you're not SOS-free, their baked goods and veggie burger. This is a great vegan spot for anyone, but especially vegans who don't mind the salt and oil in their food. 🙂
Divya's Kitchen: LOVE THIS PLACE! When I was eating in a very Ayurvedic way the last time I was in NYC, I came here for every meal. I still love Ayurveda and it has influenced me deeply, I am still on my own healing protocol that doesn't include many grains or legumes. But I can't wait to go back here when I am eating more foods again. Try their kitchari, it's everything.
Plant Food & Wine: We had our engagement party here at the one in LA! I am a fan of all of the Matthew Kenney restaurants. This one is raw vegan and amazing, and has a very fun vibe. Highly recommend!
Candle 79: This is my NUMBER ONE FAVORITE vegan restaurant of all time! I didn't make it there on this trip because it is quite far uptown (Upper West Side) and I didn't venture higher than Flatiron on this trip (actually I rarely do) but I will forever love this place. The vibe, the food, it's all so special. It makes you feel like you're in a really romantic, quintessential chic and timeless New York restaurant while also being fully vegan — hard to find! It is not new so it has that worn and familiar feeling to it. Gah, I could go there right now!
I don't believe they have many SOS-free options, but I am sure they can accommodate if you ask. I always loved their warm kale salad with the tempeh, and their desserts are out of this world. Especially the chocolate peanut butter bomb!
Wellness Places & Healers //
AIRE Bath House: Oh my word, this place lived up to the hype. I am not sure how new AIRE is but I think it is pretty new still, and OMG. You must go there. It is a very authentic European style bath house that makes you feel like you've fully transcended New York City and you're sitting somewhere in a stunning rendition of Ancient Greece. The vibe is extremely romantic, private, and intimate. The lights are kept low, there are no phones allowed, and they ask everyone to keep their voices to a whisper. (Not sure if my BFF Clare & I kept our voices to a whisper but we tried.)
They have beautiful healing baths from a salt bath which is so pressurized you can float to the top without even trying, to a major jacuzzi jet bath, to a hot and cold plunge, a regular warm bath, and aromatherapy steam rooms. It's… epic. As I write about it right now I already want to go back! So grateful for this experience with my dear friend too, who is about to get married, so we were celebrating with some relaxation and girl time.
This was literally magic.
Organically Jamie energy healing & reiki session: YOU GUYS! Jamie is a dear friend from my NYC living days, and I used to host all of my events at her restaurant Gingersnaps Organic! I am forever bummed that her restaurant is no longer (selfishly because the food was amazing!!!) but I am also SO happy for her that she found her truest calling as a healer on so many different levels. Her session absolutely blew me away.
We began the session with talking about my life and what I would like to specifically work on, and just being in such a safe space with someone I know and love so dearly made me feel like I could immediately burst into tears (surprisingly I did not) while talking about my life. It's been a rough few years… to say the least. After we chatted I got on her table for energy work and I can't even explain to you where I went. I went to ANOTHER PLANET during the session… I saw shapes and colors and felt deep, profound healing. I felt pulsating sensations all through my body and wouldn't have been able to move my body if I tried. It was MAGNETIC… incredible! If you live in NYC you must see her — she's everything. You can find her here, on her site!
Montauk Salt Cave: This place was also heaven! I fell ASLEEP in the session, and if you know me, then you know I literally don't sleep during the day. Not even as a baby or a child. And certainly not now, I can't even fall asleep at night. We did a group session but if I had known the options I definitely would have opted for private (you know me — I always prefer a private with more space and less distraction around) but it was still lovely. We were led into the room that had mineralized Himalayan sea salt all over the walls, ceiling, and floors, and sat in reclining chairs through a guided meditation for the hour. It was heaven.
The benefits we experienced were relaxation, SLEEP (!!), deep meditation, better breathing and oxygen flow, and all around the feeling of an extremely calm and relaxed central nervous system. If we had this in LA (and maybe we do somewhere?) I would go ALL of the time. Highly recommend, and if you can swing it, try the private room with a friend or a few!
NAO Wellness: This was such a treat!! You guys know I love my infrared sauna life. I have a Clearlight in our home (code BLONDE for a discount) and do my best to sauna every day when possible. I was so missing my daily sweat sessions in NY, especially because it was freezing and rainy during most of my trip. My dear friend Rachel Mansfield booked us sessions at NAO, and OMG.
First of all… this place is RIGHT down the street from where I used to live in the West Village! So if they had been open back then, I would have gone ALL OF THE TIME. The space was beautiful, clean, quiet, and lovely. It radiated the best energy. I loved the people working there, the owner who chatted with us, and the gorgeous crystals she had around. I most of all loved catching up with Rachel, my most OG blogging friend who I simply don't get to see enough of these days. It was magical.
Again, hiiiighly recommend!
OKAY, I could go on forever! The New York wellness scene is everything! I can't wait to try more places when I'm back. High on my list to still find are a lymphatic drainage massage and lymphatic facial place, so if you have recs, hook a girl up! I also didn't even make it to yoga on this trip which is highly unlike me, but I usually go to either Y7 or Modo when I am in the city! 
Also next time I am in town I want to make it to the east side a bit more as well as uptown, but what can I say, I am a west village / Chelsea / Meatpacking kind of girl! 
Would love to hear your thoughts, and let me know if you try any of these places! Hashtag #tbbmademedoit so I can follow along. 🙂
And lastly, if you're interested in learning more about the plant based, SOS-free lifestyle, there are three days left to join us for DETOX YOUR LIFE, the very special program I am hosting live that begins on 2/16! YAY. Along with a 192 page ebook full of details, teachings, deep dives, and recipes. 60 recipes to be exact. YAY! Join us!