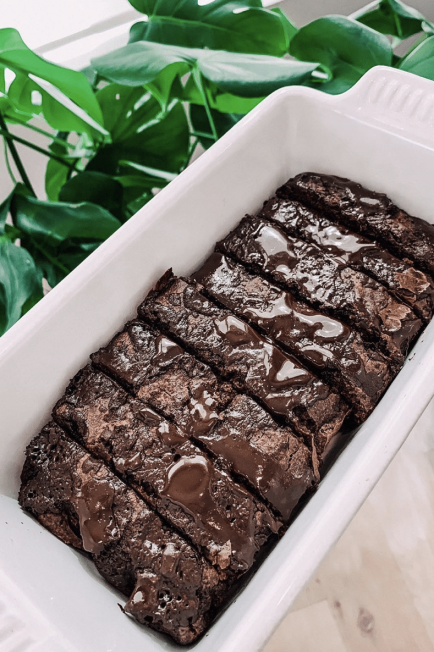 Chunky Brownie Batter Banana Bread Muffins | Vegan, Gluten-Free, SOS-Free!
Hi guys! How is everyone's week going so far? I know it just started, but… all the days are blending together big time right now so let's just say we've probably all had one big ongoing "week" for over a month at this point. 😂
As for me, J, and Hud, we are doing really well over here. I am one of those people who is really enjoying a lot of aspects of this quarantine, mostly because I finally have the time and space to pour absolutely all of my energy into my healing. My body has been asking, begging, pleading for this for a long time and most days I wake up with an overwhelming feeling of gratitude and happiness to be able to just be.
I have also been receiving tons of creative ideas during this time and have been inspired to try new things, create in the kitchen, make fun YouTube videos, create this free healing guide, have a blast on TIK TOK, and record all of the TBB podcast solo episodes. Key word: SOLO episodes… because something in my heart keeps telling me to keep my energy really, really close to home right now and allow this space for my body to simply breathe and be. Comment below and let me know what solo ep topics you'd like to see me cover during this time… I am recording a bunch this week to get ahead!
Also, just because I am having such an enjoyable time being home doesn't mean the reality and severity of what's going on in the world is lost on me. We had a really tragic event happen in our building over the weekend that shook me to my core. I will leave it at that for now out of respect for our neighbor and his family. It was COVID related we assume, and I have not been able to get it off of my mind since it happened.
It was a big reminder to m that people are struggling right now in many ways, and it gives me even more motivation and inspiration to be a light 💡 during dark times. It's the least I can do after living through the dark night or my own soul for the last several years. I've said it before and I will say it again: living with Lyme is VERY SIMILAR to living in quarantine. I have a whole podcast episode about that here, if you are interested in hearing more.
Anyway, in the spirit of keeping it LIGHT… I shared this brownie batter banana bread recipe on Instagram last week and HOLYYYY mother!! I have never seen you guys remake a recipe so quickly and abundantly in all of my years of blogging! It is so fun to see. Keep the remakes and the pics and vids coming, it is so fun to connect in community during this time.
You guys, they're innsaaaannee!!
I also want to make it a point to include all of my recipes I share on IG on the blog so they will be forever searchable here! Gotta have that HUB, you know.
And by the way if you are loving these recipes, I want to remind you that I made the code TBBLOVE for 11% off of my vegan recipe ebook & detox program & everything in TBB digital store right now to be sure you can get in on the magic during this downtime. 🙂
OKAY, RECIPE! BTW WE ALSO MADE THESE IN MUFFIN FORM WHICH YOU CAN FIND HERE!
And and, you can find a quick 15 second video on how to make these on my TIK TOK, which is fun. 🙂
AS ALWAYS, they are vegan, SOS-free, gluten-free, whole food plant based, and heavenly!!
🍌 CHUNKY BROWNIE BATTER BANANA BREAD LOAF 🍫 //
Ingredients:
2 cups rolled gluten free oats
1 tsp baking powder
1/2 tsp baking soda
1 tsp cinnamon
3 large mashed bananas
1/2 cup almond butter (or sub any nut or seed butter you have!)
3 tbsp cacao powder
1/4 cup maple syrup
2 flax eggs (2 tbsp flax, 6 tablespoons water)
1 tsp vanilla
2 tbsp almond milk
1/2 cup dark chocolate chips (or crushed up sugar free vegan chocolate)
Method:
• Pre heat oven to 350 degrees, and mix your flax seed with water to make the flax egg.
• Set aside and add all ingredients into the blender minus the chocolate chips.
• Add flax egg when it's ready (about 5 mins), blend, and then pour into bowl to add chocolate chips.
• Pour into parchment paper lined loaf pan, bake for about 45-50 mins or until golden brown on top, let cool, and ENJOY!!
Ok, who is going to make these?! And what should I make next?! Also let me know how you are doing below. Here for you guys always, and always sending my love. Now and always. 💜