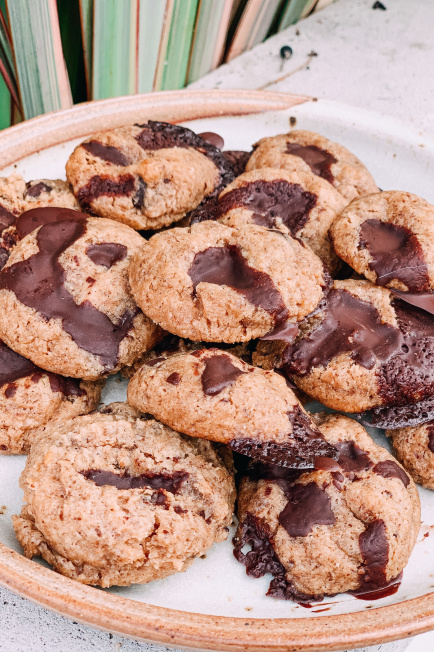 Life Changing Peanut Butter Chocolate Chip Cookies | Vegan, Gluten-Free, SOS-Free!
HEY GUYS! OMG, I cannot believe it's May. This might honestly be the first year I didn't see everyone posting those silly Justin Timberlake "It's Gonna be May" memes all over the Internet 😂 and it's probably because we have more important things on our minds… like when we will be able to see our family and friends again and give people real hugs and not worry about spreading or catching the virus.
I for one am excited that it's May although I really did enjoy the month of April. I enjoyed slowing down, spending time with my boys at home, using this time to come up with new creative ideas and start new projects (like YouTube & TikTok! And my plant based nutrition program) and most of all just give my nervous system the time to calm down and REST… I needed it. My healing needed it. And to be honest this time has helped me remember what's important in life and has made it a lot easier to let go of the little things that I thought were so make or break but really never were.
What we really need in life is truly simple. I am going to do a podcast episode on the best things that have come out of this quarantine so stay tuned for that soon – and today we will keep things light and focus on these insane life changing peanut butter chocolate chip cookies.
The inspo for these came from one of my favorite farmer's market stands where I've been buying vegan, gluten-free peanut butter chocolate chip cookies for years. My sister started buying them when I first went vegan back when I was in college, and we all became completely hooked. But as the years have gone on and I stopped eating refined sugar and other refined things like vegan margarine… these cookies became more of a decadent treat for me than a healthy option. Then once I was diagnosed with Lyme and really stopped with the sugar – I couldn't eat them at all anymore!
The other day I was in my kitchen and it hit me, "I can recreate these! It shouldn't be that hard!" and you guys I know my taste buds have changed but I honestly believe these cookies taste pretty much 100% like the real thing — and maybe even, dare I say, BETTER?!
And it's not just me who thinks that! Jonathan says they are the best thing I've ever made, even beyond snicker's pie (from my detox ebook), which is huuuuuge. There's a video of him saying it is on my IG story highlights under "Recipe" – you gotta see!
OKAY now for this recipe… it's gooey, it's sweet (but not too sweet), it's simple, it's easy, it's HEAVENLY, and watch out because these will go FAST!
I always joke that Jonathan eats all of my baked goods within one day of me making them, and that's very true, but this time he ate a bunch right off the bat and then I FINISHED THE ENTIRE BATCH… within 24 hours! I ate them with my breakfast, I dipped them in my smoothies, I had them for dessert – and poof, they were gone!
THEY ARE THAT GOOD.
I also tried out making them in two different sizes… for one size I used a small ice cream scooper and then for the second batch I cut that size in half to make mini ones. Jonathan and I both agreed the bigger ones tasted better — they really nailed that pillowy, peanut buttery texture and vibe you want in your PB cookies. The other ones were delicious as well but they didn't have that same soft, doughy, pillowy texture. So stick to a one inch ball or bigger when making these!
OH AND THEY ARE ONLY FIVE INGREDIENTS (not including baking powder and baking soda), so double win!!!!
LIFE CHANGING PEANUT BUTTER CHOCOLATE CHIP COOKIES //
INGREDIENTS //
1 cup organic peanut butter
1/4 cup maple syrup
2/3 cup granulated monk fruit sugar (I like the brand Lakanto)  *If you don't have this on hand you can likely sub with another granulated sugar but I haven't tried so I can't say 100% for sure. You could also try 3/4 cup maple syrup total instead!*
2 flax eggs (2 tablespoons flax meal mixed with 6 tablespoons water)
1/2 tsp baking powder
1/2 tsp baking soda
1/2 cup vegan sugar-free chocolate chips (I like Lily's)
METHOD //
Preheat oven to 350.
Add flax egg ingredients together and let sit for 5-10 minutes.
Add all of your ingredients into a large bowl and mix thoroughly. If it's too thick, you can always add a tablespoon or two of nut milk. But once you pour in your flax egg it should get nice and gooey!
Add in your chocolate chips last, and then top your cookies with some extra chocolate if you prefer. I always do!
Pop them into the oven and bake for 10-12 minutes or until slightly golden around the edges. These cookies will still be soft no matter what so don't worry if they seem a bit soft when you take them out.
Let them cool, and the TRICK is putting them in the refrigerator after this! You don't absolutely have to, but it will make a world of difference. I think they taste sooooo much better cold, and the texture can really firm up in the fridge. We keep ours in the fridge and I even kept a few in the freezer and they were delicious too! Don't skip this step, thank me later. 😎 
ENJOY! These are literally insane and I cannot wait for you to make them! You're going to LOVE and I hope your family does too (if you're quarantined with them right now — if not, enjoy all on your own! Yay!)
Okay, tell me how everyone is doing! Will you make these? How are you feeling? I am here for you, and I am sending you love!