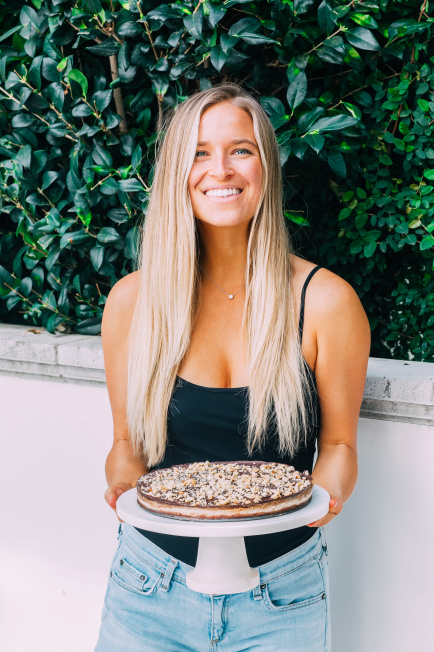 My Health Coaching & Holistic Healing Journey
Hello loves!
Have you heard this week's podcast episode about my health coaching and holistic healing journey? I answered a bunch of your awesome q's that you sent in about healing including… why I no longer drink alcohol, how to eliminate the "fruit fear" from your life, how to create a career in wellness, how to find clients as a health coach (hint… let them find you!), finding body confidence, how my life has changed since I wrote my first book, and so much more.
It's a fun one. I am loving the solo episodes lately – it feels like we are just in a 1-on-1 conversation together and it is such a great place for me to address your questions in detail. Also, with everything going on in the world right now the solo vibes feel nice and calm compared to the cadence of other conversations. I am a fan 💃 who else is into the solos?!
Today on the blog I wanted to get into my health coaching journey in more personal detail, and share with you what inspired me to sign up for health coaching school in the first place… 6 years ago now! Time has flown!
I also want to let you know that if you are interested in signing up for Nutrition School, I am able to offer you $2,000 off of your tuition + free gifts from me (detox program for everyone & a free 25 min Skype sesh for five people!!!) if you sign up through this link! You can also take a sample class there to see what you think of the program!
Okay… let's get into it!
6 years ago I was in a tricky spot. I was 23, had just decided to leave grad school to pursue my blog full time (without hardly making a cent to my name yet, by the way), was about to move from NYC back to LA, and my family was going through a lot of challenges that happened to be weighing very, very heavy on my heart.
My NYC Days, Right When I Began Health Coaching School!
At the time I was following a few people in the wellness and spirituality blogging space who inspired me to no end (and still do) — like Gabby Bernstein, Kris Carr, and my friend Arielle of Be Well with Arielle. What did all of these ladies have in common? They had all done the Institute of Integrative Nutrition. And they were all massively successful in health, wellness, spirituality, coaching, writing books, the list goes on…!
After looking into it for months and hearing about it over and over again (Law of Attraction is so real and was so happening!), I decided I NEEDED to sign up for the program. It didn't matter to me that I barely had a dime to speak of, I was going to make it happen. I remember sitting on my bed in my TEENY TINY bedroom in New York City (barely big enough for the bed itself) calling my dad one evening and telling him my plans to sign up for nutrition school.
He had a lot of questions, but ultimately he was supportive and I think he was very relieved at the end of the day that I would be doing more schooling to give myself some credibility behind this whole wellness blogging thing. In true Jordan fashion, I fired off all of the reasons why it was a "must" and got myself (and him) psyched on the idea. I paid for it with money leftover from deciding I was not going to do my second year of grad school, and made it happen.
Right after that phone call with my dad I got online and signed up, and just a few days later I began the Spring session of their program — just as I was wrapping up my first (and only) year of my Creative Writing MFA at The New School. It was so exciting!! I remember listening to lectures from some of my idols like Deepak Chopra, Geneen Roth, and the founder of IIN Joshua Rosenthal as I laid on my bed looking out at the bustling West Village thinking… This is my path. Finally, I have landed on what I truly love more than anything. And I can help people with this, too! And myself!
Nutrition is something I have been interested in since I was very young. I grew up with extreme stomach issues and food intolerances that always had me searching for the WHY behind the terrible way that I felt every day. For me, it always came back to food. As a child I came down with many mysterious illnesses, including severe pneumonia and whooping cough that kept me out of school for almost my entire third grade school year. Later in life I learned that I grew up in a moldy home, which definitely weakened my immune system.
While that is NOT a good thing, I have to say that growing up in that moldy home was ultimately a great gift in my life. I spent nearly 29 years wondering why my immune system was weaker than seemingly everyone else I knew, why Lyme disease (which I was diagnosed with in 2018) overtook my entire life and left me bedridden for three years in my 20's, why alcohol simply doesn't metabolize in my body, why I was always the "sick one" among my family and friends… and then one day not so long ago I learned (from my dad!!!!) that there was mold growing under my childhood bedroom. That no one had ever mentioned to me until now!
That probably is not the sole reason that my body became as toxic as it did and why I experienced such a total health breakdown in the last few years, but it certainly didn't help! So while I was always sensitive and always erring on the side of sickness until full-blown chronic illness really hit me hard at 25, I have that same sensitivity and sickness to thank for the greatest passion in my life to this day. Wellness.
I always looked around at my totally healthy friends who could drink and eat fast food and stay out super late and feel just fine, while all of these things made me feel like I had been by my a Mack truck. And I always felt like that was my weakness — but around this time I realized this was not a weakness. This was actually my gift. Yes, it made life a little harder on many days and in many moments but it is what guided me toward my true path and passion in this life… health, wellness, and healing.
So! I dove into Nutrition School, moved back to LA, started blogging full-time, started charging for my services and working with brands, picked up my first few health coaching clients (in NYC before I moved!), and started a whole new life. AND IT WAS SO EXCITING!
I spent that year learning all about nutrition, business, spirituality, holistic healing, and over 100 different dietary theories from leading experts in the health and wellness field. I then applied that knowledge to my blog, my healing memoir, and the cleanse programs I've created in the years since to help other people heal. Not to mention, I think I use that knowledge and confidence I picked up through what I learned in IIN on social media every single day!
Then I got sick… and went on quite the journey. An inner journey.
Life was good. Really good. For a lot of years. I started a podcast, which became a #1 health podcast! I wrote a memoir. I went on a book tour! Then, 3 years ago… I got REALLY sick. It started with eczema, which turned into full body hives, which turned into chronic fatigue, joint pain, insomnia, brain fog, intense gut issues, and an overwhelming desire to crawl out of my skin.
I didn't have it in me anymore to keep blogging and working on the same level I had been for years – or hardly at all. I withdrew from everyone and everything in my life. Western medicine couldn't help me or give me answers and even my trusted healers were at a loss as to what was really going on with me. Then, long story short, after 10 months of pain and misery and nearly giving up more times than I can count, I found my Lyme disease specialist (LLMD) – Dr. Erica Lehman. She saved my life.
Dr. Lehman diagnosed me with Lyme, mold, parasites, gut dysbiosis, co-infections of Lyme like Babesia, Bartonella, and Rocky Mountain Spotted Fever, as well as several nutritional deficiencies and severe hormone imbalances. All due to Lyme. Maybe even due to growing up in a moldy home which wrecked my immune system?!
For the last several years I have been healing. And learning a LOT about myself in the process. Shedding layers, breaking down, hitting rock bottom after rock bottom and barely able to keep myself afloat. I remember saying to my dear friend Sahara Rose when she was over at my house to podcast one day, "I want what you have… I want that energy and life force and inner beautiful creativity that's guiding you. I feel like I am not living in my highest vibration at all right now."
And she said, "Yeah, because you're in the messy part of your journey! You're in the thick of it. You will come out, and when that time comes it will be everything."
Finally Healing 💜
And damn, was she ever right. I kept going through it and kept healing, and finally… at the end of 2019, I could see a light at the end of the tunnel. I had found the SOS-free (salt oil sugar free) way of life the year prior and had been diehard about this way of eating – which helped a lot with inflammation, but holistic healing takes time! My brain fog was finally lifting as well as my joint pain… and I was feeling like myself again.
I ended up writing my 22 Day Detox Your Life program that traces everything that helped me heal – from the SOS-free diet, to detox protocols, to food combining, to supplements, to spirituality, to shedding layers, and beyond. Finishing a creative project like this after years of not being able to use my brain properly FELT. AMAZING!!! It was the best feeling in the entire world.
And now, I feel like my life has come full circle in so many ways! Through my detox program, I am health coaching again! I may not currently be seeing people one on one, but when they enter my program we develop a rapport and I am there for them with any questions they have or any support they need. This summer I am planning to release a more intimate healing circle where I will take on coaching clients in groups who are healing from chronic illness or inflammation the way I did… and I cannot wait!
I have IIN to thank for this knowledge, confidence, and ultimately for the tools to build my business and evolve and PIVOT in all of the ways that I have! From using my health coaching education to be a health coach in the beginning, to using it to feel more credible and educated as a wellness blogger and podcaster and writer, to finally bringing it full circle 6 years later with my current interests and loves in the plant-based nutrition sphere and helping others heal — I couldn't be more happy with my decision to do it all those years ago. Or with where I am now.
To learn more about my health coaching and healing story, head to my latest podcast episode here! I also did a very special free live Zoom webinar with the Head of Brand of IIN, Jim Curtis which you can find here (the password for the Zoom is 6K%m*XD0) if you want to learn more!
If you are interested in signing up for IIN, head here to learn more and also to get the special $2,000 discount I am able to offer you guys + free gifts from me!!!