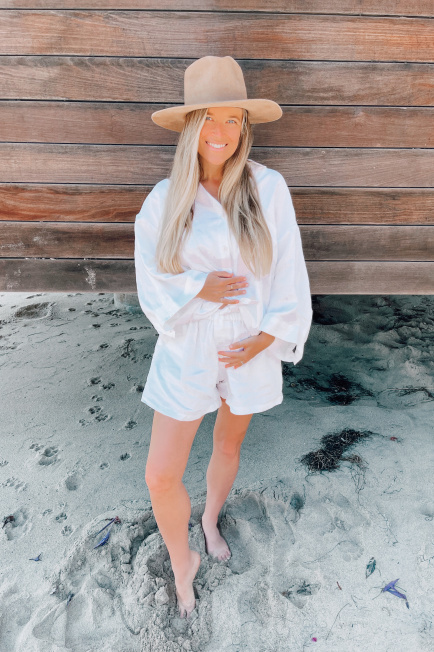 Normalize Deep Rest & Paving Your Own Path!! 💜
Hi my favorite humans. 🥰 It seems like my trend lately is posting on the blog very few and far between, but maybe that's the way it's supposed to be right now to keep protecting my energy and space with this little baby boy on the way. I hope you can feel my vibes and spirit even when I'm not posting, constantly giving you permission to rest, take a deep breath, and do what you need to do for YOU in every day.
Today's post is all about boundaries, rest and space. I feel like I have become a newfound expert in these subjects being pregnant and learning how to step into motherhood to this wise old soul on the way. I have also been forced to dabble in boundaries and rest in a big way being sick (and then healing) for the last four and a half years, so needless to say my life looks so different now, and continues to unfold in new and magical ways on the daily. My experience in stepping way back doesn't make boundaries any EASIER for this notorious recovering people pleaser, but I am trying… trying every day and I woke up today feeling like this just had to be the topic of today's post.
So let me start by asking you a question: how comfortable would you be if you spent the day doing *absolutely nothing*? I mean if you woke up, had your morning coffee and green juice, got back in bed, and did nothing but relax? What would you even do?! Would you turn on the TV, even if it was 9 a.m. if that's your favorite way to relax? Would you open a book, write in your journal, meditate, go back to sleep?! Maybe call a friend? Or commit to turning your phone off for the day?
If you're anything like me, the thought of spending a whole day doing absolutely nothing sounds both thrilling and a little intimidating. Intimidating because, how would I spend it? My immediate inclination would be to think, "OMG, the things I could get done!! The pages of my books I could write!! The things I could catch up on!" But earth to Jordan 👽 — that's not doing nothing!
I have been playing around with this idea a lot lately. When I got pregnant, I realized on a deeper layer than ever before that I am extremely burnt out. Beyond the average burn out, I felt like if one more thing was put onto my plate I would explode. And this comes after paring down my life post-healing from Lyme and autoimmune. After walking away from so many things that do not serve me, after putting a supportive team in place to make sure I am not doing everything in my business, after learning that saying "NO" feels so damn good when it's not a "hell yes," after after after…
But alas, I was burnt out. I am burnt out. I have been trying to do less but in "doing less" I haven't really known what to do with my time. It ends up being frenetic energy, trying to do nothing. Even the way I type it — TRYING to do nothing! Doing nothing requires no trying, no energy, no force. It just is. So yes I have been in that energy of trying to do less… saying no to trips and events and being around any energy that feels soul sucking. Keeping my circle tight and spending lots of time with people who lift up my soul in a big way. Working on soul-filled projects, connecting with other likeminded mamas to be, allowing myself to rest and read tons of fiction and binge watch TV shows and sleep in as late as my body desires.
So now I want to commit to the true title of this post: to normalize deep rest & taking space to pave your own damn path. Boundaries!! Instill them! But here's what I have learned: boundaries really mean nothing if you aren't able to fill that space with being abundantly kind to yourself, accepting what is, and leaning into the real magic of being authentically you. 
For example this year I have done a lot of things that would have been previously extremely uncomfortable for me. I have disappointed people I love in the name of putting myself first, which is a little bit easier (not a lot but a little) when putting myself first also means putting my growing baby boy first. In response to this I have been met with different reactions, mostly positive and supportive because by this stage in my life I have made sure to surround myself with positive and supportive people! But there have been times this year where those boundaries received negative reactions, and I had to live with that. I had to work through the emotions that brought up for me… and I can safely say that working through those feelings was one of the hardest, most gut wrenching emotional journeys I have ever been on.
But I did it, and I came out on the other side so much stronger. If you are looking for a sign to instill a boundary, to say no, to come up with a new set of rules or guidelines for what you (and your family) need to thrive, then DO THAT. The only thing that's stopping you is fear, and what is the fear of? Not being liked, things not being the same, losing invitations and opportunities in the future, or just a general feeling of discomfort? All of the above? I would encourage you to tune into those feelings and emotions, journal about them, and try to get to the root. There is always a root.
The root always stems in childhood but how deep do we want to go here?! When I look back, I know where my roots stemmed. Of course, they come straight from childhood. 3rd grade to be exact. As long as you know, and you can work on being kinder to yourself in the process, that's all that matters.
In this season of life I am working on taking deep rest, and knowing how NORMAL that is!! Life is very much becoming full swing again, and no one is going to step in and create boundaries for you except for yourself. Now is the time to ask yourself these deeper questions, because so much goodness wants to flow out of you once you truly have the time and space to rest and feel it all.
I will close out this post with this little story. A friend of mine said to me earlier this year that he finally has time to ponder the meaning of life, because he experienced a lot of success and is taking some time off from working. He said that most people don't get to think about the meaning of life, about WHY WE ARE HERE, until we are on our death bed. He felt incredibly lucky, and I have seen him grow spiritually leaps and bounds this year. That really struck me. Firstly I thought, "Wait, but I think about this stuff all the time!" 😂 but then again I am an alien. I knew in my heart he was right. Most people don't allow themselves the time or space to think about any of this until it's too late.
If I can be anything, if this blog can give words and hope and joy and feeling to anyone, I want it to be this: you deserve to take time and space for you, to consider the meaning of life, to figure out why you are here NOW, so you can go do that. It might sound cliche because it's the name of my freakin podcast but, SET YOUR SOUL ON FIRE. Life is too short to live in any other way. And don't compare yourself to anyone. In order for me to take true deep rest during this time, I really can't compare myself to anyone because I don't see very many people (especially fully young and healthy) living this way!
So pave your own damn way!!! You can do it!! I am rooting for you and I am here for you. Let's hear your thoughts below. I love you all. I cannot wait to see the magic that emerges from all of our deep rest. 🤍