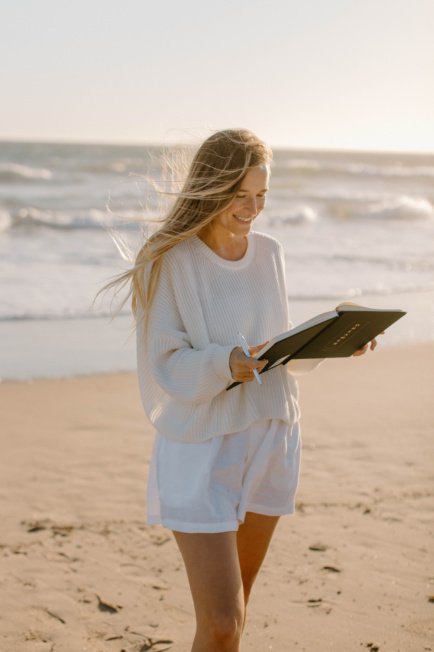 12 Things Tuesday From The Sky!
Hiiii besties and happy Leo season!! I am writing this 12 things Tuesday to you from the sky today — we are flying to Sacramento as we speak for a little week in my hometown. I am so excited to be there and I am also thrilled it's no longer 110 degrees there, at least for now lol. Pray for us that it stays that way!
Let's get into this week's 12 Things!!!
1. I am seeing Taylor Swift this weekend! Eeeek!! In true Jordan fashion I have gotten 3 outfits for it and cannot quite decide on my vibe yet, but I know that sparkles are going to be involved. I am so excited to go with my best friends and also our mamas. I got the nicest message this week on instagram saying that there should be more spiritual people who embrace all the fun human stuff like the Eras tour, Barbie movie, etc. Obviously to each their own and we can all do life differently, but I love living without that spiritual ego — it's so not necessary. <3
2. Attie is next to me on the plane and he is watching Miss Rachel. What a godsend. We have been so into Miss Rachel lately. She is an educational YouTuber and sings all the fun songs to the babies, helps teach them how to talk, and has the coolest videos. We are not big into screen time at all, but a little bit of Miss Rachel on the days we need a little extra help has been amazing. Again, non-dogmatic lifestyle is the way to go.
3. I have been *obsessed* with my TheraBody facial massager device!!! It has red light, blue light, percussive massage, micro current, and more. This is not sponsored at all but I cannot tell you guys what an amazing device this is. I used it for like 2 hours last night to massage my super sore jaw, and it was heaven on earth.
4. Speaking of sore jaws… I got Invisalign last week!! I will be documenting the whole experience on Insta. I have been wanting it for a while because ever since I switched from metal retainers to the plastic ones, my teeth totally shifted. I was so upset about it because I have been militant about my retains for my whole life, ever since I got my braces off when I was 13. Anyway, they shifted even more when I was pregnant so I decided now was the time. I technically will have them for 17 weeks (or double, depending on how long it takes my teeth to move). I am so excited!! But DANG no one told me how painful Invisalign is in the beginning!!
5. If you didn't check out our Manifested Bundle that my friends and I put together a few weeks ago, they just decided to open it up for two more days!! So from now until July 27 you can still get in on these 24 spiritual programs, including my Celestial Lifestyle program, for only $99!! The total of what you will get is worth up to $4,000, so this deal is insane. I wanted to join because I love the idea of making these programs more accessible to all! Head here to get in on it!
6. We celebrated my best guy in the world this weekend — Jonathan!!! Of course he is a Leo. We had the loveliest brunch with some of our closest friends, and on his actual bday he wanted to do a little picnic evening with me and Attie. We had the nicest time. I love celebrating my husband. He is so selfless and usually makes everything about everyone else, so I love turning it back on him during his birthday season. We had a lot of fun.
7. I am so freaking lucky that my laptop is okay right now. I noticed that Attie's water bottle opened up in my carryon bag and soaked the outside of my computer… but thankfully the water didn't get on the inside. I am so relieved. That was a close callllll. Moral of the story: be more careful than I was!
8. We are doing the final-final on the new TBB merch designs this week!! I AM SO EXCITED. It will still be about 6 weeks before we launch but I am sooooo elated to release these to you guys ahhh.
9. I just looked down and somehow have stains all over my new Abercrombie t-shirt. I guess getting out of the house for a weeklong trip with a 1.5 year old is kind of a massive ordeal, lol. Also, am I the only one who loves that Abercrombie is having such a moment again?? I love it.
10. The place where I went to school for health coaching, IIN nutrition school, is having their once a year "black Friday in July" sale!!!! You can sign up for a health coaching program right now for 25% off of your tuition!! Massive!! Use this link to try a free sample class, and tell them I sent you when you sign up so that I can send you my free gifts for signing up when you use my name or link!
11. It's only 11am right now and Atticus looks so tired on the plane, it's so cute and sweet. We've had such a wild morning!! Travel is a lot for little ones but we always said we would never let having kids hold us back from traveling, and so far we have absolutely stuck to that. Flying to Sacramento is no biggie but this little man has already been to 3 countries!
12. Yesterday I had the coolest synchronicity experience. I was walking around Erewhon and had just been thinking about Guru Jagat, my friend and the iconic kundalini teacher who sadly passed away suddenly a few years ago. In that very moment, I ran into Harmanjot, who was Guru Jagat's assistant and dear friend/colleague for many years. This synchronicity was WILD. It felt like Guru Jagat was definitely looking down on us and sending all of the love and a major message. If you haven't listened to her on TBB pod yet, I highly recommend that episode. Her energy is still very much with us. <3
13. One more… we are soooo close to manifesting our dream home. It's happening. Send all the good vibes and juju our way please!!!!
14. One one more…. tomorrow we have a SOLO episode going live and I am so excited about it. It's my life story in a nutshell. One you guys have been asking for of ra while. It will be a special one. 💕
All my love,
Jordan
How is everyone doing this week?! Any Leo season birthdays?! Thinking of you all, tell me how my besties are. <3