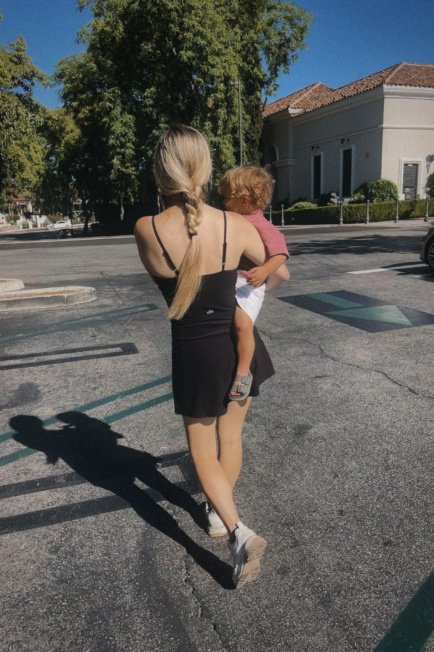 12 Things Tuesday: Q&A Style!
Hello, hello my angel souls! I did a Q&A box on Instagram over the weekend and you guys came through with the questions. They are some of my favorites in a long time and I wanted to compile a bunch of them and do a Q&A style 12 things Tuesday so these can live on, beyond IG stories!!
I mean, I always save my IG stories as highlights but do people go back and watch those?? I know I do if there is a creator I really like and I want to find more of their content. But I am curious, do you guys go back and look at them?!
Either way I feel like the blog is always the best hub for this kind of stuff. So let's get into it. And leave your questions below, and I will include them in next week's post and/or in a Q&A style podcast episode!! Dying to set up a hotline for you guys to dial into the show, and that is coming next — I am excited!!
Let's get into it!
12 Things Tuesday, Q&A Style!
1. How is Invisalign Going? It is going great so far. I am so happy because they said it could take between 7 days and two weeks per tray, and it is taking me only 7 days — so that means I will be done in 17 weeks!! I am 3 weeks in, and I feel like my teeth are already majorly shifting. It is so exciting. I always loved my teeth but during pregnancy they shifted so much and it started to drive me crazy. I am also hoping that this will help improve my bite and my jaw pain in the process! Let's hope so!! Who else has had Invisalign?! Loved the tips you guys left me on this last week. <3
2. Did you have any mental health struggles during pregnancy? My god, yes! Especially toward the end! Pregnancy can be such a mindf*ck. It is the most blissful, beautiful and miraculous time to grow a baby in our bodies, and simultaneously it is so so hard to watch your body become not your own during those 10 months, and even in the subsequent year or so after. At the end, I went into a PORTAL and felt like I didn't come out of it for a long time. That portal was something like no longer feeling pregnant anymore (even though I was) and being in the birthing process for like a month, which was wild. I think those of us who are extremely sensitive feel that more. Anyway, you are not alone. You've got this. It is so normal to feel that way, during one of the biggest transformations and evolutions of your entire life!
3. Books to start reading on a spiritual journey and mental health healing? I have SO MANY FAVES!! I would recommend checking out my Amazon book page for this, and starting with Bringers of the Dawn, Family of Light, & The Power Is Within You. 
4. Are there any toddler struggles you're experiencing? Girl same age as Attie and curious how it is for you. Yes, absolutely. I have chosen to keep a lot of Attie's life private — you wouldn't be able to tell because I share about him/our family so much, but I have made a conscious decision not to talk about the hard parts, details of his life or his inner world too much because I want to respect his privacy as a human, especially as he grows up! But I promise you yes, there are struggles. The toddler stage is so much harder than the newborn stage for me. He is such a good kid but the feelings at this age are BIG!!
5. Favorite Kosas products? What shade do you wear?! LOVEEE the Glow IV, the revealer concealer, the cloud setting powder, the Dream Beam sunscreen, and their makeup brush!! Literally the best. I wear the shade "radiant" which is a medium sheer glow. They have a shade finder quiz on their site which is the best. Go to this link to get 15% off of your purchase of $50 or more!! I AM OBSESSED.
6. What are you currently doing for gut health? Eating a diet rich in fiber, protein, and greens first and foremost. I feel like it always starts with food, especially for me. I have been starting each day with a smoothie (I got the recipe idea from Sunlife – the best) that has cucumber, mint, fennel, mango, kale, lemon & aloe vera!! It is SO yummy and good on the gut. I am also rigorous about my probiotics – I take Just Thrive Health (code BALANCED for a discount) probiotic & 'Just Calm.' I also take ARMRA colostrum (code BALANCEDBLONDE), AG1 for greens (BALANCED for discount) & all of MaryRuth Organics liquid supps (code BLONDE).
7. Current diet routine? Loving seeing your evolution! Thank you!! I am still eating a very veggie-centric diet. Starting each day with the smoothie I mentioned above. And then I eat LOTS of protein throughout the day. Grass-fed, grass-finished beef (from Force of Nature only – I am so picky), pasture raised organic eggs (Vital Farms), bone broth, and I am very mindful of food combining for my gut health. I am loving this way of life and my body is thriving. Hormones are finally happy again. Also HUGE on my supplementation game right now, taking everything I mentioned in #6!! As well as Designs for Health hormone supps, Organic Olivia herbs, and KION aminos — these have been life changing. I have also had the founder on my pod if you wanna listen! I also loooove Kion's mold-free coffee & decaf coffee! My link will get you a discount!
8. How did you get over the "I'm going crazy/psychotic" fear? Currently going through it. I so, so feel you on this. Going through this earlier this year was the hardest time in my life. You are not alone. Lots of therapy, going on a low dose of an anxiety medication, and just really leaning on my support system. It was helpful that everyone in my life from family to mental health professionals reminded me over and over again that I was not going crazy. Anxiety when it's severe, can really show up that way. I had to learn a lot about what anxiety really is to work with it properly and understand that I wasn't crazy at all, I just had really bad anxiety!! It takes time. Trust the process. <3
9. What is your ideal "girl dinner"? Love thiiiis and loving this TikTok trend. I feel like everything I eat is so basic and easy to prepare lol so I am always having my girl dinners! Lately I have been very into Force of Nature meats, so I think it would be a grass-fed, grass-finished ground beef stir fry with broccoli and white rice. 🙂 I prep this usually early in the week and eat throughout the week! Also, if I am REALLY feeling the girl dinner vibes, a smoothie is always my go-to.
10. What are you most looking forward to in August? I am excited that we don't have much travel this month and will just be around here to hang with friends, have lots of beach days, and soak this time of Attie's/our life in. I love life right now and am loving this stage. I am also excited to keep working on my health (parasite cleansing right now) and keep feeling better and better.
11. Do you want another baby? YES!! OG blog and podcast fam knows we want 3. 🙂 🙂 At least that's what we are thinking for now!
12. Tips for dealing with negativity and miserable people? Don't let their energy soak into you. I need to do a whole post on energetic boundaries. and know that they're not treating you that way because of you, it's because of them. So just have compassion and keep them at an arm's distance. 😉 Don't ever apologize for protecting your space!
Okayyy that's all she wrote for today!! How are my besties this week? Tell meee! XO