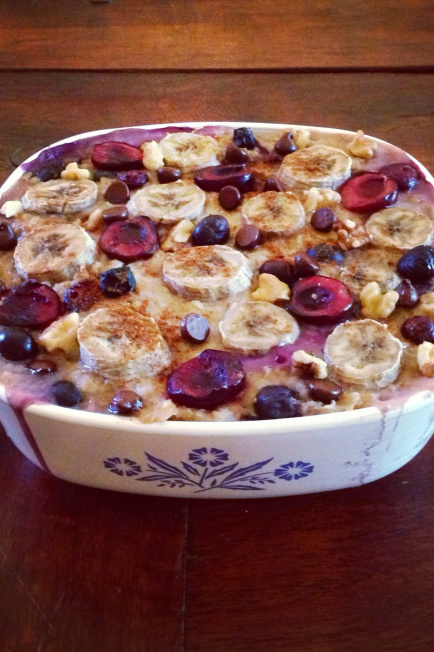 OK, so there are too many delicious ingredients in this to even come up with a name for it other than Baked Oatmeal Heaven. Unless you're a fan of names like "Blueberry-Banana-Raisin-Cherry-Walnut-Cinnamon Chocolate-Chip Baked Oatmeal Heaven," which I usually am, but I decided to give your eyes a break on this one and keep it short and simple. Because it's baked oatmeal. And it's heaven.
I came up with the idea for baked oatmeal after perusing some of my favorite vegan food blogs a while back, and have been dying to try it ever since. Problem is, I usually wake up too hungry to wait for my oats to boil AND to bake, so I usually opt for my usual Jar of Yumminess instead (even though the blending and decorating probably takes just as long as baking in itself).
The coolest thing about this recipe is that it has been a huge hit with my non-vegan friends and family. My mom was all googly-eyed when I was making it, which she basically never is about vegan food, and we split the first batch I made and we were both basically singing in praise because it was so damn good. The baked berries and cherries add a SERIOUS flavor that is reminiscent of berry pies and cobblers over the holidays, and the baked bananas are soft and gooey in taste and in texture. The raisins add a nice sugary touch that compliments the other flavors well, and the walnuts give it a good crunch. And the chocolate chips add obvious perfection for reasons I do not need to state (it's chocolate…hello).
I have to say: I can't mask my excitement that those around me enjoyed this so much. I can make vegan food that vegans like until I'm blue in the face, but when non-vegans genuinely enjoy my food I know I'm capturing flavors in just the right way, and I know I'm that much closer to helping people make healthier choices and find the nourishing substitutes that work for them.
Let's just say I will be making this recipe again and again and AGAIN, and I have officially gotten over my fear of waiting for my oats to bake. (Plus, if you get too hungry while you wait, sip on a mini-green smoothie. It's the perfect way to keep yourself occupied and satisfy a little bit of that hunger).
Serves 3 (Or 1 person who goes back to the fridge throughout the day for more and more. Whoops.)
Ingredients:
–       1 cup of organic gluten-free oats
–       1.5 very ripe thinly sliced bananas
–       ½ cup blueberries
–       ½ cup cherries (sliced in halves)
–       ¼ cup raisins (I like to use a golden/original raisin blend)
–       ¼ cup chopped walnuts
–       ¼ cup organic vegan chocolate chips
–        ½ tablespoon cinnamon
–       ¼ cup almond milk (or milk of choice)
Directions:
Preheat the oven to 400 degrees Fahrenheit.
Boil oats in water until the water is soaked in. This should take about 10 minutes with this amount. While the oats are boiling, slice bananas and cherries, and chop the walnuts. Set aside ½ of a banana, a few cherries, walnuts and all of the chocolate chips to top the oatmeal with for the sake of presentation.
Once the oats are cooked through, pour in the sliced banana, blueberries, cherries, raisins, cinnamon, almond milk, and walnuts. (Save chocolate chips for the topping, or else they will turn your oatmeal into chocolate oatmeal! Which is fine if that's what you're going for, but this recipe is too good without it.)
Mix well, and pour into a baking dish. Top with the extra banana and cherry slices, walnut chunks, chocolate chips and a dash of cinnamon.
Bake for about 20 minutes, or until the edges are golden brown and the sides are just about to bubble over with baked berry juice!
Take it out, let it cool, and pour into some bowls to enjoy. Or eat it straight from the dish if you're feeling saucy!