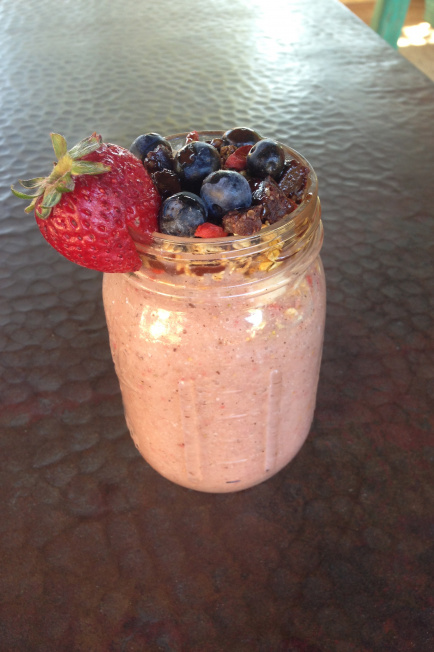 Strawberry Banana Coconut Shake
Sometimes I feel like calling my smoothies "shakes," because a shake just sounds so damn good. Doesn't a shake remind you of a big old ice cream SHAKE sundae concoction you'd eat with a burger at a diner? Not that I ever liked diner food, but you get the picture. A shake sounds like a treat, and a smoothie is certainly a treat, so why not call a super creamy smoothie a shake?
Anyway, I love this particular shake because it can be made on the go super easily, but it still looks beautiful and tastes as if it had taken the time as its longer-to-prepare breakfast counterparts. Last time I had this shake I was headed out on a road trip across California, and it left me feeling satisfied yet not overly full while I sat in the car for 6 hours, which was exactly what I was looking for.
Also, let's address the fact that strawberry, banana and coconut pair so well together. There's a reason tropical drinks on the beach are served in some variation of this combination so often. It's fruity without being overwhelming, and creamy without being heavy. Light, frothy and beautifully pink – sounds like a good shake to me.
Plus, since it's on the lighter side, it's the perfect kind of shake to top with granola – my favorite combo. Leaves you feeling fuller longer, aaannndd you get to push the granola down into the smoothie and have that variation of texture that people like me live for. (I can't stand meals that have only one texture. Unless it's mashed potatoes/sweet potatoes of any kind. Then I can suck it up and enjoy the hell out of it).
Ingredients:
–       ½ cup sliced strawberries
–       1 very ripe banana
–       1/4 cup shredded coconut (or real coconut meat, if you have that available to you, but the shredded coconut is great too.)
–       ½ cup fresh organic almond milk
–       big handful of ice
–       1 tablespoon vanilla hemp protein powder (optional)
–       ¼ cup granola (I used Whole Foods' chia ginger superfood cereal)
–       ¼ cup blueberries
–       ¼ shredded coconut for topping
–       1 tablespoon agave
Directions:
Blend strawberries, banana, coconut, almond milk and ice until you have reached your desired shake consistency.
Pour into a handy jar or glass (or heck, even a bowl if you want to get fancy), and top with granola, blueberries, shredded coconut and drizzle agave.
Enjoy! With a spoon AND a straw – the best kind of shake.