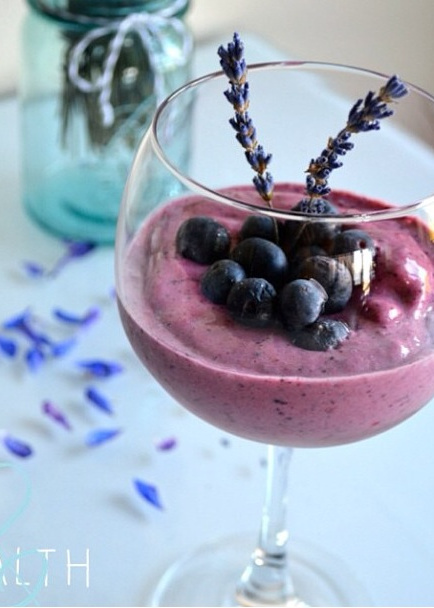 Inspirational Spotlight: Health and Us
Leading up to my blog launch I did a little something on my Instagram account called "The Blonde Vegan Smoothie Challenge." It was the first time I'd done anything like it, so I didn't know exactly how to promote it. I could have used an app to put writing over one of my photos and announce the challenge and the rules, but let's be honest; those photos are annoying and really not aesthetically pleasing. Definitely not what I was going for, and didn't want to clog up peoples newsfeeds with something like that.
So instead I posted a picture of my signature smoothie, The Blonde Vegan Smoothie, and asked people to recreate it in their own unique ways. I got a lot of people tagging me in awesome breakfast smoothies throughout the week, and I absolutely loved seeing people's smoothie experiments and daily progressions. Some people took it as a challenge to have a smoothie for breakfast each day of the week, and that made me SO happy, because inspiring people to implement a healthful change like that in their life is what I strive for my account is all about.
In turn, it inspires me to see so many people doing awesome things for their bodies. The winners I ended up choosing were the beautiful ladies of Health and Us: Kalene and Lindsay. The photo of the two girls holding their (PERFECT recreations of) The Blonde Vegan Smoothies underneath their bright blue eyes and blonde do's definitely stole my heart. I also looked into their account and blog while I was at it… and I was instantly impressed.
Kalene and Lindsay are two friends who were finding themselves spending most of their days at work looking up healthy recipes, tips, suggestions, habits, meals, vitamins, supplements and ways to live better. Because of their passion for healthy living, they decided to take time away from their 9-5's and become inspired to eat, shop and prepare healthy food, to grow and find optimal health.
Their goal is to inspire others to find a balance in their own lives and strive to eat fresh, raw or local foods. Something I particularly like about their story is that they are very clear that they are learning as they go, and they want those who follow them to learn with them. I think that's such an important thing for all of us to acknowledge, because no matter how experienced we are in the world of health, we all continuously have so much to learn. There is always knowledge to be found and inspiration to be gained
After focusing on how to create healthy and fresh food options, the girls quickly learned how fun and easy it was to do. As a result, they have become more conscious of what they eat and how it makes them feel. They have loved having their Instagram and blog because it has opened their eyes to an entire community of health conscious people that inspire one another to eat better and be better – which is exactly how I feel about this amazing community.
I am so happy these ladies entered the challenge, because their message is beautiful and I know they are only at the beginning of what is going to be a long and intensely rewarding journey. Think about it: if more people had the courage and initiative to take a break from their daily lives to focus on HEALTH – how amazing of a world would we be living in?
And after I announced that they had won, they stunned me yet again by posting this fabulous recreation of my lavender smoothie!
Join Kalene and Lindsay on their awesome path by following them @healthandus on Instagram or healthandus.wordpress.com.
And thank you to EVERYONE who entered the challenge – you made the week very fun and inspirational for me, and I appreciate each and every entry. I will definitely be doing this again in the near future – so feel free to share any ideas with me!