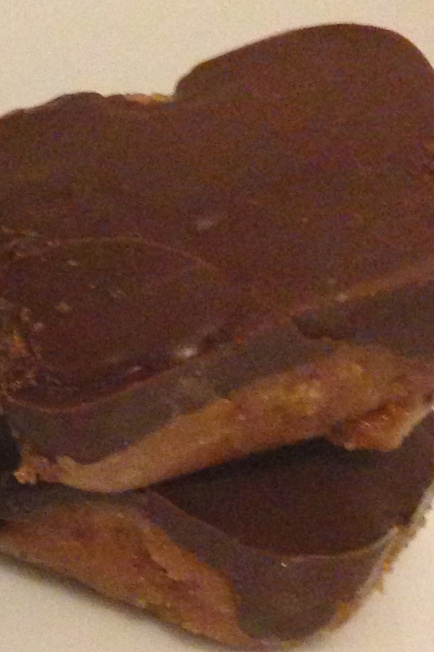 Raw Chocolate Almond Cookie Dough Bites
So I've been seeing a lot of vegan spins on "cookie dough" lately, and I thought it was about time I created something on par. You're all going to love me for this, because my cookie dough is SUGAR-FREE a.k.a guilt-free a.k.a you can indulge as much as your heart desires. Imagine that… cookie dough without the molasses, sugar, baking soda, margarine, chemicals, oh and the threat of E. Coli. Sounds like a pretty negotiable deal, right?
The best thing about this indulgence is that it is bite-sized. Yes, not only cute and tiny, but also the perfect thing to pop into your mouth after a filling meal if you still need your sugar fix. Just like my raw, clean peanut-butter cups, these bite-sized chunks of wonder are served COLD, which I truly believe makes them taste extra delicious and have that pop factor.
AND there is no cookie dough worth eating that doesn't have chocolate, so I obviously cacao-ified these bite sized chunks of wonder! Because none of the ingredients have an aversion to the freezer, you can easily store them in there without worrying that they will turn into icy little chocolate almond butter bricks.
I used ice-cube trays to make them, and I was very pleased because they came out the exact size and shape that I was envisioning – like a piece of See's candy! And while we're on the subject of See's candy… I would like to go ahead and say that from a former addict of their Dark Chocolate Bordeaux (and peanut brittle) this is actually better. Roll your eyes if you will, but I think it's really cool to treat yourself to something yummy without compromising your health or, if you have a sensitive tummy like me, your digestive system.
We can run through the list of health benefits real quick if you still don't believe me.
– Almond Butter: good for the heart (rich in monosaturated fats which reduce levels of cholesterol and decrease the risk of heart ailments), lowers blood pressure (thanks to the calcium, potassium and magnesium), controls blood sugar (hey thanks carbs), rich in antioxidants (vitamin E & flavonoids), and is obviously, being a nut, chock full of protein.
– Raw Cacao: not to be confused with its viciously processed counterpart, cocoa, CACAO is brimming with nutrients. Firstly, since it has not been processed at all it is full of antioxidants. Increases blood circulation (fights head aches, improves focus), has anti-aging properties, reduces cholesterol and boosts brain power synergistically.
– Coconut Oil: It is full of "good fats," so it can help keep our weight balanced, fight disease, increase metabolism and fight cholesterol.
– Raw Honey: YES, I'm a vegan that eats raw honey. Sue me if you must, but I believe in its health benefits and I buy my honey from a local farmer who I know and trust. Honey boosts energy and endurance, supports good bacteria, is an excellence source of antioxidants, slows aging, and is great for calcium absorption. It is also known to be one of the great natural HEALERS and, as many of us know… can work wonders on soothing a sore throat.
Without further ado, the recipe:
Makes About 12
Ingredients:
Cookie Dough portion:
–       1 cup all natural almond butter
–       ¼ cup all natural almond milk
–       3 tbsps raw organic honey
–       3 tbsps raw vegan chocolate chips
Chocolate Portion:
–       ½ cup raw cacao powder
–       1/3 cup melted coconut oil
–       1 tbsp raw organic honey
Directions:
Mix the almond butter, almond milk, chocolate chips and raw organic honey together in a bowl until it has reached a creamy consistency. You will need to stir for a while here to make sure the almond butter isn't just sitting in the almond milk.
Scoop out a spoonful of the mixture and place it in a slot on the ice cube tray. Repeat until you run out of AB!
Place the tray with the almond butter mixture into the freezer.
Now you can get started on the chocolate. Mix the cacao powder, melted coconut oil and honey together until a smooth chocolatey paste is formed.
Once the almond butter is thoroughly chilled (it won't completely harden) which usually takes about 20 minutes, pour the chocolate mixture over it.
Pop back into the freezer and wait as long as you can before diving in!
I would love to hear feedback on this recipe, as it is a new one for me. Hope everyone enjoys!