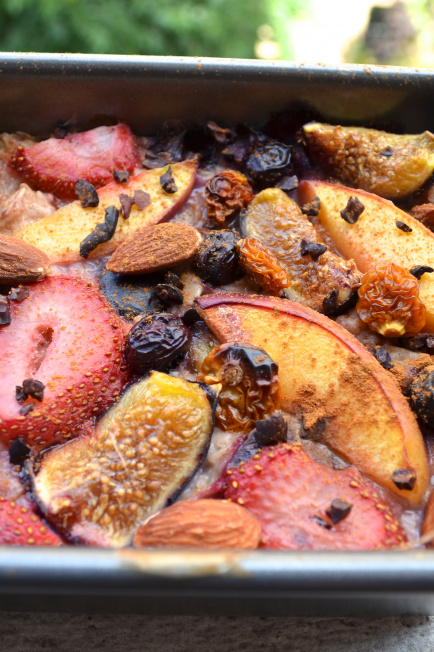 Baked Oatmeal: Gettin' Figgy With It
Try as I might to stick to my routine of having a variation of The Balance Green Smoothie for breakfast each morning (for the sake of teaching myself how to have a routine), I gave in and made some of my beloved baked oatmeal this weekend. I've come to terms with it – I'm not a routine following kind of girl. And as long as I finish everything that needs to get done, that's fine, right? I'm OK with it. I like my non-routine life.
I actually kinda love it. It's fun to surprise yourself sometimes with how your day is going to go, and make changes as you go along. The other day I heard a quote (or really, an aphorism if I am going to get technical MFA student on you) that really resonated with me: "The man who sticks to his plan will become what he used to want to be." I love that idea, and I find it holds a lot of truth for me and where I am right now in my life.
Why stick to the plan you've always had for yourself when you are constantly growing and changing and learning about yourself? Each day should bring new passions, strengthen others and sometimes replace previous ones altogether. That's OK. If you are holding onto something and trying to force it simply because it's what you used to want, you aren't really living in the moment, are you?
So maybe I should be calling this baked oatmeal Live in the Moment Oatmeal or something like that – but that sounds silly, so I'm going to stick with Getting Figgy With It (because that's an extremely serious name, right?). I hate to pick favorites, but… this baked oatmeal might even beat my cherished Baked Oatmeal Heaven that has always been a serious go-to and has been a consistent number one request from the vegans and non-vegans in my life.
This baked oatmeal is delicious because it is refreshing, fruity, crunchy, savory and sweet all at the same time. Now if that isn't a taste explosion in your mouth then I don't know what is. You can also play up the sweetness this dish by adding or subtracting honey/agave, cinnamon, golden raisins and cacao nibs.
Disclaimer: this recipe should serve 4, but if you are alone you might wind up eating a double serving. It might not be possible not to. Don't say I didn't warn ya!
Ingredients:
–       2 cups of oats
–       ½ cup almond milk
–       1 ripe peach cut into slices
–        6 strawberries cut into slices
–       6 fresh figs cut into slices
–       ½ cup blueberries
–       ¼ cup cacao nibs
–       ¼ cup almonds (I prefer dry roasted)
–       ¼ cup golden raisins
–       a couple sprinkles of cinnamon
Directions:
Preheat the oven to 400 degrees Fahrenheit.
Boil the oats in water until they are soaked all the way through. While it is boiling, slice the peaches, strawberries and figs.
Once the oats are boiled, pour in the peaches, strawberries, figs, blueberries, raisins, almonds and almond milk.
Stir all of the ingredients well, and then pour the mixture into a baking dish. I like to top the oatmeal with some leftover sliced fruits once it's in the dish to make it pretty. Then top it with the cacao nibs (if the nibs are mixed into the oatmeal they will just make chocolatey oatmeal and while delicious – that's not what we are going for with this dish). Sprinkle over the top with cinnamon.
Pop it in the oven, and let it bake for about 20 minutes or until the edges are golden brown and the berries are bubbling with deliciousness.
Let it cool, and serve! Enjoy.
This is how it looks paired with a green smoothie the next morning – cute, right? Mmmmm.