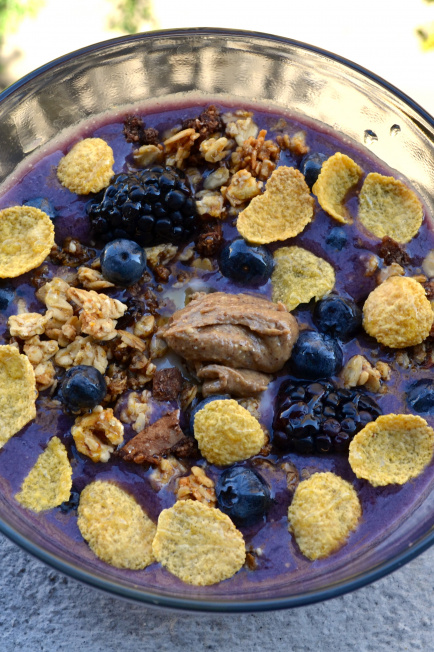 When I was re-organizing my Recipe section the other day, I noticed I did not have a single acai bowl post on TBV yet… tragic! Of course I took this as an excuse to try out a couple of my favorite acai bowl recipes this week and tweak them a bit to make them post-worthy and perfect.
The bowl I had this morning was to die for. The common problem that I've found with acai bowls at restaurants and smoothie places is that they are delicious while you're eating them, but once you're finished you feel too full, sluggish and overloaded with sugar. That's why I love making my own acai bowls, because I can make them light and refreshing while still tasty and perfectly filling.
The trick I use to do this is… drum roll please… just fruits and veggies with a tiny pinch of acai powder, some almond milk, and voila! Crazy right? Easy as that. And then I top it with granola, nuts, fresh fruit and today even a little bit of coconut yogurt and almond butter! Can you say y-u-m?
I've always loved acai bowls, but the difference between the vegan me and the pre-vegan me is that before I went vegan I never would have attempted to make my own bowl. Now I can hardly stand the thought of ordering an acai bowl out at a restaurant when I can make my own fresh and delicious one and I can know exactly what is in it.
And let me hit you with a little acai knowledge, in case you were skeptical… acai is a superfood chock-full of antioxidants, amino acids and omega fatty acids that boost your energy and immune system, your metabolic function, and slows down your aging process. And the tangy berry flavor it adds to your morning bowls/smoothies doesn't really hurt, either.
Oh, AND… for those of you requesting recipes with fewer ingredients, you can easily subtract the acai powder from this recipe and it will still be a fantastic breakfast. And if you're running low on toppings, just top it with some nuts or granola or even just a few slices of fresh fruit. Nothing wrong with simplicity, especially when it involves the words fresh fruit and breakfast.
Ingredients:
Bowl:
–       1 banana
–       4 strawberries
–       3 blackberries
–       ½ tablespoon acai powder
–       ½ cup almond milk
–       2 pieces of ice
Toppings:
–       3 blackberries
–       ¼ cup blueberries
–       ½ cup granola
–       1 spoonful almond butter
–       1 spoonful coconut yogurt
–       1 drizzle honey/agave
Directions:
Blend the banana, strawberries, blackberries, acai powder, almond milk and ice. Once blended, pour into a bowl.
Top with blackberries, blueberries, granola, almond butter, coconut yogurt, and drizzle with honey/agave. If you are choosing the more simple form of this breakfast, top it with whatever fruits/nuts you have laying around!
Happy Wednesday, everyone! I hope the middle of this week brings you something exciting… today I am blocking out some time to rework the premise of my novel – exciting (and nerve-wracking!) indeed.