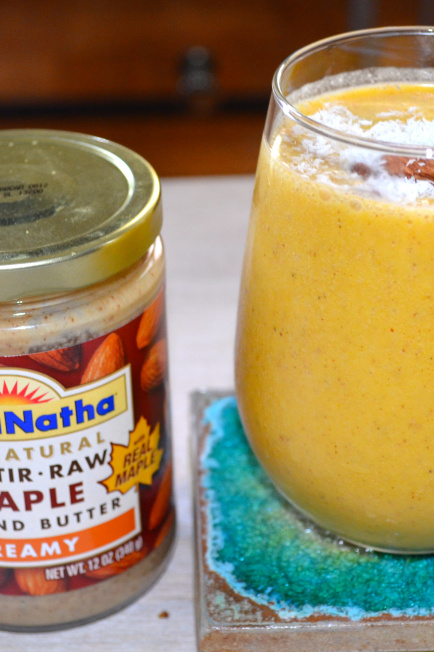 Pumpkin Spice Almond Butter Dessert Smoothie
If you've been following me for a while, you know I do smoothies. One could call me a smoothie addict. I do all sorts of smoothies – green smoothies, fruity smoothies, breakfast smoothies, oaty smoothies, and now I have for you… a DESSERT smoothie.
Except it's so healthy, you can eat it for breakfast too (like I did). And it's the perfect substitute for that pumpkin spice latte you like to indulge in at Starbucks this time of year (see, I know you…) minus the sugary syrup and additives.
But there's something extra exciting about this Pumpkin Spice Almond Butter smoothie… the almond butter. You're probably reading this thinking, "you're crazy Jordan, you always use almond butter in your smoothies!" Think again.
For the month of October I have partnered with one of my very favorite almond butter companies, MaraNatha, to do a little something we are calling MaraNatha Mondays.
A.K.A. – an almond butter giveaway. Available to each and every one of you!
Each Monday of October, I will post the guidelines on my Instagram account (@theblondevegan) for that day's giveaway. The contest will open Monday morning after my post, and I will choose a winner each Monday evening at 8:00 p.m. eastern time. Fun, right?!
AND just in case you want a little hinty hint for the chance to win two jars of MaraNatha almond butter… think about this question: What would you make if you were given a delicious jar of almond butter to do anything you wanted with?
I would make a Pumpkin Spice Almond Butter Dessert Smoothie. (Or Chocolate Almond Butter Oatmeal Quinoa Pudding. Or Pumpkin Almond Butter Oat Bars.)
Ingredients:
Serves 2
–       2 bananas
–       2 T MaraNatha Maple almond butter
–       1/3 cup pumpkin puree
–       ½ cup almond milk
–       1 teaspoon nutmeg
–       1 teaspoon cinnamon
–       3 large pieces of ice
–       Optional: 1 T honey or ½ T vanilla extract; coconut shreds for garnish
Directions:
Blend all ingredients in a blender & enjoy!
Add optional garnishes. I used coconut shreds and almonds, but I bet goji berries, chia seeds, and granola would be delicious too.
P.S. I am super excited to do this giveaway with MaraNatha because, it's no secret, I post a lot of recipes with almond butter in the ingredients. People always ask me where I get my nut butters, how to make a jar last (they can get expensive!), etc. and now I have the opportunity to help you potentially win two delicious jars of one of my favorite brands.
GET EXCITED! 3 days until the first MaraNatha Monday on TBV!
If you want to do a little research on these yummy nut butters, you can find MaraNatha on their website, Facebook & Instagram!