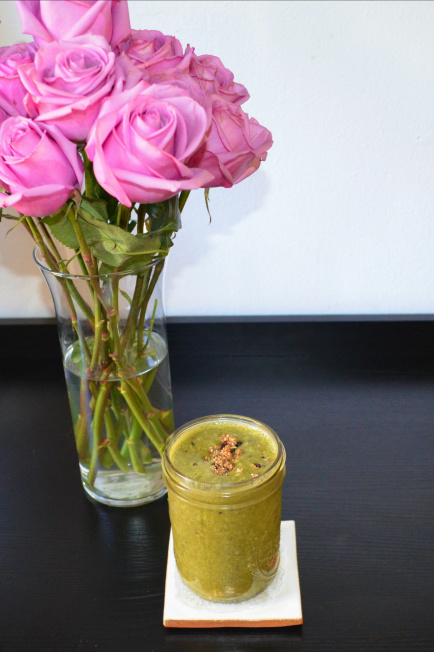 Peppermint Patty Smoothie
As some of you may know, I did a one-day juice cleanse on Sunday (which I will write a post on this week – excited to share my experience with you all!), which left me fantasizing about certain foods I wanted to eat this week when I was done cleansing.
One thing I knew for sure: I wanted a big, minty, chocolatey smoothie… a.k.a. a Peppermint Patty Chocolate Smoothie.
When I was growing up, my favorite candy was York Peppermint Patties. Whenever I was given the choice to pick out a candy bar, that was my request. I always got funny looks from other people's parents when their own children were choosing Snickers, Milky Ways, M&M's, Reeses… you know the popular ones.
But I always loved something about that minty + dark chocolate combo – the way the mint was so refreshing paired with the bitter sweetness of the dark chocolate. I used to savor every bite to the point that the dark chocolate would melt all over my hands because I was eating it so slowly!
Because of my age-old adoration for mint chocolate, one of the first smoothies I perfected upon becoming vegan was the Peppermint Patty Chocolate Smoothie.
The mintyness comes from fresh peppermint (and sometimes some peppermint extract, if you're really feeling wild), and the chocolateyness comes from (my favorite) raw cacao powder. (You can use cocoa powder if that's all you have on hand… but it's not going to be quite as healthified! Cacao is a superfood, while cocoa is not.)
Ingredients:
–       1 very ripe banana
–       1/3 cup fresh peppermint leaves
–      1/2 cup spinach
–       1.5 T cacao powder
–       ½ cup almond milk
–       ½ cup water
–       3-4 big pieces of ice
–       OPTIONAL: 1/3 cup blueberries (I used in this version), 1 T chocolate protein powder (I did not use in this version), 1 teaspoon peppermint extract (goes a long way!)
–       OPTIONAL: top with granola, or if you're going for the dessert vibe here, non-dairy chocolate chips! Or chocolate granola. Mmmm.
Directions:
Take the peppermint leaves off of their stem, and put them into a blender.
Put all of the other ingredients (minus the granola, if you are using) into the blender and blend until smooth.
Top with whichever topping you desire – I used chia ginger superfood granola from Whole Foods (on my grocery list). Chocolate chips, coconut shreds, or walnuts would be delicious too!
Enjoy! XO