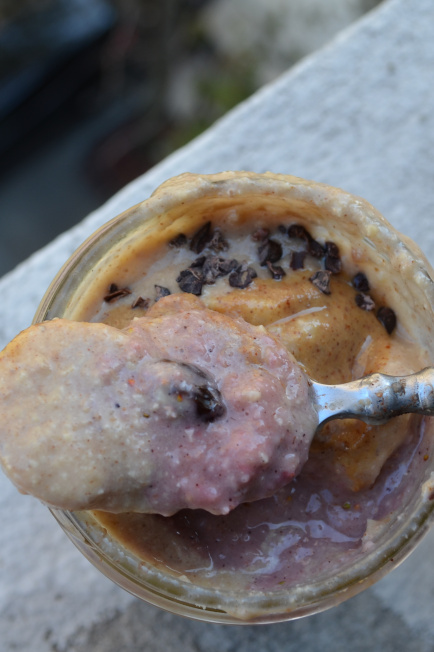 Because of the birthday whirlwind I haven't made layered oats in awhile (read: one week) so this morning I woke up super excited to get in the kitchen and create. This morning's Jar of Yumminess had an added bonus, because I felt like I needed the extra energy boost… Banana walnut cookie dough protein fluff.
That's right. Banana walnut cookie dough protein fluff. Layered on top of cinnamon oats, cacao oats, and a mighty layer of chunky strawberry oats. With some banana slices, almond butter, raisins and cacao nibs smooshed in there I'd say it sounds like a jar descended from the breakfast gods.
Tasted like one, too 🙂
And since I haven't given a life update in awhile, I thought it would be fun to tell you about a typical day in NYC for me. I wake up, respond to emails (love hearing from you guys), create a delicious breakfast (healthiest meal of the day!), take some photos of it (like the dorky food blogger that I am), write a blog post if I have time, go to yoga (we are still working on the yoga tab on TBV! Should be up very soon), shower and make lunch (usually a yummy salad), go to a café and write the day away (working on my novel), spend the evening with my amazing roomie (who also happens to be my life long best friend) or meet up with friends for a well deserved drink! And two nights a week I have class (getting my creative writing MFA).
It's busy, and there's lots of writing, and that's exactly the way I like it. I feel so very fortunate to be in New York City living my dream.
Ingredients:
Oats:
–       1 cup rolled oats (I use gluten-free)
–       1 T cacao powder
–       5 fresh strawberries
–       2 tsp cinnamon
Banana Walnut Protein Fluff:
–       1 very ripe banana
–       1 handful of walnuts
–       2 tsp vanilla extract
–       1 T almond butter
Toppings:
–       1 T cacao nibs
–       1 T almond butter 
Directions:
Boil the oats in 2 cups of water until the water is fully soaked in.
While the oats are boiling, blend the banana, walnuts, vanilla extract and almond butter until smooth. Set aside in a glass for now.
Once the oats are boiled, remove 1/3 cup and mix it with a dash of cinnamon. Layer it at the bottom of your jar or glass.
Remove another 1/3 cup and mix it with 1 T cacao powder until your oats are chocolatey. Add more cacao if you want them even creamier. Layer on top of the cinnamon oats.
Pour the rest of the oats into a blender (or use a handheld blender), and blend with the strawberries. You can blend until smooth, but I like to blend just a little bit so that some of the strawberries remain whole or chunky and then you have chunky strawberry oats. Layer on top of the chocolate oats.
Top the strawberry oats with the banana walnut cookie dough protein fluff, and then the rest of your toppings.
Enjoy!