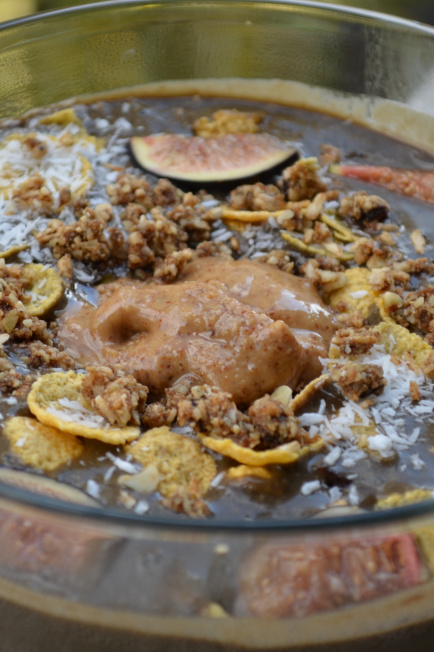 The Everything Breakfast Bowl
I named this "The Everything" Breakfast Bowl, because I figured Coconut-Almond Butter-Strawberry-Banana-Spinach-Peppermint Acai Bowl (with figs & corn flakes & granola & more coconut on top) was a little long for a recipe title… and the flavor combo might freak people out.
I have to say… although this is a mish mash of flavors, it is an absolutely delicious one. People have been asking me lately what I put in my acai bowls, and this combination is one of my favorites. The spinach flavor is hidden by the tangy fruitiness of the strawberries and the acai, while the almond butter, banana and coconut give it a creaminess and sweetness.
The fresh peppermint gives it a refreshing twist, which I love because the typical acai bowl can taste a bit sugary. I put figs on the top of this bowl because I love them, but any sliced fruit will do. And of course granola + corn flakes gives it that crunch that makes an acai bowl so fun to eat!
Another exciting thing about this particular breakfast bowl is the inclusion of the MaraNatha Coconut Almond Butter… because guess what? It's Monday! Meaning it's the second week of the month-long almond butter giveaway on TBV!
To win 2 free jars of MaraNatha almond butter, recreate this smoothie bowl (or tweak it a little as you please), tag @theblondevegan and @maranathafoods in the photo on Instagram and use the hashtags #Maranatha, #theblondevegan & #almondbutter. The contest is open until Wednesday night at 8:00 p.m. Eastern Time… can't wait to see what you all come up with!
P.S. Does the name "Everything" Breakfast Bowl remind you of "Everything" bagels at Noah's Bagels? It certainly does for me. If so… think about those bagels while you are eating this bowl and realize how much healthier of a breakfast choice you are making! And WAY yummier, in my opinion.)
P.P.S. It feels SO good to be back in the blogging game. My family was in town this weekend celebrating my birthday, so there was not much time for cooking. We had an incredible long weekend full of good food, good drinks & lots of NYC explorations. I will post about some of the yummy restaurants we went to sometime this week.
Ingredients:
Bowl:
–       1 very ripe banana
–       1 Sambazon acai packet
–       1 handful spinach
–       1 handful fresh peppermint
–       4 strawberries
–       1 teaspoon MaraNatha Coocnut Almond Butter
–       1 cup almond milk
–       3 pieces of ice
Toppings:
–       ½ cup Corn Flakes
–       ½ cup granola (I used chia ginger granola from Whole Foods)
–       1 T coconut shreds
–       2 sliced figs
–       1 T coconut almond butter
Directions:
Blend all of the bowl ingredients together until smooth.
Pour into a bowl, and then place toppings on.
Enjoy!