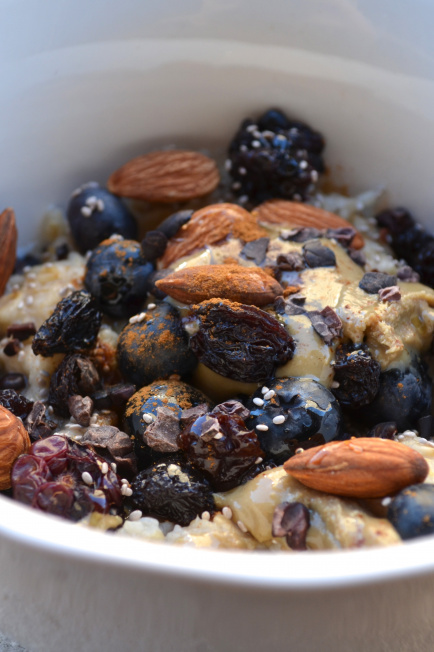 Lately I've been playing with the idea of the perfect sized breakfast. As you may have noticed, I usually get so caught up in the presentation of my breakfast smoothies and oats that I accidentally make a double (and sometimes even a triple) serving!
Don't get me wrong – there is nothing wrong with having leftover breakfast yumminess. In fact, I love having extra oats and smoothies in the fridge to snack on throughout the day and to use as the next morning's breakfast ingredients. But sometimes it's nice to have the perfect breakfast serving size. Mainly so you don't get lost in how delicious it is and unintentionally eat way too much. (Whoops.)
This bowl of cinnamon raisin oats is perfection in a bowl when it comes to both taste and serving size. And if you have a breakfast companion, all you need to do is double the recipe and you're set.
The flavor inspiration for this yummy bowl of oats is an all-time favorite treat for many of us: hot, gooey cinnamon rolls. I once read a quote from a celebrity who had lost a ton of weight, and she said that she learned that smelling the delicious wafts of sugary cinnamon buns at the airport "Cinnabon" had become just as satisfying to her as actually eating them – and she didn't have to feel bad about herself later.
Well I have an even better alternative. We aren't going to eat the processed, sugary, greasy and fattening cinnamon rolls you see (and smell!) at the airport. But we are going to taste the heavenly flavor. PLUS we are going to fuel ourselves for the day with lots and lots of protein while we're at it. (…And who said vegans don't get their protein?)
Ready?
Ingredients:
–       ½ cup rolled oats (I use Quaker gluten-free)
–       ¼ cup blueberries
–       ¼ cup blackberries
–       ¼ cup raisins
–       1 small handful almonds
–       1 T sunflower seed butter (or any type of nut butter you prefer!)
–       ¼ cup almond milk
–       a few good drizzles of cinnamon
–       Optional: 2 tbsps vanilla extract (to get that real cinnamon roll flavor!)
Directions:
Combine the oats with 1 cup water and boil until the water is fully soaked through.
Pour into a bowl and add blueberries, blackberries, raisins, almonds and cinnamon.
Top with sunflower seed butter and pour in some almond milk.
Enjoy! This time you're allowed to smell AND taste the deliciousness!