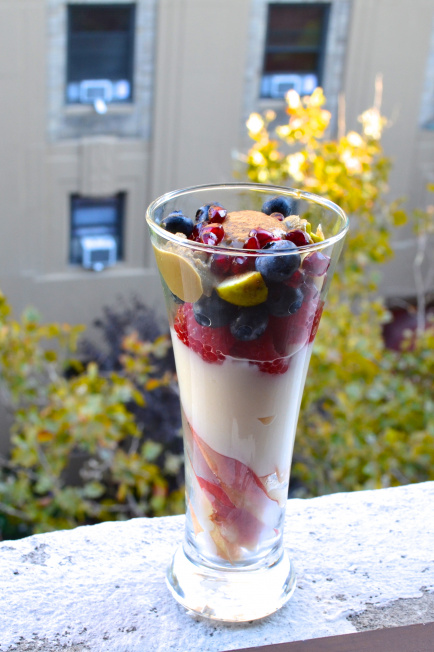 Peach Parfait Extravaganza + Exciting News
Alright, so here's the deal. We all know I am a granola addict, and since I am on a constant search for balance and moderation in this awesome healthy lifestyle… I've decided to play with my breakfasts a bit this week to make them delicious without granola.
That's right… without granola. There is absolutely nothing wrong with healthy granolas other than the fact that I have gone a little overboard with them lately, so I figured it was time to balance that out with some new breakfast recipes that stand just wonderfully on their own.
I don't want to turn into a bowl of granola, do I?! (Or do I….)
Anyway, this recipe is fantastic. All it is: fresh fruit + a bit of coconut yogurt + almond butter. Simple, clean and delicious.
Oh!!! Before I go on with the recipe, I have to share my exciting news! I will officially be launching a TBV Cleanse Program on the site in mid-December. The first week of the cleanse will be the first week of the New Year. I will have lots more info about this for you guys in the coming weeks, but please send me emails with questions, suggestions or even just to tell me that you are interested in doing the cleanse / as excited about it as I am!
One hint about the cleanse: 5 days. Plant-based. Detoxifying and cleansing without starving. 5 mini-meals per day. All recipes included (with photos and fun stories for each).
I cannot wait!!!!
And without further ado… the peach parfait extravaganza recipe:
Ingredients:
–       1 peach
–       5 raspberries
–       1/3 cup blueberries
–       ¼ cup pomegranate seeds
–       3 small figs
–       1/3 cup coconut yogurt
–       1 T almond butter (I also added 1 T sunflower butter… but that's very optional)
Directions:
1. Layer as you please! I started with the sliced peaches, topped them with coconut yogurt, then layered the raspberries and blueberries, then the figs, then the almond butter, and then the pomegranate seeds.