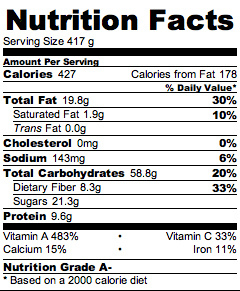 Carrot Creamsicle Smoothie
Ever since my juice cleanse ended on Saturday, I have had a newfound appreciation for food, flavors and textures. And this appreciation is not limited to solid food – it also extends to smoothies! A creamy and satisfying smoothie is so much different than a juice. Don't get me wrong; I am still a juicing addict. But when it comes to meals, I prefer something a little more filling!
I was experimenting in the kitchen this morning to create the perfect smoothie for the Day 2 breakfast of The Blonde Vegan Cleanse Program, and in the process I came up with this delicious beast. (And no, I didn't just give away the Day 2 smoothie for the cleanse… it will be tweaked quite a bit!)
This was Experiment #1! (Same smoothie minus the dates & almond butter.)
Even though I am a certified green smoothie fanatic, there is nothing I love more than a smoothie with beautiful colors. Carrots lend their lovely shade of orange to a smoothie, and mixed with the light yellow of bananas and the dark nuttiness of almond butter and the molasses brown of dates… voila! Oh, and vanilla protein powder. Even lighter and more beautiful! An exquisite combination.
But even more important than color is taste. This combo is heaven in your mouth. I could hardly get enough of it this morning. Might just have to copy myself and make it again tomorrow morning!
Ingredients:
–       1 very ripe banana
–       2 large carrots
–       2 medjool dates
–       1 T almond butter
–       1 piece ginger
–       1 T vanilla protein powder (I use Manitoba Harvest)
–       ½ cup almond milk
–       ½ cup water
Directions:
Blend all ingredients together in a high-powered blender. If your blender isn't super strong, you might want to eliminate the dates. It will still be delicious. You can also place them on top! Some people prefer to do this anyway, as they then have something to chew on.
P.S. I've decided to start including Nutrition Facts in each recipe post, because people ask for them all the time! I am not a huge advocate of counting calories, but if you are trying to lose weight it is important to be aware of what you are putting into your body to make sure you aren't getting an overabundance of one thing or another.