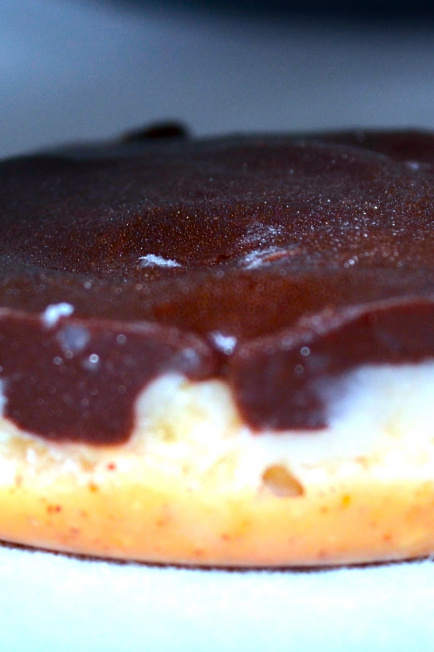 Chocolate Peanut Butter Banana Cups
Oh. My. Goodness. If there's anything more perfect than chocolate peanut butter cups, it's the marriage between chocolate peanut butter cups and banana cream pie cups. I have been fantasizing about this combo for a while, and it's kind of dangerous that I discovered it because I'm thinking it's going to have to become a new staple in my refrigerator for post-dinner dessert antics.
When you were a little kid and you saw the title "Chunky Monkey" on any menu, did you get ridiculously happy because you knew it meant banana + peanut butter + chocolate? I certainly did. But I really don't like the idea of putting the name chunky in the title of any of my recipes, so I gracefully decided to omit it. The real chunky monkey of PB-banana-chocolate desserts would be Reese's peanut butter cups and sugar-coated banana chips, and you will not find anything like that on this blog, my friends.
And although I've chosen to exclude the word chunky from this recipe title, the word monkey is still totally awesome and kind of deserves some recognition. "Chocolate Peanut Butter Banana Monkey Cups" sounds silly though, so I'll resolve to tell you a little story about monkeys: when I was little, I decided I wanted a pet monkey more than anything in the world. A teacup monkey, to be exact. Have you seen a photo of one of those little love muffins?! You'll die.
Anyway… getting a monkey as a pet was a far-reaching hope for me, as my dad is not an animal guy so we weren't even allowed to have dogs or cats growing up. I was so devastated by this that I took to wishing for a monkey on every shooting star, every 11:11, every birthday cake, every fallen eyelash.
Alas, I never did get my monkey. The best that I could settle for was a photo of me holding a monkey at our country club's annual Christmas party. Why they had a monkey there, I do not know.
Either way, this treat is fit for a monkey! And not a chunky monkey. A very slim, clean-eating and raw-food-loving monkey.
P.S. Better photos to come. Nighttime lighting is not my friend. But I just couldn't wait to share this recipe!
Serves 9-12 (depending on how big you make them)
Ingredients:
Peanut Butter Portion:
–       ½ cup natural peanut butter
–       ½ cup natural almond butter (you can do 1 cup of one or the other, but I loved the variety of flavor in the combo)
–       1 tbsp organic agave syrup (may substitute with maple syrup or honey)
–       2 tbsp organic coconut oil (melted)
Banana Portion:
–       1 mashed banana
–       2 T coconut butter
–       1 tbsp organic agave syrup
Chocolate Portion:
–       ½ cup cacao powder
–       1 tbsp organic agave syrup
–       1/3 cup coconut oil (melted)
–       ¼ cup organic vegan chocolate chips
Directions:
1. Whip out your trusty muffin trays, and if you don't have them, buy them, because they come in handy for just about every yummy treat.
2.Combine the nut butter, coconut oil and agave syrup in a bowl and stir until the ingredients are well mixed.
3.Place a spoonful of the mixture into each muffin cup until you have used it all.
4.Place in the freezer until hardened. Now time to start on the banana portion!
5.Mash banana (I used a fork. If its ripe enough this should be easy. You can also use a fun mashing tool or a blender.) Combine with coconut butter and agave.
6.Scoop out small spoonfuls to place on top of the peanut butter portion, and pop back in the freezer while you start on the chocolate portion.
7. Combine the cacao powder, coconut oil, agave and chocolate chips in a bowl and stir until well mixed.
8.Place a spoonful of the chocolate mixture over the hardened peanut butter mixture.
9.Pop them back into the freezer and harden. Now comes the hard part – wait until they are hard so you can nom on those puppies!