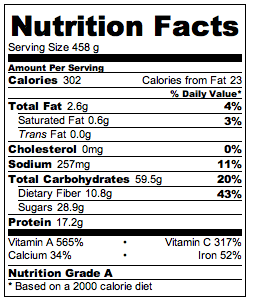 Let's just say this smoothie got its name because if you drank it for breakfast every morning, you'd look pretty damn awesome naked. It's packed full of veggies, superfoods, vitamins, iron, potassium and more. I think it's going to be my new go-to.
But don't be fooled by the greens! The cacao, maca and cinnamon still make this smoothie a delicious breakfast experience. And because it's made with coconut water instead of almond milk, it has more of a juice consistency than a thick smoothie one, so you're not going to have that moment of "uh oh, I'm way too full now" when you're finished suckin' it down.
Also, I have been asked quite a bit lately to discuss my food philosophy, so I thought I would take a moment to touch on it. After all, my food philosophy is the backbone of my site and is the reason you come back to read what I have to say, so I want to make sure my message is loud & clear.
I am a firm believer in the notion that everyone's body is completely different from the next person's. What works for me may not work for you, and I get that. Some people need to eat several small meals throughout the day to stay on track (like me!), and some people need to nourish themselves with three big meals per day and that's it. Some people would be super unhappy living without sugar while some bodies thrive off of cutting all sugars out of their diet.
What works best for my body is a whole food, plant-based diet. I've learned this through many years of trial and error, many years of being sick to my stomach after I ate any meal, many years of feeling bloated and weighed down, and many years of being generally unhappy with my relationship to food. I always ate clean, but I still spent a vast majority of the time having bad stomach problems. I was vegetarian for a long time, which helped, but didn't completely change things for me. When I cut out dairy, wheat, oil and eggs my life started to change, and so did my body.
I now eat a plant-based diet, and my stomach problems have completely diminished. I feel lighter, more energized, happier and totally passionate about my lifestyle. I suppose you could say I have started a love affair with plant-based veganism, and I don't see that going away any time soon (or ever, I hope!)
And that, my friends, is why I think it is so silly when people get down on other people for eating in a way that works for them even if it is different from the way the first person eats. I am still appalled at the honey controversy that took place on my Instagram a few months back, because it shocks me that someone would judge on something so small when in the larger picture we are all just trying to lead a healthy, happy life.  Isn't that what we all want? Don't we all deserve that? Yes, and yes.
So, in fewer words, my food philosophy is: fall in love with yourself. Fall in love with your lifestyle, your diet and your way of life. Believe in what you do and why you do it, and do it because it feels good. Not because of the number on the scale. Not because of how you are going to look in your little black dress, but how you are going to feel in your little black dress. Indulge in (healthy) desserts. Treat yourself. Believe in moderation. Believe that you are in control of how you feel.
And start with The Naked Smoothie!!! We are all different, but everyone can benefit from a good plant-based diet. Or at the very least, a plant-based breakfast.
Ingredients:
–       1 cup spinach
–       1 cup kale
–       ½ cup parsley
–       ½ banana
–       ¼ apple
–       ¼ cucumber
–       1 date
–       ½ cup coconut water
–       ½ cup water
–       1 T raw cacao powder
–       1 T cinnamon
–       1 tsp maca powder
–       1 tsp spirulina
–       OPTIONAL: 1 T protein powder (I used Vega One chocolate)
If you have questions about where to buy these superfoods, check out my Vegan Grocery List. If you want to make this smoothie and omit the superfoods, go right on ahead! Nobody's stopping you.
Directions:
Blend in a high-speed blender, and enjoy.
Nutrition Information: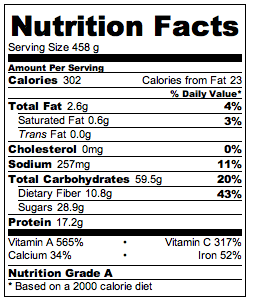 P.S. You may have noticed that there is a significantly smaller amount of fruit in this smoothie than in my other smoothies. This was purposeful! I eat so much fruit throughout the day that I wanted to find a way to eliminate certain fruits from my breakfast smoothies and replace them with veggies. I think I may have finally succeeded… which is why I will certainly be making this smoothie again and again in the near future!